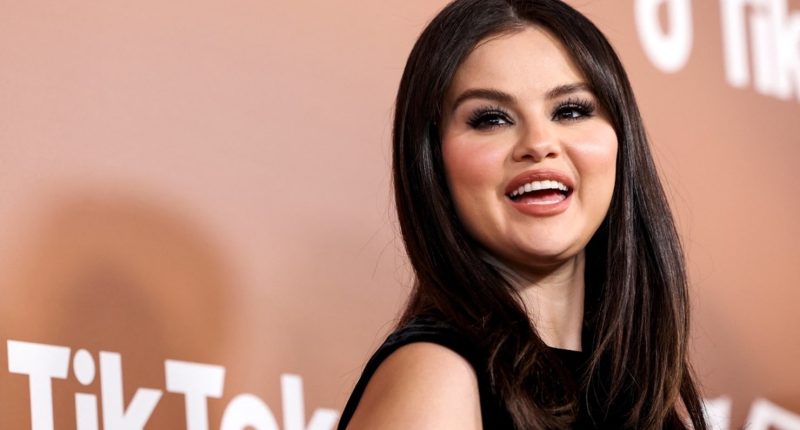 You'd think the combination of a global pandemic and unusually warm weather would make me more carefully consider how I'm using my ever-fleeting time on this earth, and yet, I somehow spent the entire past week meticulously following the TikTok activity of a very boring singer/actress and two even more boring nepo babies. All three are currently embroiled in a social media battle over such pressing matters as laminated eyebrows. To be honest, I have zero regrets!
If you haven't heard, the girls—Selena Gomez, Kylie Jenner, Hailey Bieber, and Taylor Swift (sort of)—are fighting. Things got so heated among the A-list women and their respective fanbases this week that Gomez announced on Thursday that she was disabling her TikTok, proclaiming that she's "too old" for social media shenanigans. (A few hours later, users discovered that she had reactivated her account, though she hasn't posted anything since Wednesday.)
Despite Gomez's dominance on multiple platforms—this week, she dethroned Jenner as the most-followed celeb on Instagram—she's had a rather contentious relationship with social media throughout her career. That's understandable, as she's often caught in the crossfire of several huge online fanbases, including Beliebers, Lovatics, Smilers, and whatever Hailey Bieber stans are called (Glazed Donuts?). The never-ending cycle of stan-created drama seems like an absolute nightmare to navigate. And yet, the Only Murders in the Building star has never totally refrained from getting involved and even stoking the flames.
Prior to this month, though, it seemed like things were all good between Gomez and her ex-boyfriend Justin Bieber's now-wife. The women's respective stans have been pitting the two against each other ever since the Biebers first stepped out as a couple soon after Gomez and Justin reportedly split. In a podcast interview back in September, Hailey shut down rumors of a feud, insisting that "it's all respect" between the two. In October, she and Gomez even posed for a photo together that immediately went viral.
Of course, this very publicly displayed olive branch wasn't enough to stop Selenators and other TikTok commentators from continuing to stir up drama between the two. On Feb. 15, Hailey was accused of shading Gomez after posting a now-deleted TikTok in which she and pal Kendall Jenner lip-synced the words, "I'm not saying she deserved it. But God's timing is always right." Gomez fans speculated that the models were mocking Gomez for the hate she had received over recent swimsuit photos. Gomez responded to a TikToker's commentary about the situation: "It's ok! I don't let these get me down! Be nice to everyone!" This led Hailey to clarify that the video "was not directed at anyone."
But the conspiracy theories continued piling up. Earlier this week, fans of Gomez defended the actress again against Bieber and Kylie Jenner for—wait for it—dissing her eyebrows. After Gomez shared a TikTok video revealing that she "over-laminated" her brows by mistake, user @devotedly.yours pointed out a selfie Kylie posted on her Instagram Story three hours later with the caption, "that was an accident???" The user also observed a screenshot Kylie posted of her and Hailey on FaceTime with closeups of their eyebrows.
There's not much logic to this alleged shade, although it's not hard to believe these two particular nepo babies, Hailey and Kylie, would be so unclever. However, Kylie quickly attempted to defend herself, commenting on a fan's TikTok video, "this is reaching. no shade towards selena ever and i didn't see her eyebrow posts! u guys are making something out of nothing. this is silly." Gomez co-signed that sentiment, commenting, "Agreed @kyliejenner. It's all unnecessary. I'm a fan of Kylie!"
Noticeably, Hailey did not respond to the controversy, which is potentially why Gomez then decided to reignite rumors of a beef with the Rhode Skin founder—this time in the name of her bestie Taylor Swift. Maybe she was legitimately triggered? In any case, later that day, Gomez responded to a recently resurfaced video of Hailey dissing Swift; the clip shows Hailey hosting the now-canceled competition show Drop The Mic and sticking her tongue out when her co-host Method Man mentions Swift's name. Gomez commented, "So sorry, my best friend is and continues to be one of the best in the game." The funny part is that this footage is at least four years old—God forbid what Swift might think if she knew Hailey Bieber dissed her on TBS several years ago!
The reaction online—which ranged from people applauding Gomez to others who scoffed at her for dredging up drama—seemingly prompted the singer to decide she would be "taking a second" from social media. It turns out that break really was just a second, though, as her TikTok is currently active again; she was also caught commenting on a couple videos of TikTokers defending her against Hailey and Kylie, including one user who called out "disgusting despicable behavior from the nepo babies."
For my own personal entertainment, I'm crossing my fingers that there's another chapter to this delightfully stupid and low-stakes feud. It's the dumbest beef I've observed since Gomez and her former BFF Demi Lovato got into it with Miley Cyrus and Mandy Jiroux on YouTube during their Disney Channel days. On a more rational note, though, I hope Gomez becomes less entrenched in the conspiracy-driven landfill that is Stan TikTok. These people do not have your best interest, Selena! Also, where is your publicist?


Post source: TDB