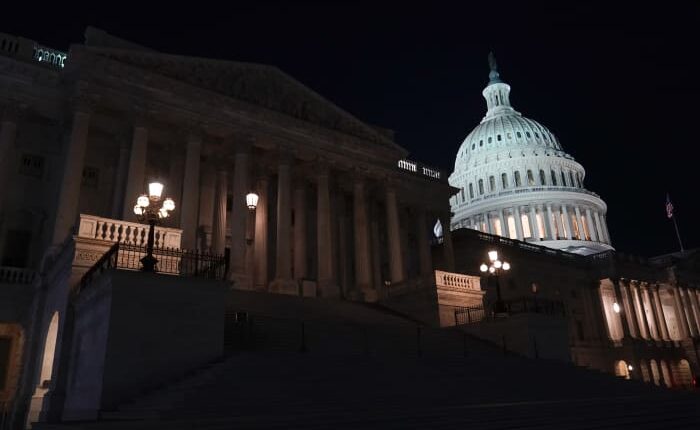 WASHINGTON – After weeks of negotiations, President Joe Biden and House Speaker Kevin McCarthy have announced an " agreement in principle " to raise the nation's debt ceiling and avoid a potentially catastrophic default.
The agreement includes spending cuts demanded by Republicans, but it is short of the reductions in the sweeping legislation passed by the Republican-led House last month.
To reduce spending, as Republicans had insisted, the package includes a two-year budget deal that would hold spending flat for 2024 and impose limits for 2025. That's in exchange for raising the debt limit for two years, until after the next election.
It also expands some work requirements for food-stamp recipients and tweaks an environmental law to try to streamline reviews to build new energy projects.
Treasury Secretary Janet Yellen has said the United States could default on its debt obligations by June 5 if lawmakers do not act in time to raise the federal debt ceiling.
A look at what's next as Congress rushes to pass an agreement:
FINALIZING THE DEAL
Speaking to reporters in the Capitol late Saturday, McCarthy said the bill has "historic reductions in spending, consequential reforms that will lift people out of poverty into the workforce and rein in government overreach. There are no new taxes and no new government programs."
Still, he said, "we still have more work to do tonight to finish all the writing of it." The speaker and his lead negotiators were still holed up in his office as midnight approached.
McCarthy said he would speak to Biden again on Sunday. House Minority Leader Hakeem Jeffries of New York said in a letter to Democratic colleagues that Biden and McCarthy planned to speak by no later than 2 p.m. to complete the agreement and that Biden administration officials would brief House Democrats on the agreement at 5 p.m.
Biden said in a statement that "over the next day, our negotiating teams will finalize legislative text and the agreement will go to the United States House and Senate. I strongly urge both chambers to pass the agreement right away."
The agreement is "an important step forward that reduces spending while protecting critical programs for working people and growing the economy for everyone," Biden said.
SELLING THE BILL
To pass the bill, both McCarthy and Biden will now have to sell it to their respective parties. While both sides are expected to lose some votes, they have to make sure that the deal is popular enough to pass both chambers without a revolt on either side.
McCarthy held a call Saturday evening with the Republican caucus, fulfilling a promise he made to show the agreement to them before revealing the legislation to the public. He said he expects to release the text of the bill publicly Sunday afternoon.
McCarthy said in an interview on "Fox News Sunday" that the bill is less than 150 pages and the House would wait 72 hours before voting on it so it can be publicly reviewed. "This is worthy of the American people. I want them to read it. I want them to understand it," he said.
The Republican speaker said called it "a good bill for the American public" and said he expects a majority of Republicans to vote for it and a lot of Democrats as well because Biden was on board. But he said that "right now, the Democrats are very upset" and that Jeffries told him "There's not one thing in the bill for Democrats."
Reaction was mixed. Rep. Dan Bishop of North Carolina tweeted a vomit emoji, complaining that some Republicans on the call were praising the speaker for getting what he said is "almost zippo in exchange" for the debt ceiling hike.
South Dakota Rep. Dusty Johnson, an ally of McCarthy, said people he was talking to are "incredibly supportive" of the deal, though he acknowledged they will lose some votes.
White House officials will give their own briefing to House Democrats on Sunday at 5 p.m., according to a House Democratic aide.
CONGRESS RETURNS
Both the House and Senate are expected to return on Tuesday, after Memorial Day. McCarthy said the House will vote Wednesday, which would then send the bill to the Senate.
Once the bill reaches the Senate, where Democrats have the majority, the pace of action will largely depend on whether any senators try to hold up the bill, possibly with amendment votes. That could tie up the legislation for a few days.
Still, the Senate can move quickly when they have agreement from all 100 senators. The bill could be passed by the end of the week, with a quick Biden signature to make it law.
If all goes according to McCarthy's plan — and both chambers are able to pass the legislation — the potential crisis should be resolved by June 5, which is when the Treasury Department projects the U.S. would be at risk of default.
"This agreement is good news for the American people, because it prevents what could have been a catastrophic default and would have led to an economic recession, retirement accounts devastated, and millions of jobs lost," Biden said in his Saturday evening statement.
___
Associated Press writers Lisa Mascaro, Seung Min Kim, Zeke Miller in Washington and Michelle L. Price in New York contributed to this report.
Copyright 2023 The Associated Press. All rights reserved. This material may not be published, broadcast, rewritten or redistributed without permission.
Post source: News 4jax