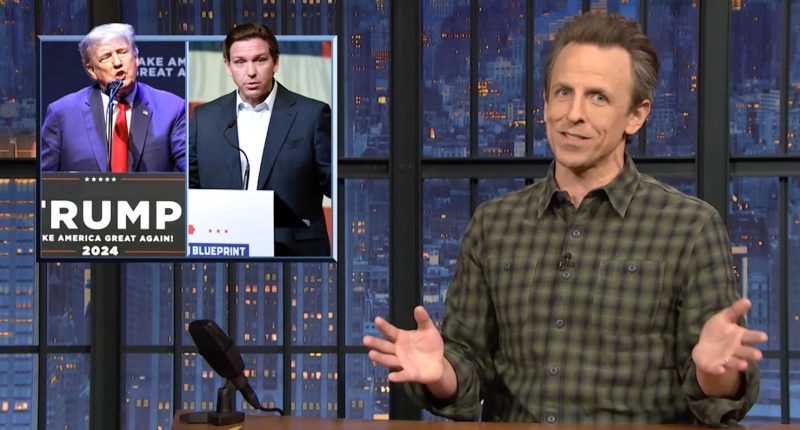 If you're a Republican voter who may soon be forced to decide between Donald Trump or Ron DeSantis as your 2024 presidential candidate of choice, you might find yourself caught in the middle of a game of Weird or Weirder.
"DeSantis is a weird guy, but not as weird as Trump, which is his main problem," Seth Meyers told viewers on Thursday. "If you're a GOP voter who likes weird, Trump's your guy… But if you like normal, DeSantis is a little too weird: He stands weird, he wears those little, weird white boots, and now there's this new story about his weird eating habits."
That "new story" in question came from The Daily Beast politics reporters Jake Lahut and Zachary Petrizzo, who learned from a former DeSantis staffer that the Florida governor's social skills leave much to be desired.
One frequent — and seemingly disgusting — sight to behold was when DeSantis "would sit in meetings and eat in front of people… like a starving animal who has never eaten before… getting shit everywhere," according to the staffer.
But the detail that really seemed to repulse Meyers was an incident from 2019, when — while traveling from Tallahassee to Washington, D.C. via private plane — DeSantis reportedly decided to dig into a cup of chocolate pudding… with three fingers.
"You ate pudding with your fingers?! That's not very DeSanitary," Meyers exclaimed, addressing the Florida governor directly while adding yet another possible nickname to his ever-growing repertoire. "You don't get to use your fingers to eat pudding. Here are the rules: If you have pudding, but you don't have a spoon, then you don't have pudding."
Meyers, almost against his better judgment, admitted that if he had one piece of advice to give to DeSantis it would be: "You should eat more like Donald Trump."
"If you were on a plane next to a guy who was fingerblasting Swiss Miss and asked to move and the flight attendant said, 'The only open seat's next to a dude eating KFC with a knife and fork,' you'd say: 'Yeah, I guess in this case it beats the pudding dude.'"
Post source: TDB