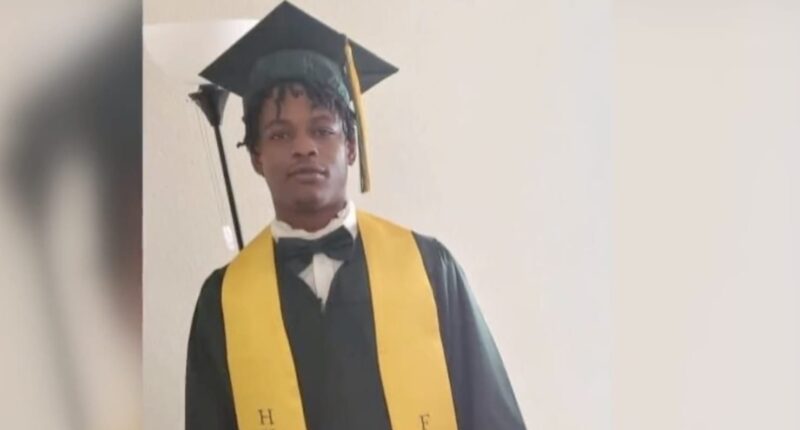 A young father and his teenage son were named Wednesday as the two people killed when a gunman opened fire at a high school graduation ceremony in Virginia.
Shawn Jackson, 18, and his dad Renzo Smith, 36, died during the attack that left at least five others injured Tuesday on Virginia Commonwealth University's Monroe Park campus, according to WTVR. Charles Willis, a community advocate who runs United Communities Against Crime, released the victims' names to the outlet on behalf of their grieving loved ones, adding that the family "asked that the Richmond community keep them in your prayers."
Earlier reports on Tuesday confirmed that a father and son had died in the attack, and Interim Richmond Police Chief Rick Edwards said the teenage victim had just received his diploma before he was killed. Police have not yet confirmed the names of the deceased as of Wednesday morning.
Edwards on Tuesday also confirmed that a 19-year-old male had been arrested in connection with the shooting. Authorities have not released the suspect's name but Edwards said police believed he knew at least one of the victims. The suspect had multiple weapons on him when he was taken into custody and is expected to be charged with two counts of second-degree murder and possibly other offenses, Edwards said.
One 31-year-old shooting victim was hospitalized on Tuesday evening with life-threatening injuries, the chief added, while four other males aged between 14 and 58 sustained non-critical injuries. Several others were hurt as they attempted to flee the mass shooting, including a 9-year-old girl who was hit by a car. She is expected to survive.
Disturbing video footage from the scene outside of the Altria Theater on campus shows gowned students from Huguenot High School smiling and cheering in the moments leading up to a barrage of gunfire. As the shots ring out, the scene immediately turns into panic and screams as students and their loved ones run for their lives.
All Richmond public schools were closed Wednesday. "I don't have any more words on this," Richmond Public Schools Superintendent Jason Kamras said. "I'm just tired of seeing people get shot, our kids get shot. And I beg of the entire community to stop, to just stop."
"The people that I represent are not safe—they're not safe in this city, and we have to figure out why that is," Virginia Lt. Gov. Winsome Earle-Sears told reporters near the scene of the shooting on Tuesday. "This is not about law-abiding gun owners, this is about gangs," the Republican said, adding: "When do we say enough is enough?"
Some Democrats criticized Earle-Sears' comments, including Virginia state Sen. Ghazala Hashmi. "Days after 19 children & 2 adults were killed in Uvalde, Sears went to TX to defend the NRA," Hashmi wrote in a Twitter post. "Now just mere minutes after a mass shooting in our city, she is on tv to inflict more trauma. 'The people I [with emphasis] represent are not safe,' she says. She's ready to defend guns."
On Tuesday, Virginia Gov. Glenn Youngkin tweeted: "As we struggle to fully comprehend this tragedy, our hearts break for those whose lives were lost today. Tonight, we grieve together for their classmates, our neighbors, and the whole Richmond community."


Post source: TDB