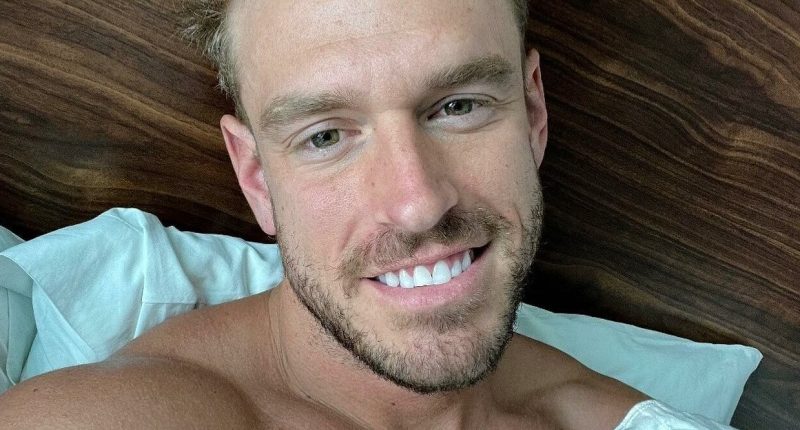 Reality star Shayne Jansen doesn't seem to be too happy about a clip that Netflix posted on Instagram following the conclusion of "Perfect Match."
The latest reality dating show, filmed in Panama, featured sexy singles from several of Netflix's top reality shows, including "Love Is Blind," "Too Hot To Handle," and "The Circle."
After things didn't work out with his fiancée, Natalie Lee, on season 2 of "Love Is Blind" headed to Panama and gave love another shot with Chloe Veitch, who has been on both "Too Hot To Handle" and "The Circle."
Needless to say, the couple called it quits shortly after leaving the villa, and it seems Shayne isn't too happy about how the show decided to portray the break-up in a "Where Are They Now?" video.
'Love Is Blind' Reality Star Shayne Jansen Calls Out Netflix's 'Perfect Match' Over 'Weird Edited Clip' After The Show's Finale
After the show concluded, fans weren't all that surprised to learn that none of the couples actually stayed together. Shayne and Chloe almost broke up while still matched together in the villa, although they ultimately came in third in the show's finale.
"As soon as I met Shayne on our first date, I'm like, he's the one," Chloe recalls in the video clip. "I really don't know what happened."
The video then cuts to Shayne, who is now sporting pigtails, saying, "It was definitely my fault that the relationship didn't work."
The video cuts back to Chloe saying that "the alarm bells started ringing," before Shayne adds, "It is probably best that we, you know, just give each other our space. There's just no need right now to have that kind of friendship communication at this point."
Although Chloe has been teasing that she has a new man on her own Instagram page, it seems that Shayne is still single but is unlikely to return to mingle in Panama if the show is renewed for a second season. In the caption, Netflix took aim at Chloe and Shayne in particular.
"Perfect Match SPOILER ALERT," they wrote. "Shayne and Chloe were a perfect match in our eyes on the show – but what became of them?" Perhaps the caption is what bothered Shayne, as he wrote, "Really wish we had the opportunity to speak first instead of this weird edited clip. But par for the course."
'Really Wish We Had The Opportunity To Speak First'
The comment got over eight hundred likes and almost a hundred comments with people both standing up for Shayne and bashing him for the way that he treated Chloe on the show. "I feel your reactions and feelings are very valid aside from everything we didn't get to see. I'm rooting for you on your journey of healing and finding love," one fan commented.
"We want to hear from you instead!" another follower wrote. "And you will and how you should. This screams used car salesman. We both have respect for each other," Shayne replied, seemingly referring to his current relationship with Chloe, which seems non-existent at this point.
However, there were a few fans who noticed that Shayne didn't like how he was presented in "Love Is Blind" either. "Why are you always complaining? It's their show to promote however they want," one follower commented. "Love you man, but you criticize everything that's posted lol. That's what you sign up for, though. So it's a bit ironic," another user agreed.
Shayne replied, "I'm actually trying to show respect to the people who watched the show. Respectfully I'd like to give them more." The fan replied, "We wouldn't sign up for reality tv. You have to be naive to think they won't twist your actions or words for ratings" as fans continued to take sides in the drama.
Chloe Confirms That She And Shayne Split After Filming Stopped
Chloe told PEOPLE that the two broke up after the show ended, admitting that the two did "butt heads" more than what might have been shown on the screen.
"There were some moments where he couldn't accept that and he needed a bit of reassuring," she said. "And I'm the number one reassurer because I know how it feels. But we did butt heads quite a lot and towards the end I was like, I feel like you are my perfect match."
Chloe admitted there "was some doubt right in my mind from the previous argument that we had, adding that she saw "some colors that I didn't like. I quite like pink. I don't like red." She added, "So after the show, we decided not to take things any further."
She has since hinted that she has a new man in her life – and might even be engaged – but she has yet to reveal who it is. As for Shayne, it seems like he's still single.


Post source: The blast