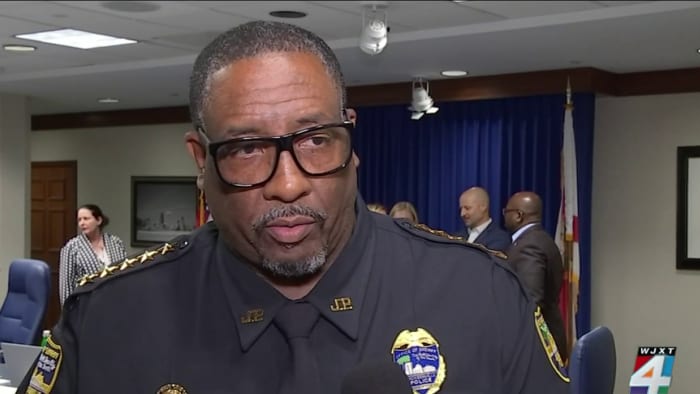 JACKSONVILLE, Fla. – There could be 80 more police officers on Jacksonville's streets soon.
That is what Sheriff T.K. Waters is asking the new mayor and city council to fund this coming year.
Waters presented his budget to the current mayor's staff who will pass it on to Mayor-elect Donna Deegan. The budget will be presented in July shortly after Deegan takes office.
The total city budget this year could reach $1.7 billion, maybe more, and the sheriff's office takes up a good portion of that.
Waters is asking for nearly $600 million, about $35 million more than last year.
In the budget request, Waters is asking for 80 new officers with 40 to be paid for by the federal government and 40 being paid for by local tax dollars.
"The highlight is adding police officers, that's the biggest thing. Add new police officers 40 from a cops grant that we applied for and 40 from our city fund," Waters said. "Most of our new officers would go on street patrol."
Waters said he originally wanted 200 officers, but he decided to ask for 80 in this budget.
Residents on the Westside, where the has been a recent crime increase, said Thursday more officers might help but many had no idea of what could work.
News4JAX reached out to Deegan about the budget but she did not want to comment yet.
Deegan did have some transition team members at the meeting who were asking questions.
Jacksonville's 32209 zip code consistently has one of the highest crime rates in the city. Most residents have a median household income of about $24,000.
People who live and work within the zip code said lower economic opportunities in this area are a driving force behind the higher crime rate.
Barber Tarrus Wims at Klean Kuts said 80 news officer is not a bad idea, but under one circumstance:
"They have officers that can relate to the community and understand our situations and what's going on in the neighborhood," Wims said.
Earnest Butler and others said crime in this area could be greatly reduced if the Sheriff focused more on recruiting and hiring qualified new officers from within the 32209 zip code. He says on day one, those officers would have a better understanding of why violent crimes are happening here, and the people involved.
"You know everybody. You grew up in this community. Now I'm policing this community," Butler said.
Cedric Turner, owner of Cutz, Lines and Trimz Barbershop, said he hears all the latest stories of violence in the area from his customers.
"I think we need that plus some. It's really hard for people around here to think they have to deal with situations on their own. The long wait times when they call 911 for help and police assistance. Sometimes not showing up at all so I think we need 80 plus officers," Turner said.
Cedric's wife, Renita. however, said more money needs to go into programs to help people learn a trade, so they don't have to turn to crime to make money.
"Look at the budget. What is the community getting? Where are their resources from the city's budget? Put more money into your city. Not police. We need the police, but they're responders and not preventers. So we need the city councilor in our area to step up. Open the centers. Put the money where it needs to go. Let's work together. That's what it takes," she said.
Businesses like Klean Kutz barbershop are also heling the communities to try to help police.
They hosted a weekly group session, where they invited folks from the community to come and talk about issues that have the potential to turn violent.
Copyright 2023 by WJXT News4JAX – All rights reserved.
Post source: News 4jax