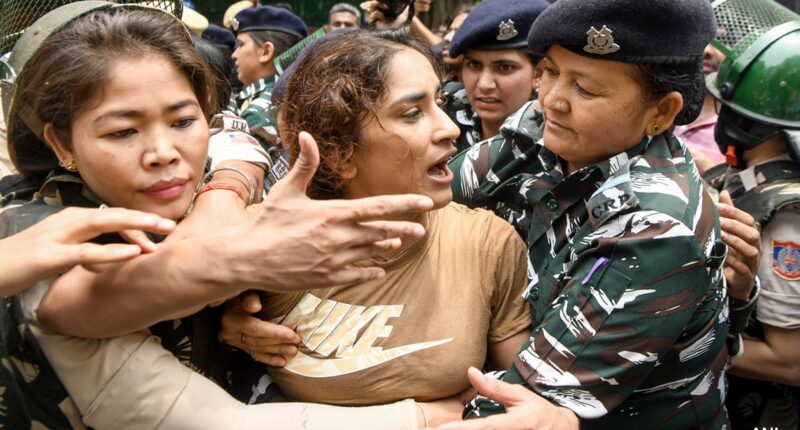 Bengaluru:
Karnataka Chief Minister Siddaramaiah questioned the need for a new Parliament building after protesting wrestlers were detained by the police on Sunday for demanding justice.
Security personnel stopped and detained protesting wrestlers as they try to march towards the new Parliament building from their site of protest at Jantar Mantar in Delhi.
In a tweet, the Karnataka Chief Minister said, "What's the need for the new Parliament building if it can't give justice to the Wrestlers who are protesting? It is unfortunate to know that few wrestlers have been detained for demanding justice. We as humans and Indians should stand with them and voice their concerns. They had made Indians proud by winning medals for us and we should make them feel proud to be Indians!!"
The ongoing wrestler protest in the national capital has taken a new toll as star grappler Bajrang Punia said the Mahila Mahapanchayat will definitely take place in front of the new Parliament building which was inaugurated by Prime Minister Narendra Modi.
Several ace grapplers including Bajrang Punia, Vinesh Phogat and Sakshee Mallik have been protesting at the Jantar Mantar accusing the Wrestling Federation of India (WFI) chief Brij Bhushan Sharan Singh of sexual harassment and demanding his arrest.
Wrestlers were trying to march towards the new Parliament as they want to hold a women's Maha Panchayat in front of the new Parliament.
"Democracy is being killed in the country, no one is getting the justice they deserve," Bajrang Punia told reporters ahead of the protesting wrestlers' march towards the new Parliament building.
Mr Punia said, "Many people are very cooperative with us but there are few police officials who are misbehaving with us, they are not allowing our family members to go inside."
Asked about whether the Mahapanchayat will take place or not, the 29-year-old wrestler said, "Mahapanchayat will definitely take place. We have given a letter to seek permission. Police are just making a fool out of us and are constantly keeping us under pressure."
Without naming Wrestling Federation of India (WFI) president Brij Bhushan Sharan Singh, Punia said, "The one, who is accused of offences, is roaming freely. He banters about changing the law, defaming POCSO (Protection of Children from Sexual Offences) Act controlling the government, no harm is done to that person, whereas, those who are peacefully protesting are getting ill-treated."
Further attacking WFI chief Brij Bhushan Sharan Singh, Bajrang Punia said, "He is only doing politics, he wants to change the POCSO Act."
Bajrang Punia stated that about 2,500 persons have been detained by police.
"Police are camping at the home of our coaches, players, and leaders of Kisan Union and Khap Panchayat. Whether it be Haryana, Punjab, Uttar Pradesh, or Rajasthan," he said.
"I request to the government and to the police department to release our people who have been detained because we want to establish this as a peaceful protest and carry it on in the same manner. We are protesting for the self-respect of our sister and daughter, we are not protesting for any political motive," the Olympic Bronze medalist added.
(Except for the headline, this story has not been edited by NDTV staff and is published from a syndicated feed.)


Post source: Ndtvnews