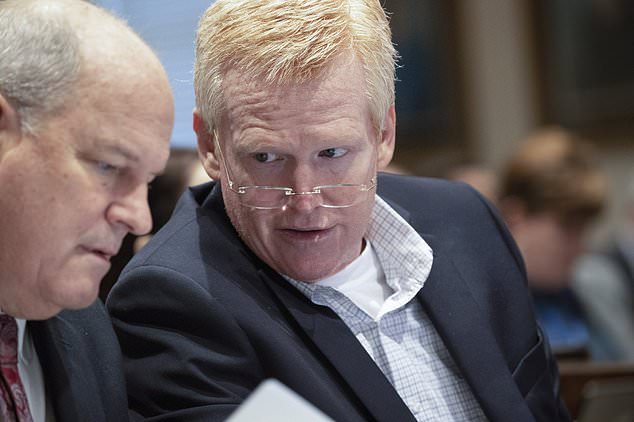 The son of Alex Murdaugh's housekeeper has taken to the stand at the disgraced South Carolina attorney's double murder trial to accuse him of stealing a $4 million wrongful death payout following the death of his mother at the Murdaugh home where she worked. 
Prosecutors asked a judge Friday to consider allowing the son of Murdaugh's longtime housekeeper to tell jurors about how after she died in a fall at Murdaugh's home, he promised her family to take care of them and then stole millions in settlements with his insurers.   
Prosecutors say they want jurors to know how Murdaugh stole over $4 million from his housekeeper's relatives after her death and then killed his wife and son to cover up his crimes.
Tony Satterfield said his mom cleaned the Murdaugh home, but also babysat their two sons and did anything else they asked over a period of 20 years. 
Alex Murdaugh, right, leans over to talk with his attorney Jim Griffin in his double murder trial at the Colleton County Courthouse in Walterboro, on Friday
Tony Satterfield, son of Gloria Satterfield, points out Alex Murdaugh during Murdaugh's double murder trial on Friday
Gloria Satterfield, is said to have died after falling at the Murdaugh home in 2018. She was the family's housekeeper and nanny for 25 years
She died at age 57 a few weeks after hitting her head in a fall in February 2018 on steps at the family's house.
'Did you ever get one cent from Alex Murdaugh?' prosecutor Creighton Waters asked Friday.
'No,' Satterfield answered.
To this day, Satterfield's two sons say they still don't know how the fall caused her such horrific injuries that she died from them. 
The jury was not present to hear Satterfield's evidence. Instead, Judge Newman has been holding separate hearings about how much evidence prosecutors should be able to introduce.
Tony Satterfield explained how after his mother's death, Murdaugh told him and his brother, 'Let me go out to my insurance company to get the medical bills for your mom paid.'
Such was the connection between the two families, he considered Murdaugh to be his lawyer, even though nothing formal was ever signed. 
He said he hoped the two Satterfield sons would end up with about $100,000 each after the medical bills were paid.
Court documents state how Alex Murdaugh, a former attorney himself, told Satterfield's sons he was personally responsible for the fall and said he would 'sue himself' so that their family would be taken care of financially.
To this day, Satterfield's two sons say they still don't know how the fall caused her such horrific injuries that she died from them and never received a penny from an insurance payout
But progress seemed to be extremely slow. 'At first it was half-hearted,' Tony said on Friday. '[Alex] said they were making progress but he left it at that.' 
Satterfield said he learned of payouts over his mother's death in a local newspaper. 
Murdaugh had never told him that there were in fact two insurance policies with benefits of roughly $500,000 and $5 million that he had received the funds for.
WhenSatterfield finally made contact with Murdaugh, he said he was only told they were still making progress and were hoping to settle by the end of the year.
'Did you ever get one cent from Alex Murdaugh before all of this happened?' Waters asked.
'No,' Satterfield responded.
He was unable to state for certain if he reached out to Murdaugh before or after the murders.
'It was around that time, but I don't remember if it was before or after,' he said. 
In October 2021 Murdaugh was charged with stealing insurance settlements meant for the Satterfield's sons that a lawsuit said totalled more than $4 million.
Murdaugh managed to secure $4.3 million from his insurers, but he only told the sons about a $500,000 settlement and then never sent them a dime, the lawsuit claims.
Murdaugh took the settlement money by creating a fraudulent bank account with a name similar to a legal consulting firm that handles settlements, the lawsuit said.
Murdaugh, 54, is standing trial in the shootings of his 52-year-old wife, Maggie, and 22-year-old son, Paul, on June 7, 2021, at their Colleton County home. He faces 30 years to life in prison if convicted of murder.
Judge Clifton Newman hasn't ruled yet how much if any of the financial crimes evidence he will allow jurors to hear. The issue of whether jurors can hear testimony about financial misdeeds has been its own mini trial within the double murder proceedings.
Satterfield testified that after Murdaugh promised to take care of his housekeeper's family, he suggested they hire one of his friends – who was also a college roommate and godfather to one of his sons – to be the executor of his mother's estate.
Satterfield heard little from Murdaugh until they spoke in June 2021. He said Murdaugh told them they were working on a settlement hopefully by the end of the year. 
Court records show Murdaugh´s insurers had already paid more than $4 million for the fall.
'Did you give him permission to steal your money?' Waters asked Satterfield.
'No,' he replied.
Murdaugh told Satterfield's sons at her February 2018 funeral that he would get insurance settlements for her death and take care of them, according to the lawsuit filed by the sons. 
Griffin asked only a few question in cross-examination, but honed in on how Satterfield didn´t know the exact date in June 2021 the conversation took place.
In an interview with NBC's Dateline in October 2021, Gloria's brother, Eric Harriott Jr., said: 'It ain't about the money. It's like she was a nobody, as much as she's done for him.' 
Gloria's sister, Ginger Harriott Hadwin, added: 'Did he have that going through his mind that day when we buried Gloria, and thinking, 'oh, how much money am I gonna get? How can I get this?" 
Murdaugh's wife and son were killed on June 7, 2021. Paul Murdaugh was shot twice with a shotgun and Maggie Murdaugh was shot four or five times with a rifle.
Even though Gloria Satterfield died in an accident, her death was never reported to the Hampton County coroner. 
Alex Murdaugh is lead into the Colleton County Courthouse before his double murder trial
Alex Murdaugh, center, speaks with attorney Dick Harpootlian during his double murder trial at the Colleton County Courthouse on Friday
State Law Enforcement Division agents exhumed her body about a year after the deaths of Murdaugh's son and wife, but never announced any findings of reopening the investigation into her death.
The Murdaugh family told the sons their mother tripped over the family dog and died three weeks later from her lingering injuries. 
Other lawyers came in to help the Satterfield family and they have collected more than $4 million in settlements from Murdaugh's friend, the bank involved with Murdaugh and others.
Prosecutors are asking Judge Newman to allow them to present evidence of Murdaugh stealing money from clients and his law firm to bolster their premise that Murdaugh killed his family to gain sympathy and buy time because his thefts and massive debts were about to be discovered.
Murdaugh is charged, but hasn't been tried, with a range of about 100 other crimes, including the thefts, running a drug and money laundering ring, tax evasion and insurance fraud for trying to arrange his own death so his surviving son could collect $10 million in life insurance. 
Police said the would-be fatal shot only grazed Murdaugh's head.
Firearms examiner Paul Greer removes a shotgun from an evidence box during Alex Murdaugh's double murder trial at the Colleton County Courthouse in Walterboro, South Carolina
Greer said the bullets recovered from Maggie Murdaugh's body and bullets found fired at other places on the property weren't suitable to test to see if they came from the same gun 
The jury returned to the courtroom late Friday morning to hear from several state agents who collected fingerprints and DNA samples, and also tested guns, ammunition and shotgun pellets found in the bodies of the victims.
Markings on the cartridges found near Maggie Murdaugh's body matched markings found on fired cartridges discovered near a gun range on the property and elsewhere, implying they could have been fired from the same Blackout rifle, State Law Enforcement Division agent Paul Greer testified.
But the rifle that fired all those bullets has not been found, Greer said.
During cross examination, defense attorney Jim Griffin asked a number of questions based on scientific advances in matching guns to fired bullets. 
Buster, Maggie, Paul and Alex Murdaugh (from left). Murdaugh's wife, Maggie, and son Paul were found shot dead at the family's hunting lodge in a horrific double murder in June 2021
Murdaugh has adamantly denied having anything to do with the killings of his wife and son 
The defense argues that based on the new science, ballistics experts can´t say with 100% certainty that there are unique markings linking a gun to a cartridge loaded into a Blackout rifle.
Greer said the bullets recovered from Maggie Murdaugh's body and bullets found fired at other places on the property weren't suitable to test to see if they came from the same gun.
'You aren´t here to tell the jury that any of the weapons in this courtroom were used, in your opinion, to murder Maggie or Paul, correct?' Griffin asked Greer to start his cross examination.
Greer answered almost all of Griffin's yes or no questions with long explanations saying test results were inconclusive or he hadn't studied every Blackout rifle in the world.
Defense attorney Jim Griffin, left, looks over evidence alongside Alex Murdaugh, center
People wait outside of the courthouse to get a seat at the double murder trial of Alex Murdaugh