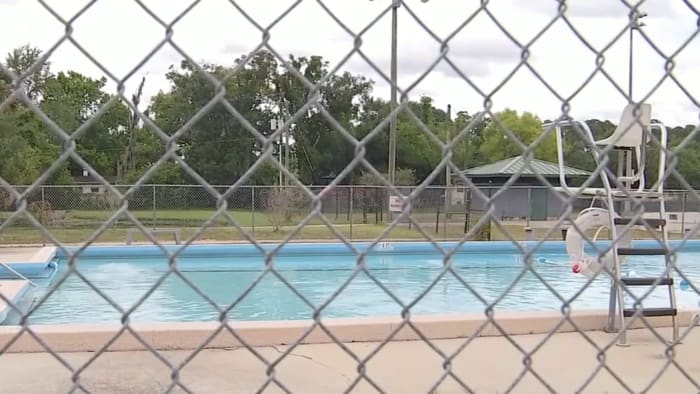 JACKSONVILLE, Fla. – Just in time for summer.
The City of Jacksonville Department of Parks, Recreation and Community Services (PRCS), announced that 20 community pools across the city will open Saturday, May 27 — just in time for Memorial Day festivities.
The following outdoor pools will be open on Saturday from 11 p.m. to 6 p.m., on Sunday, May 28 from 2 p.m. to 6 p.m., and on Monday, May 29 from 11 a.m. to 6 p.m.:
Andrew Jackson High School – 128 W. 30th St.

Baldwin Middle/High School – 345 Chestnut St. N.

Cecil Aquatic Center – 13611 Normandy Blvd.

Emmett Reed Park – 1093 W. 6th St.

Fletcher High School – 700 Seagate Ave.

Fort Caroline – 131 Ferber Rd.

Grand/ Johnnie Walker Park – 2740 Division St.

Harts Rd/ Eartha Napolean Park – 11597 Harts Rd.

Julius Guinyard Park – 1358 Jefferson St.

Lakeshore Middle School – 2519 Bayview Rd.

Mandarin High School – 4831 Greenland Rd.

Oceanway Park – 12215 Sago Ave. W.

Pine Forest – 2335 Gattis Ln.

Ribault High School – 5820 Van Gundy St.

Riverside High School – 1200 S. McDuff Ave.

Sandalwood High School – 2750 John Prom Blvd.

Terry Parker High School – 7301 Parker School Rd.

Thomas Jefferson Park – 390 N. Jackson Ave.

Westside High School – 5530 Firestone Rd.

Woodland Acres/ Warrington Park – 8200 Kona Ave.
The outdoor pools will be open from Memorial Day weekend through Labor Day. Starting, Saturday, June 3, outdoor pools will open from 1 p.m. to 7 p.m. on Monday through Friday and from 2 p.m. to 6 p.m. on the weekends.
The Cecil Aquatics Center on 13611 Normandy Boulevard is open to swimmers year-round.
Additional locations can open depending on lifeguard availability.
The city is also hiring qualified lifeguards to work at pools. That starting salary is $14 an hour. For more information, call (904) 255-6777 or (904) 255-4271, or email [email protected].
Copyright 2023 by WJXT News4JAX – All rights reserved.
Post source: News 4jax