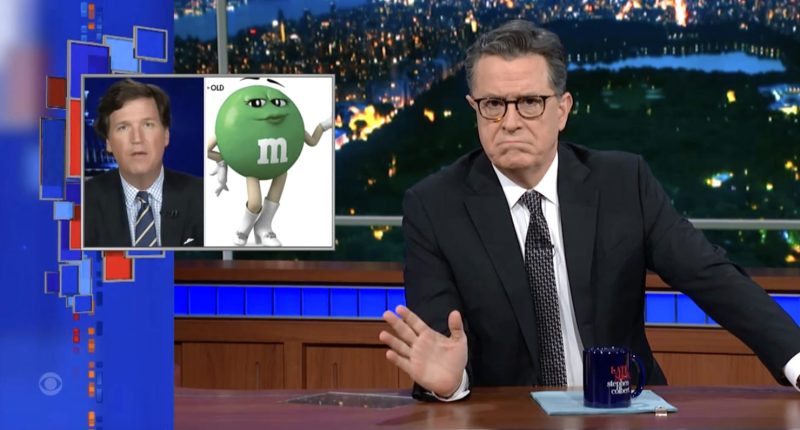 This week, Tucker Carlson succeeded almost single-handedly at getting M&Ms to change its marketing strategy. And as Stephen Colbert explained on The Late Show Tuesday night, it's all because the Fox News host didn't find the "spokescandies" sexy enough anymore.
"You might remember last year when M&Ms redesigned their female green spokescandy, changing her go-go boots to sensible sneakers," the host said, "and Fox News host Tucker Carlson was outraged about no longer being turned on."
From there, Colbert shared the 2022 clip of Carlson complaining that the company would "not be satisfied until every last cartoon character is deeply unappealing and totally androgynous, until the moment you wouldn't want to have a drink with any one of them."
"Nothing weird about that," Colbert replied. "Who hasn't thought about taking their candy out for drinks and then, if things go right, maybe a little action, over the peanut, under the candy shell?"
Now, almost a year after Carlson made that initial disturbing commentary, he was at it again, whining on Fox about the company's new "plus-sized, obese purple M&M." As Colbert shot back "She's not obese, she is with nut, OK? Show some respect!"
For more, listen and subscribe to The Last Laugh podcast.
Post source: TDB