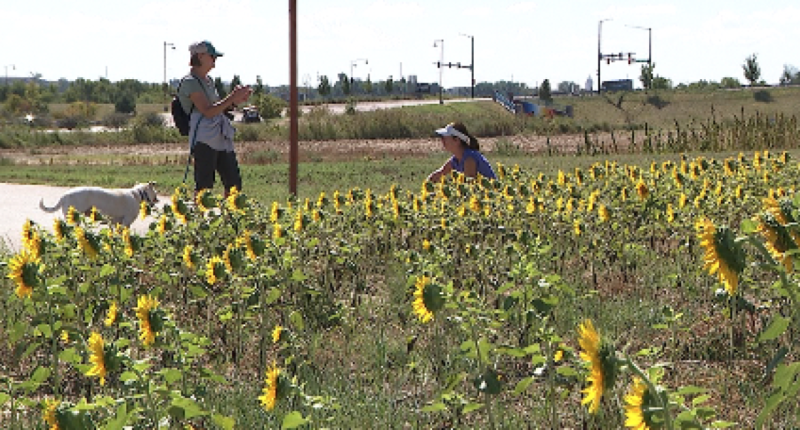 BRIGHTON, Colo. — A county planting flowers or doing landscaping for the public good isn't anything new. A county planting an entire field of sunflowers just to be featured on social media as a somewhat distraction? That might be a first.
"We planted the sunflowers to kind of bring a piece of the prairie and the beauty that we have out east on the plains here in the town," Jennifer Tucker, the agricultural district coordinator for Adams County, told Denver7.
The other reason isn't as selfless. The field is a solution to a problem that started a few years ago.
Tucker said local farmers with sunflower fields started seeing more and more people show up unannounced to take photos. Some of them trespassed on private property. The most extreme cases trampled crops or even drove into the fields themselves.
"One of our producers had to hire the county sheriff to come in and basically patrol against trespass," Tucker said.,
So the county decided to divert the attention to something they could control, in the form of their own sunflower field in Brighton. County commissioners worked with Colorado State University Extension, to plant their own plot on a piece of public property next to the Riverdale Regional Animal Shelter.
"The big key of it is you're not trespassing. We're encouraging you to come out and enjoy it," Tucker said.
You could call it a sunflower diversion program — the opportunity to take the same photos, with similar flowers, in a legal and safe way.
"It's wide open for everybody to use as long as we use it with respect," Tucker added.
The county is already looking at growing the idea. Next year, they are "plotting" to plant seven to ten small sets of sunflowers on public land for the community to enjoy.
---
The Follow Up
What do you want Denver7 to follow up on? Is there a story, topic or issue you want us to revisit? Let us know with the contact form below.