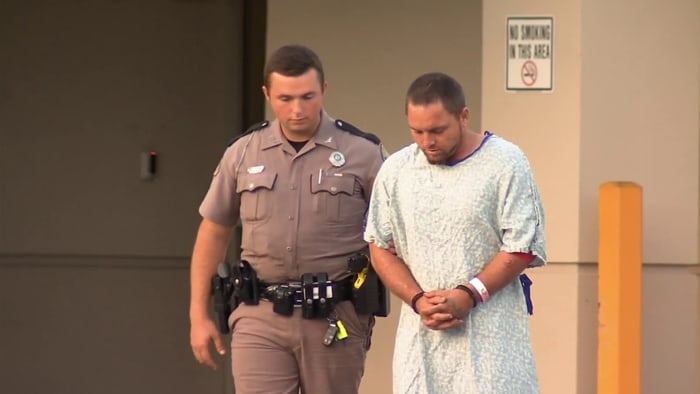 BAKER COUNTY, Fla. – What started as a high-speed chase with a suspected reckless driver Thursday morning turned into a six-hour manhunt for a wanted man in Baker County.
The Florida Highway Patrol said the driver, 35-year-old Brian Sulivan, who has numerous warrants from other states, jumped out of his car and ran off but was eventually found and arrested around 3 p.m., about two miles from Interstate 10 near the Duval County line.
FHP said troopers were chasing Sulivan who was driving on I-10 westbound near U.S. 301 around 8 a.m. at speeds exceeding 100 miles per hour Thursday morning when he pulled off the highway and ran into the woods.
The Jacksonville Sheriff's Office along with the Baker County Sheriff's Office and FWC all joined in on the search using a helicopter, drones, horses and dogs.
FHP said K-9s were able to track the man down and found him hiding under a palmetto bush. FHP said the man was taken to a local hospital to be treated for a K-9 bite and scratches from the brush.
A female passenger who was in the car with the suspect and did not run was taken into custody but was cooperating, FHP said. She could also face charges.
The search backed up traffic on I-10 in the area for hours but traffic appeared to be flowing normally by 3 p.m.
Copyright 2023 by WJXT News4JAX – All rights reserved.
Post source: News 4jax