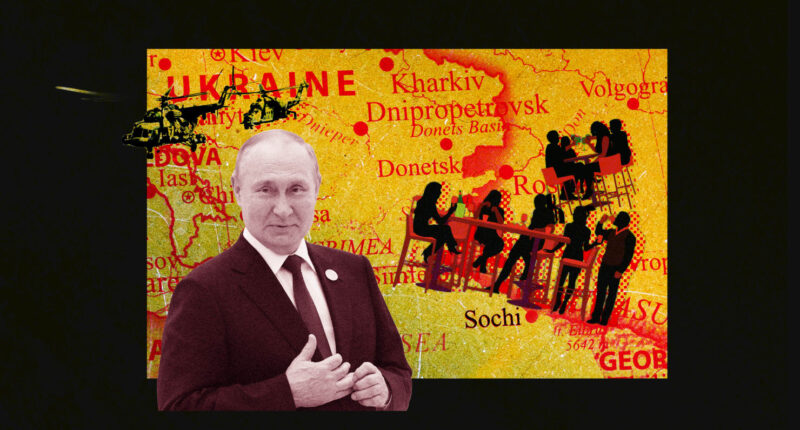 While thousands of Ukrainians were fleeing their submerged homes after a catastrophic dam explosion last week, high-society Russians gathered for a glitzy restaurant festival in the Black Sea resort of Sochi, just 500 miles away from the devastating flooding.
The event, called Gastreet, saw some 5,000 citizens pay up to $2,000 dollars for the opportunity to listen to some of Russia's top businessmen, restaurant owners, and influencers over the course of five days. The event also included concerts, lavish nightlife experiences, and gourmet dinners.
If there's one thing that was made clear at the Sochi resort, it's that no amount of Western sanctions, Kremlin restrictions, or spillover violence within Russia can stop the country's rich and famous from living large—despite the raging war in neighboring Ukraine.
Take Ksenia Sobchak, Putin's rumored goddaughter and one of the VIP Gastreet guests who spoke at the Sochi resort last week. The Russian influencer—who reportedly made over $3 million from her media holding company, Careful Media, last year—has continued to promote products on her Instagram page in the lead-up to the event, even though the app has been banned in Russia.
One of her latest marketing campaigns is for Primepark, a luxury real estate complex in the heart of Moscow.
"Just imagine, valet meets you in the parking lot, bellmen carry your shopping bags to your apartment, housekeepers help with all your routine around the house—I always said that comfort is made by details," Sobchak wrote under photos of herself in designer outfits, wandering around luxury apartments. (The comment sections are flooded with responses blasting Sobchack with "reminders" of the countless missiles descending on Ukraine.)
Speaking with The Daily Beast, PrimePark's manager claimed that the war has not slowed down apartment sales at the complex, which features nine towers and units with starting price of $6,000 per square meter and includes amenities like tennis courts and swimming pools.
With the war in Ukraine grinding on, hundreds of thousands of Russians have no option but to recreate their luxurious lifestyles at home—either because of travel bans imposed by the Kremlin, or because of sanctions that prevent Russians from obtaining travel visas or investing in other countries.
"During the first year of the war the market for elite real estate shrank by about 45 percent, and prices also went down quite a bit, but now people who are under sanctions and cannot invest in Europe, are coming back… and investing in elite real estate—they simply don't have any other options," Yana Madrykina, one of Moscow's top luxury real estate agents, told The Daily Beast.
"Some elite complexes and cottages stay dark, but the owners are not in a hurry to sell real estate. We have clients who are ready to invest dozens of millions of dollars," she said, adding that she had just closed a $1.4 million condo.
"The elite prefer not to do anything to change the reality."
Back in Sochi, restaurant owners from Moscow discussed how to develop businesses all across the country, speaking in festival sites called "As a King," "Barstreet" and "Winestreet." It smelled of barbeque and expensive perfume, one of the participants told The Daily Beast in an interview on Tuesday.
"Oh, was there another trouble in Ukraine? Honestly, I did not have time to read about politics, I am developing a new restaurant in Sochi," Yelena Korshunova, one of the guests, told The Daily Beast when asked about recent developments in the war. She explained that her father, a Moscow businessman, had recently helped fund her plans to open a new eatery in the area. "Since we cannot travel to Europe, because of anti-Russian sanctions, we create Europe here for food lovers."
Can't Stop, Won't Stop
There is "some sort of eating disorder caused by the shock of the war," another Gastreet guest, who only wanted to be identified using her first name, Marina, told The Daily Beast. The wife of a prominent investment banker, Marina was complaining about how all of her favorite restaurants in downtown Moscow were overbooked last weekend.
After the war, she said, her husband moved his business to Dubai, where their family often mingles with new friends among Iran and Syria's sanctioned elites.
"Russian children of the Kremlin's bureaucrats, who revolt against their parents in places like London, still cannot live and make money honestly, only because they are Russian," she said. "So they go to Dubai, one of our hubs these days."
Marina said she was planning a brunch date soon with friends at Vadvare, an elite restaurant hidden in a luxury gated apartment block in the heart of Moscow, home to many public officials.
"There is an Italian chef Emanuele Pollini at Vadvare, he experiments with food, which reminds me of my favorite cousin in Milano," she said. "We eat in the best restaurants, go to exercise in elite gyms, but when we walk outside we know this is not Europe."
Many in Russia's upper class continue to post about their splurging on social media, apparently unembarrassed by reports about the devastation in Ukraine or attacks on Russian border cities.
That "business as usual" appears to have caught the attention of Yevgeny Prigozhin, the leader of the Russian mercenary group Wagner, who has resorted to publicly scolding the Moscow elite for sending soldiers to die while they "grow fat" in their luxury.
Meanwhile, Russian oligarchs continue to get richer despite widespread sanctions. Twenty-two billionaires have recently been added to the Forbes list of Russia's richest men. Local investments—especially in commercial real estate—are booming, beating the 2017 record, although foreign investments dropped down to only 3 percent.
"The population of the middle class has shrunk by almost 50 percent, a ton of foreign companies have left, so now those who cannot spend invest their money" in Russia, Mandrykina, the real estate agent, said. The elite, she added, are "able to buy all the brands they liked before the sanctions. The goods are imported from China, India, or the United Arab Emirates."
Olga Bychkova, a Kremlin observer of three decades, believes that "while many intellectuals and creative people feel awfully guilty about the war, a huge number of middle and upper class enjoy the exciting times," using it as an opportunity to "develop local products to replace banned items and thrive."
"Gas money is drying out, but the oil money is floating in," she told The Daily Beast, referring to Russians who have made money off business contracts with Dubai, China, Brazil, or India.
"The elite prefer not to do anything to change the reality, for as long as they make a ton of money."
Post source: TDB