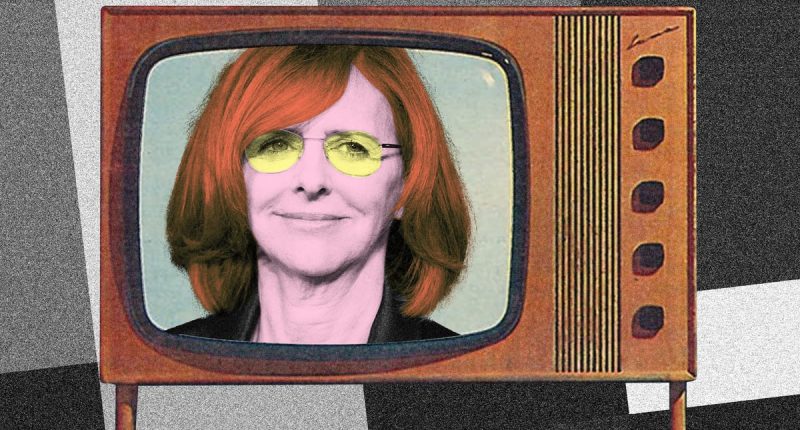 This is a preview of our pop culture newsletter The Daily Beast's Obsessed, written by editor Kevin Fallon. To receive the full newsletter in your inbox each week, sign up for it here.
This week:
The deeply upsetting Nancy Meyers news.
The movie that has everyone hot and bothered.
A League of Their Own finally renewed.
The perfect Ben Affleck quote.
Give Nancy Meyers What She Wants!
It's rare, and perhaps even a little nonsensical, to be angry about not getting to see a movie that never even existed. But I'm harboring an intense, unhealthy rage about this Nancy Meyers/Netflix news—particularly about what it reflects upon the state of the industry and what Hollywood execs think is worthwhile entertainment.
The news broke this week that Netflix canceled the new rom-com from the queen of the genre, Meyers, whose library of work includes The Holiday, Something's Gotta Give, and It's Complicated; in other words, she's made a slate of films that accounts for roughly 70 percent of the total running time of movies that Kevin Fallon rewatches over and over again. No Sunday activity is more rewarding or healing than spending the afternoon nestled on your couch watching Meryl Streep and Steve Martin fall in love in It's Complicated. (Sorry to, uh…church and God.)
Apparently, Meyers wanted a budget of $150 million for the film, which was tentatively titled Paris Paramount. It was set to follow two filmmakers, who used to be in love and reunite on a set; stars included Scarlett Johansson, Penélope Cruz, Owen Wilson, and Michael Fassbender. While I would argue that no amount of money is too much money for a Nancy Meyers movie, Netflix outlandishly felt the opposite. All hope is not lost, however, as Deadline is reporting that Warner Bros. is circling the movie, now that Netflix is no longer involved—though it's unclear if the cast or price tag will remain intact.
Some might say that $150 million is a ludicrous amount of money to request for a romantic comedy. Those people are rude and have terrible opinions. I can't think of a better use of money than backing up a dump truck full of cash to Meyers' home and saying to her, "Go wild!" Imagine the stunning kitchen sets we would get. The thought alone of the jaw-dropping open-concept living space is giving me chills. I just thought of Penélope Cruz wearing the world's most expensive cream-colored cashmere sweater and shed a single tear. We need this movie. Lives will be changed. Hearts will be full. We'd finally have world peace.
The truth is that, as an adult in New York City, I have never lived in a space that is more than 700 square feet, and even those tiny, barely livable apartments are hardly affordable. So if you told me that Meyers needed $150 million to, like, have a dining room in the apartment where the characters live, I'd believe you. I have no concept anymore of what normal things should cost. New York has broken me.
But beyond that, studios and streamers have been escalating film budgets like they're using Monopoly money. Netflix spent $200 million on The Gray Man, a Ryan Gosling action movie that I forgot existed. It's not outrageous to point out the glaring difference between that film and Paris Paramount: the supposed demographic their genres appeal to. Romantic comedies and the largely female audience who love them aren't taken seriously by the industry, in spite of the fact that I predict most film fans—of any kind—would move mountains for the chance to see Meyers in her element, with an ungodly amount of money.
I'm so annoyed that the only thing that will calm me down at this point, ironically, is putting on a Nancy Meyers movie to comfort-watch. Makes you think!
People Have Never Been So Horny for a Movie
Earlier this week, a tweet went out with an update to the new film from Andrew Haigh, Strangers, which has the helmer of the achingly beautiful gay romantic drama Weekend directing heartthrobs/reigning Internet Boyfriends Andrew Scott and Paul Mescal.
The tweet from @FilmUpdates featured photos of Scott and Mescal brooding at a camera, while wearing white tank tops. People were beside themselves. I've never seen the internet hornier for a movie. Just take a look at how thirsty these quote tweets are. Is it possible to throw all of Twitter into a cold shower?
"Paul Mescal could burn my house down and run me over with an 18 wheeler &I'd thank him." "Gonna be in my silk robe with candles lit for this." "I'm a screenwriter. Puncture me." "People died (me)." "Babe wake up new white men kissing in a cinematic way just dropped." ""Horny people won today." "I apologize in advance for the person I become after I see this movie." "I'm not strong enough." "This is far too much for me and my mental sanity."
There are so many more. These are just the ones I could share without blushing.
One of the Best Shows Is Finally Coming Back
Months after A League of Their Own premiered on Amazon's Prime Video, there's finally a Season 2 renewal—but only for four last episodes. They gave us morsels, but we're going to make a goddamn feast out of it.
Why is this so frustrating? First of all, because the show is so good. Co-creators Abbi Jacobson and Will Graham found a way to pay homage to Penny Marshall's perfect film, while expanding its universe to tell nuanced stories about the queer and Black women whose experiences are often cast aside in stories like this. And that leads to the second reason to be annoyed: Once again, a TV series that does beautiful work depicting the lives of marginalized people, particularly within the LGBT+ community, is slighted.
There's a glass-half-full way of looking at this. For a while, it looked like the show wasn't going to be renewed; at least we're getting more, even if it's just four episodes. But also, I'm tired of settling for minor victories like this.
Ben Affleck's Most Genius Observation
This whole interview with Ben Affleck in The Hollywood Reporter is fantastic. But it's the way that he describes people who golf that I'll be thinking about until my dying days: "​​I look at golf like meth. They have better teeth, but it doesn't seem like people ever come out of that. Once they start golfing, you just don't ever see them again."
What to watch this week:
Swarm: People will be buzzing. Get it?! (Now on Prime Video)
Lucky Hank: Bob Odenkirk on our TVs is always a good thing. (Sun. on AMC)
The Real Housewives Ultimate Girls Trip: I will be savoring every last second of this new season. (Thurs. on Peacock)
What to skip this week:
Boston Strangler: A fascinating story about journalism; a not-so fascinating movie. (Now on Hulu)
Shazam! Fury of the Gods: Another failure from the DC cinematic universe. (Now in theaters)


Post source: TDB