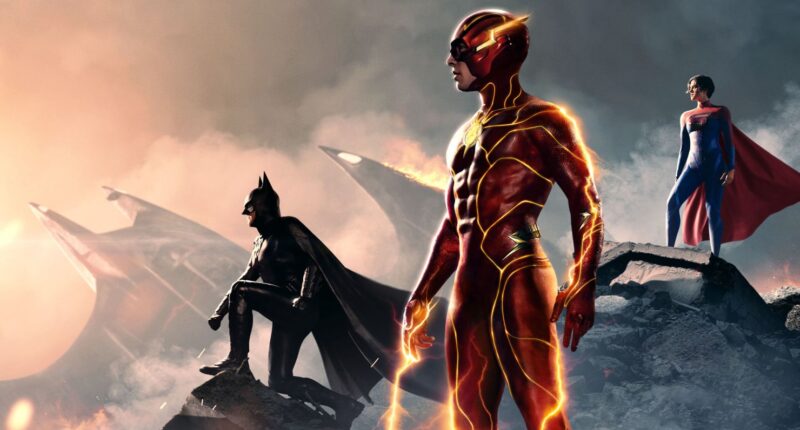 The Flash is one of the summer's most anticipated films—for better or worse. While star Ezrra Miller remains embroiled in controversy, following multiple allegations of harassment and violence, DC fans can't help but get hyped up to watch the rest of the cast. And a huge cameo, newly revealed by The Flash's director, will only get them more excited.
A spoiler for The Flash follows—and a really big one, at that.
Miller returns as Barry Allen, a.k.a. The Flash, whom we saw last in Zack Snyder's Justice League. Due to some super-speed, emotionally driven time manipulation, Barry's got a catastrophe on his hands. He needs help to fix the timelines he's broken: Cue Michael Keaton and Ben Affleck, both reprising their roles as Batman.
Keaton and Affleck are primed to steal the show, as The Flash's initial teasers suggest this superhero crossover will be a huge factor in the story. But the Batmania may be overshadowed, due to a cameo that director Andy Muschietti (the It movies) just spoiled in an interview.
We already know that Superman's cousin Supergirl (played by Sasha Calle) appears in the film. But Muschietti shared with Esquire Middle East that he successfully "recruited" Nicolas Cage to appear in The Flash as her cousin, Superman. Yep: Nic Cage is finally gonna play Superman. Superman!!!! Superman!!!!!
If you're well-versed in the history of live-action DC Comics adaptations, you understand why this is a fully bold-and-italics-worthy announcement. It's not just that Cage "is a massive Superman fan," as Muschietti says in the interview, which helped make the cameo happen. It's also that Cage has aspired to don the blue-and-red leotard for decades.
Cage is arguably the biggest Superman fan in Hollywood. This is a man who literally named his son Kal-El, Superman's original Kryptonian name, after all. Years before Kal-El was born, though, Cage made a failed attempt to star in his own Superman movie. It was a big, expensive, public backfire—one that left Superman movies in flux for years.
While the character was popularly imagined on screen by Christopher Reeve in the late 1970s/early 1980s, by the 1990s, Superman had become dormant. (Blame part of this on the fabled "Superman curse.") In 1996, Warner Bros. hired Kevin Smith to relaunch the character with Superman Lives, based on the famous comics storyline where Superman dies. (Irony!) Smith penned the script, Cage won the title role, and Tim Burton was brought on to direct. Two years later, production and studio drama led WB to kill Superman Lives—just weeks before it was set to start filming.
Famously, there's footage of Cage testing out his costume for the film. That's how far along it got!
After this mess, Superman didn't return to screen until 2006's Superman Returns, starring Brandon Routh. By 2013, Zack Snyder took over the DC movie universe and hired Henry Cavill to play the character in Man of Steel. Since James Gunn and Peter Safran took over DC Studios last fall, however, Cavill will no longer play the character in the upcoming umpteenth reboot of the Superman movies.
But the most intriguing story about Cage's relationship to Superman involves not a film, but a comic book. The actor infamously once owned a copy of the first issue of Action Comics, in which the Kryptonian hero makes his debut. In 1997, Cage reportedly purchased his copy, one of only 100 known to still exist, for $150,000—a steal. Which is probably why it later got stolen: Only three years after he bought the near-mint issue, someone swiped it from Cage's home.
This turned into a decade-long journey to find Cage's Superman comic, which was one of several pricy classic comics pilfered from his collection. In 2011, someone reportedly discovered it in a storage locker; thankfully, they were able to get it back to Cage. Despite stating that its recovery was "divine providence" and calling it a family heirloom, Cage soon sold his Action Comics #1 for more than $2.1 million. That's what happens when you have mountains of debt to pay off!
All of this backstory makes Muschietti's spoiler-y cameo reveal juicy and exciting for comic book fans. (For the rest of you, any new Cage performance is exciting; he's one of Hollywood's greatest agents of chaos.) The director didn't detail just how much Cage's Superman will appear in The Flash; he already said too much as it is. But more than 25 years after the death of Superman Lives, we'll take whatever we can get. Maybe Kal-El Cage will make an appearance too.
The Flash hits theaters June 16.
Post source: TDB