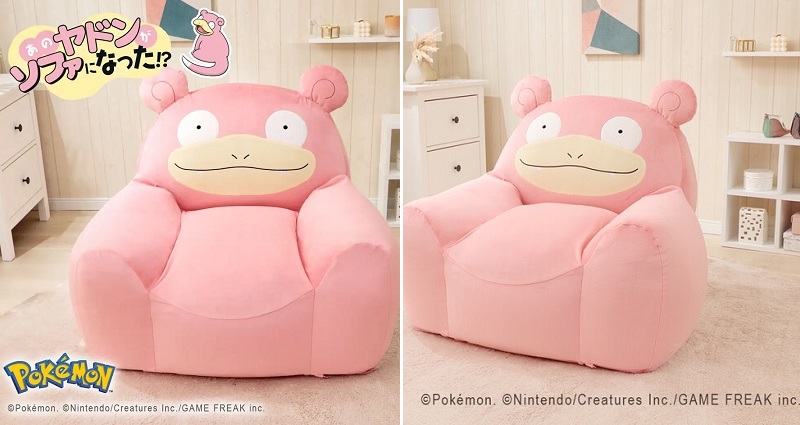 Slowpoke, a Pokémon famously known for being goofy and laid-back, has joined the roster of Japanese furniture maker Cellutane's comfortable Pokémon sofas.
The newest Pokémon product by Cellutane, which is based in Japan's Kanagawa prefecture, is called the Slowpoke Bead Sofa. In Japan, the word "sofa" can also reportedly be used when describing furniture that is soft and designed for one person.
The Cellutane Pokemon Slowpoke Chair is now available through Cellutane's Japanese website for ¥28,400! pic.twitter.com/FAkLtmyFNJ

— Nintendo Merch Central (@nintendomerch) November 25, 2022
s
According to Cellutane's listing, the Slowpoke Bead Sofa's materials include expanded polystyrene beads and high-elastic urethane foam. And for those who are curious – yes, it does come complete with Slowpoke's adorable ears and tail. 
The sofa — which has a base of 92 centimeters by 101 centimeters (approximately 36.2 inches by 39.8 inches), weighs 8.75 kilograms (approximately 19.3 pounds) and has a cover that's both removable and washable — is the latest addition to Cellutane's roster of "Pokémon" sofas, which includes a spooktacular Gengar sofa, a snooze-inviting Snorlax sofa and a Rowlet sofa that looks like a hoot to sit in. Cellutane also offers Pokéball ottomans.
Priced at 28,400 yen (approximately $205), the Slowpoke Bead Sofa is available on Cellutane's official website and at other online retailers.
Featured Image via PR Times
Support our Journalism with a Contribution
Many people might not know this, but despite our large and loyal following which we are immensely grateful for, NextShark is still a small bootstrapped startup that runs on no outside funding or loans.
Everything you see today is built on the backs of warriors who have sacrificed opportunities to help give Asians all over the world a bigger voice.
However, we still face many trials and tribulations in our industry, from figuring out the most sustainable business model for independent media companies to facing the current COVID-19 pandemic decimating advertising revenues across the board.
We hope you consider making a contribution so we can continue to provide you with quality content that informs, educates and inspires the Asian community.
Even a $1 contribution goes a long way. Thank you for everyone's support. We love you all and can't appreciate you guys enough.




Post source: Nextshark