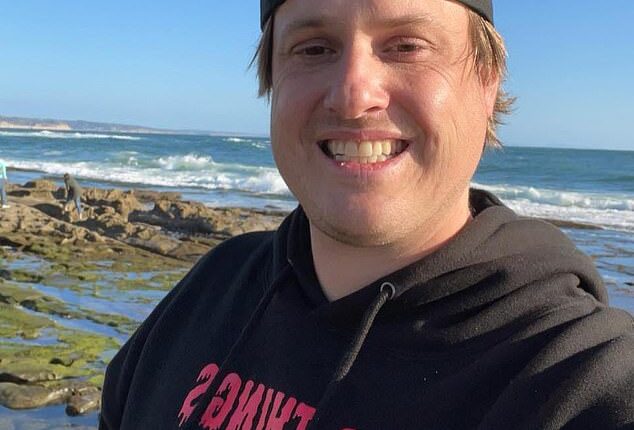 The stepson of a billionaire who was aboard the doomed Titan sub when it imploded last month has reactivated his Twitter to say his family are holding up.
Brian Szasz' stepfather Hamish Harding had been aboard the Titan submersible last month when it imploded after a length search for the missing vessel.
After going quiet on his social media profiles following the news of his stepfather passing, Szasz has now reactivated his profile.
In response to a message from a follower who asked how his family was holding up, Szasz responded: 'Stayin strong thanks!'
Szasz had deactivated his account after responding to a Twitter post made by a scantily-clad OnlyFans model named Brea,, which was captioned 'can I sit on u'. 
In a reply to a twitter follower, Szasz confirmed that his family were 'stayin strong'
Szasz had reactivated his profile after going radio silent after being ridiculed online for asking an OnlyFans model to sit on him 
Clearly impressed by the curvaceous sex worker, Szasz replied: 'Yes please!', adding a face with love heart emojis.
Since then, Szasz had kept a low profile on his Twitter page and only recently revived it.
Szasz also tweeted an exchange he had with Blink-182 drummer and husband of Kourtney Kardashian Travis Barker.
The star had contacted Szasz, a Blink-182 fan, on Twitter saying: 'Praying for you and your family.'
Onboard with his stepfather has been one of Pakistan's richest men Shahzada Dawood, his son Suleman, explorer Paul-Henry Nargeolet and OceanGate CEO Stockton Rush.
The sub lost communication with its operator, OceanGate Expeditions, less than two hours into its dive to the famous shipwreck last month, with five people on board.
A large-scale rescue operation including planes and a fleet of vessels had been scrambled to the area 400 miles southeast of Newfoundland, Canada, as oxygen supplies in the sub dwindled.
It was then announced that the five men on board had been killed instantly after the submersible suffered a 'catastrophic implosion'.
Last week, debris from the submersible was hauled ashore in St John's, Newfoundland, Canada.
Investigators believe the Titan imploded as it made its descent into deep North Atlantic waters on June 18.
On Thursday, OceanGate – which charged passengers $250,000 to make the journey to the Titanic wreck – announced that it has suspended its operations.
Szasz also tweeted an exchange he had with Blink-182 drummer and husband of Kourtney Kardashian Travis Barker
Five people had been on board, including British billionaire adventurer Hamish Harding (left)  and Shahzada Dawood and his son Suleman, who was just 19
French Navy veteran PH Nargeolet (left) was on the sub along with Stockton Rush (right), CEO of the OceanGate Expedition
The five men on board all died after the Titan sub imploded on its expedition
The Coast Guard said last week that human remains have likely been recovered from the wreckage of the sub and are being examined by medical officials in the U.S.
Remotely operated vehicles, known as ROVs, were used to retrieve the debris from the ocean floor about 12,500 feet underwater and a ship later brought pieces of the wreckage to a port in Canada to be examined.
The debris was found roughly 1,600 feet away from the Titanic.
The U.S. Coast Guard has convened a Marine Board of Investigation, its highest level of investigation, into the implosion, and plans to hold a public hearing in the future. 
Huge chunks of metal are unloaded from the Horizon Arctic ship at the Canadian Coast Guard pier in St John's, Newfoundland, Canada
It comes after after an unnamed finance director that worked at OceanGate said she had been asked to take the controls of the doomed Titan. 
The unnamed staffer said after chief pilot David Lochridge was fired for raising safety concerns in 2018, she couldn't trust late CEO Stockton Rush.
She told the New Yorker: 'It freaked me out that he would want me to be head pilot, since my background is in accounting, I could not work for Stockton.'
Lochridge was fired in 2018 after OceanGate disagreed with his demand for more rigorous safety checks on the submersible, including 'testing to prove its integrity.'