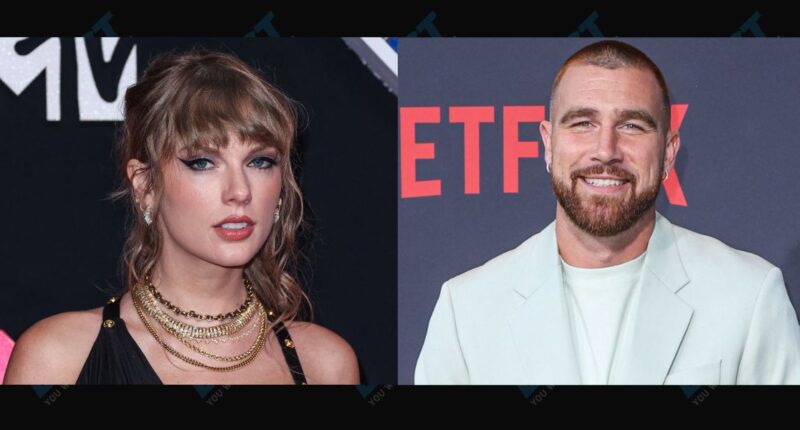 Swifties.. are you ready for it?
It's been rumored that Kansas City Chiefs tight end Travis Kelce and pop icon Taylor Swift have been dating — though neither party has confirmed this relationship to be true, leaving Swifties and NFL fans everywhere on the edges of their seats.
As many fans ship this "hopefully" new couple, a resurfaced video from 2016 shows an interview from Travis Kelce playing 'kiss, marry, kill' with celebrities, including Taylor Swift.
Did Travis Kelce Actually Kiss Taylor Swift?
In 2016, Travis Kelce played the viral game, Kiss, Marry, Kill, with pop icons Ariana Grande, Katy Perry, and Taylor Swift.
"Damn, that's messed up. I don't want to kill any of them," Kelce initially said when asked to pick. However, he was pushed further to play the game in which he ultimately made the choice. "Kill is Ariana. Sorry, love you, but you're gone," he said. "And then Taylor Swift would be the kiss. And what's the last one? Katy Perry? Yeah, Katy Perry would be the marry."
Kelce was also asked about other celeb trios, including the Kardashian sisters — Kim, Khloe, and Kylie.
"I don't even know which is which," he joked.
He was also asked about Beyoncé, Jennifer Lawrence, and Sofia Vergara, but his last options threw him off guard as all three women were married to NFL players at the time — Gisele Bündchen, Jessie James Decker and Kristin Cavallari.
"They're all — what is this? This is kill myself, that's what this game is," Kelce said before refusing to choose.
Travis Kelce Addresses Taylor Swift Dating Rumors
Rumors began circulating that Travis Kelce and Taylor Swift are dating a few days ago, although neither have actually confirmed if they are true.
"It's hilarious how much traction this has gotten," Jason Kelce, Travis's brother, said recently. "Right now, it's like that old game in school called 'telephone' where everyone is whispering in everyone's ear and hearing random stuff. No one actually knows what's going on, especially when you've got Jason Kelce on live television telling people both sides … The guy can't stay out of the frickin' headlines."
"I try to keep his business kind of his business, stay out of that world. But having said that, I think he's doing great, and I think it's all 100% true," Jason Kelce added.
When asked if the rumors bothered the Chiefs tight end, Travis Kelce said "Nah, that's life, baby. That's life."
He added, "I mean, I threw it out there. I threw the ball in her court. I told her, you know, 'I've seen you rock the stage in Arrowhead. You might have to see me rock the stage in Arrowhead and see which one is a little more lit.' We'll see what happens in the near future."
An insider told The Messenger that Taylor Swift and Travis Kelce "have hung out twice, and it's nothing serious. She thinks he is very charming, and they have been texting this last week. He is a little embarrassed at how much attention they are getting, but he has told her he would love to continue seeing her."
Post source: The blast