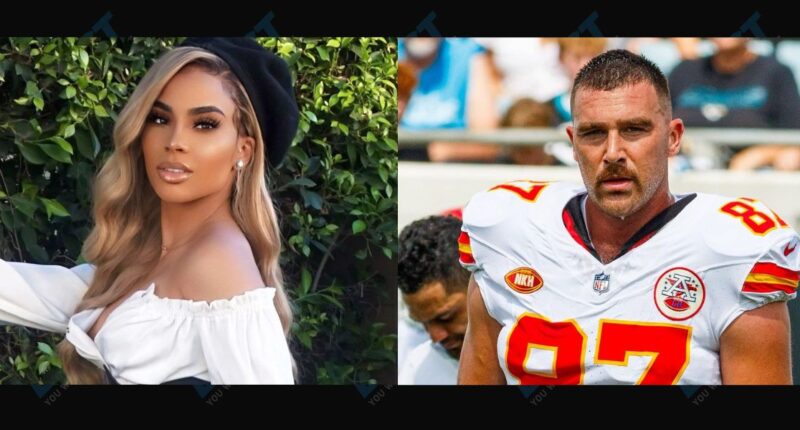 Is there 'bad blood' in the air for Kansas City Chiefs tight end Travis Kelce?
It seems so as Kelce's ex-girlfriend, Maya Benberry, has a cryptic warning for pop icon Taylor Swift.
Travis Kelce's Ex Has Got Something To Say.
Maya Benberry dated the Kansas City Chiefs player for a few months in 2016 after winning his E! reality dating show, "Catching Kelce." Now, Benberry has a warning for his new rumored girlfriend, Taylor Swift.
Benberry claims that "the man [she] knew him to be when [they] dated" is an unfaithful one.
"Taylor [Swift] seems like such a fun girl with a beautiful spirit, so I wish her the best of luck, but I wouldn't be a girls' girl if I didn't advise her to be smart!" Benberry, 31, told DailyMail. "I'm sure by now she has mastered the ability to see who is there for her — and who is just using her."
She added, "Only time will tell, but like the saying always goes: Once a cheater, always a cheater."
Benberry did not mention her cheating claims during the interview, though she previously seemed to accuse Kelce of cheating on her with his next girlfriend, Kayla Nicole.
"When you and your ex broke up five months ago, but you find out via social media that he's supposedly been in another relationship for 6…" she wrote in a since-deleted Tweet, per Page Six.
Did Travis Kelce Cheat On His Ex?
Kelce, who now plays for the Kansas City Chiefs, dated Kayla Nicole (pictured above) for four years, and while he never publicly addressed Benberry's cheating allegations, he did release a statement saying he was faithful throughout his relationships.
"This is fake news… a lie… and not why Kayla and I broke up… take all your hatred somewhere else, please," he said at the time. An insider told Page Six then that Kelce and Benberry "weren't even together long enough for him to cheat on her."
This warning from Benberry comes just two days after "Love Story" singer Taylor Swift was spotted hanging out with Donna Kelce, the mother of the Kansas City Chiefs tight end, at Arrowhead Stadium for the game against the Chicago Bears. The two have been chatting it up the entire fun, but social media exploded after Swift went nuts for Kelce following his touchdown.
Following Chief's win against the Bears, Kelce and Swift were spotted leaving Arrowhead Stadium together. Although they were not hand in hand, Swift was clearly on cloud nine as she was seen smiling from ear to ear and laughing on her way out. The two also reportedly grabbed dinner together in an intimate setting.
While Taylor Swift's appearance at the Chiefs game was very public, sources say their in-person interactions before Sunday were always in a "very private setting."
An insider also spoke out before Swift's public outing at the Chiefs game, admitting, "She and Travis have hung out twice, and it's nothing serious. She thinks he is very charming, and they have been texting this last week. He is a little embarrassed at how much attention they are getting, but he has told her he would love to continue seeing her."
Post source: The blast