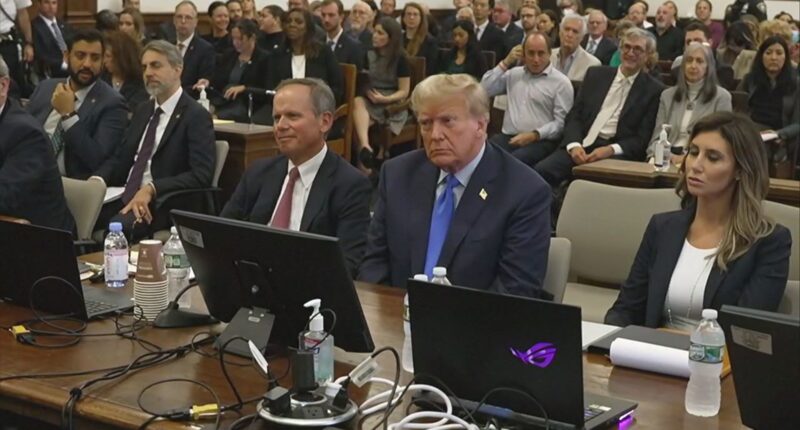 Former President Donald Trump is back in the courtroom for the second day of the trial, in which he, his sons Eric and Don Jr., and Trump Organization executives are accused by New York Attorney General Letitia James of engaging in a decade-long scheme in which they used "numerous acts of fraud and misrepresentation" to inflate Trump's net worth while lowering his tax burden.
As court resumed after the lunch break, Judge Engoron admonished Donald Trump for a post he made this afternoon on his Truth Social platform regarding Engoron's clerk, Alison Greenfield.
The post, which included a photo of Greenfield with Senate Majority Leader Chuck Schumer, made unsubstantiated claims about her connections with Schumer and falsely claimed that Greenfield is "running" the case against Trump.
Trump apparently made the post, which linked to Greenfield's Instagram account, while the former president was sitting in the courtroom.
"Personal attacks on members of my court staff are unacceptable and inappropriate," the judge said in his admonishment, adding that he ordered the post taken down.
Trump appears to have deleted the post, but the judge lamented that the sentiment was shared to millions.
The judge did not mention Trump by name but noted the post came from one of the defendants. He said his remarks should be taken as forbidding all parties from posting or speaking publicly about any member of his staff.
Greenfield sits at the bench to Engoron's immediate right and he is often seen conferring with her over legal and logistical matters.
Trump continued his attacks on James before entering the courtroom for the second day of his $250 million trial.
"She ran on the basis 'I will get Trump' without knowing anything about me," he said to reporters outside court.
Both Trump and James are present in court, where state attorneys continued their direct examination of longtime Mazars accountant Donald Bender.
An attorney with for the New York attorney general's office spent the first hour of direct examination methodically walking Bender through the Trump Organization's financial documents from 2012 through 2016.
As he addressed each document, Bender reiterated that the Trump Organization and its trustees were responsible for the accounting principles used in the records, the disclosures in reports, and the information from which the reports were based.
Bender testified at length Monday about his involvement in compiling Trump's statements of financial condition between 2011 and 2020, which he described as "balance [sheets] of Mr. Trump's assets and liabilities."
Bender said the standards and inputs for the statements were largely decided by Trump Organization executives.
"That was the Trump Organization's responsibility," Bender said about the accounting standard used in the statements.
The state appears to be using Bender's testimony to not only get Trump's financials statements into evidence, but also to demonstrate the relatively consistent process the Trump Organization used to compile and finalize their statements of financial condition over a decade.
Trump has denied all wrongdoing and his attorneys have described him as a "master of finding value where others do not," arguing that Trump's alleged inflated valuations were a product of his business skill.


Post source: Abc7chicago