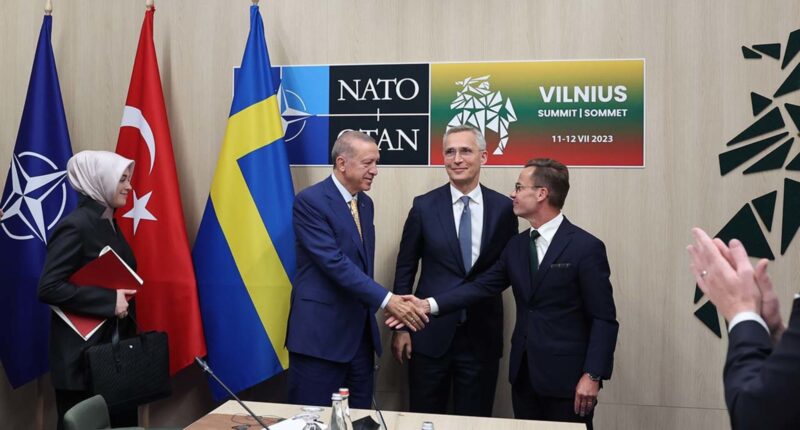 VILNIUS, Lithuania — NATO Secretary-General Jens Stoltenberg says Turkey's President Recep Tayyip Erdogan has agreed to send Sweden's NATO accession protocol to the Turkish Parliament "as soon as possible."
Stoltenberg made the announcement after talks with Erdogan and Swedish Prime Minister Ulf Kristersson on the eve of a NATO summit in Lithuania.
Sweden's NATO accession has been held up by objections from Turkey since last year.
—
Earlier, President Erdogan on Monday introduced a new condition for approving Sweden's membership in NATO, calling on European countries to "open the way" for Turkey to join the European Union.
The surprise announcement by Erdogan before departing for a NATO summit in Lithuania's capital added new uncertainty to Sweden's bid to become the alliance's 32nd member, which Turkey initially blocked by saying Sweden was too soft on Kurdish militants and other groups that Ankara considers security threats.
It was the first time that Erdogan linked his country's ambition to join the EU with Sweden's efforts to become a NATO member.
"Turkey has been waiting at the door of the European Union for over 50 years now, and almost all of the NATO member countries are now members of the European Union," Erdogan told reporters in Istanbul. "I am making this call to these countries that have kept Turkey waiting at the gates of the European Union for more than 50 years."
"Come and open the way for Turkey's membership in the European Union. When you pave the way for Turkey, we'll pave the way for Sweden as we did for Finland," he added.
Earlier, Erdogan's office said he told U.S. President Joe Biden during a telephone call Sunday that Turkey wanted a "clear and strong" message of support for Turkey's EU ambitions from the NATO leaders. The White House readout of the Biden-Erdogan call did not mention the issue of Turkish EU membership.
Erdogan and Swedish Prime Minister Ulf Kristersson met later Monday after they arrived in Vilnius, where NATO leaders will meet over the next two days to discuss a host of issues including NATO's future relations with Ukraine. Ukrainian President Volodymyr Zelenskky will join them in person on Wednesday.
Erdogan was also due to meet EU Council President Charles Michel late Monday.
EU Commission spokesperson Dana Spinant said that "you cannot link the two processes in regards to Turkey."
Turkey is a candidate to join the EU, but democratic backsliding during Erdogan's presidency, disputes with EU-member Cyprus and other issues have held up the country's progress toward admission in the 27-nation bloc.
However, as a member of NATO, Erdogan's government has postponed ratifying Sweden's accession to the alliance, saying the administration in Stockholm needs to do more to crack down on Kurdish militants and other groups. A series of anti-Turkey and anti-Islam protests in Sweden's capital raised doubts that an agreement to satisfy Turkey's demands could be reached before the NATO summit.
Turkey's delays on Sweden's accession have irritated other NATO allies including the United States. Biden's national security adviser, Jake Sullivan, confirmed Sunday that Biden and Erdogan had spoken about Sweden's NATO membership among other issues and had agreed to meet in Vilnius for further talks.
Sullivan said the White House is confident Sweden will join the alliance.
"If it happens after Vilnius – we're confident it will happen," he said. "We don't regard this as something that is fundamentally in doubt. This is a matter of timing. The sooner the better."
—
Fraser reported from Ankara, Turkey. AP White House reporter Chris Megerian in London contributed to this report.


Post source: Abc7chicago