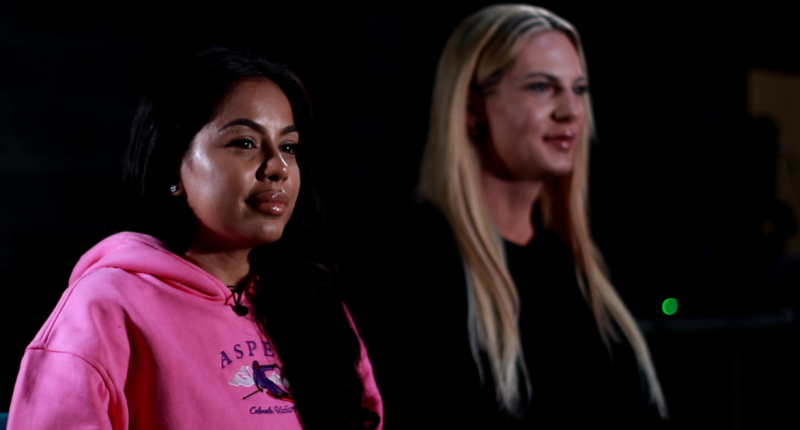 DENVER — Natalee Skye Bingham and Angela Williams met in September 2017, and they marked the start of their friendship with a Snapchat filter selfie. That selfie would be the first of many in a long friendship built not only on an affinity for each other, but also on deeper pain.
The two had an instant connection because they shared a very personal and traumatic back story.
Just months before that selfie was snapped, Williams had fled a life of human trafficking. Bingham, for her part, wouldn't find the path out for years after, but she credits that fateful meeting, and eventually hearing Williams' story of survival, as the start of her own journey out.
January is Human Trafficking Awareness Month, and advocates tell Denver7 large events that summon big crowds to Denver, such as the National Western Stock Show, provide even more opportunities for traffickers. In light of this, both Bingham and Williams sat down with us to share their stories, in the hopes that they could illuminate the issue for others and help other survivors find a way out.
"When I met my first trafficker, I was 17 years old," Williams said. "He started grooming me by taking me out with the girl that recruited me, and would give me a couple hundred dollars, which, to a poor girl from the hood, was a lot of money. He would take me out to eat. He would provide me with a lot of illicit things from lingerie to drugs, and all the taboo things that can kind of, like, deter a young teenager from, you know, going the right way… Eventually, I was broken down to where I was desensitized, and though that everything going on around me was normal. That's when I started working in one of his 10 brothels that were stationed around strip clubs around the city of Houston."
Bingham's trafficker wasn't a stranger. It was her partner, who she was in love with and who started selling her to other men.
"Being a transgender woman, you know, it's very hard to find love. And I was very vulnerable," Bingham said. "He wanted to control and manipulate me into thinking he's all I have, and that I have to be with him forever… and I'm over here selling my body and giving him the money in hopes that we're going to have this dream home that we've wished for. But that was never given to me."
Both Williams and Bingham spent years trapped in slavery, with their traffickers controlling everything — down to tracking their location and every phone conversation. Williams' escape came first, after a disturbing and violent attack that nearly cost her her life.
"He beat me savagely. He assaulted me, robbed me, beat me with a nightstick all throughout that condo, fracturing my skull. My bone popped out of my arm. I'm permanently disfigured — my finger was broken because I was told to hold my hands out for using social media," Williams described, saying she experienced a spiritual moment of clarity as she fought for her life. "I began to just pray, because I didn't want to die. I would call it divine intervention, and at that moment, I might not have cared about myself, but I cared about my friends and my family enough to seek help and enough to realize that something had to change."
The Colorado Human Trafficking Council launched a hotline and tipline in 2020. Since then, it reports a 30% increase in monthly survivor calls and a 58% increase in tips.
According to the council, it is unclear whether trafficking has increased by those substantial amounts in those years, or if more people have come forward to report. Either way, it has good news to share: it has been able to double the amount of victims being connected to services.
It was learning of Williams' escape that gave Bingham the strength to seek the same freedom, even though it would end in a violent attack against her, too.
"It really gave me the strength that I can love myself better than anyone else," Bingham said.
"Sexual exploitation does not discriminate: gender, race, or age," Williams added. "Freedom is priceless. A valued person cannot be sold. So, learn to love yourself."
Human trafficking can take many forms, through sexual exploitation or forced labor. If you or someone you know needs help escaping, you can contact Colorado's Human Trafficking Hotline by calling 866-455-5075 or by texting 720-999-9724.
Know the signs by following the Department of Homeland Security's "Blue Campaign" to end human trafficking.
appId : '283504728416642',
xfbml : true, version : 'v2.9' }); }; (function(d, s, id){ var js, fjs = d.getElementsByTagName(s)[0]; if (d.getElementById(id)) {return;} js = d.createElement(s); js.id = id; js.src = "https://connect.facebook.net/en_US/sdk.js"; js.async = true; fjs.parentNode.insertBefore(js, fjs); }(document, 'script', 'facebook-jssdk'));