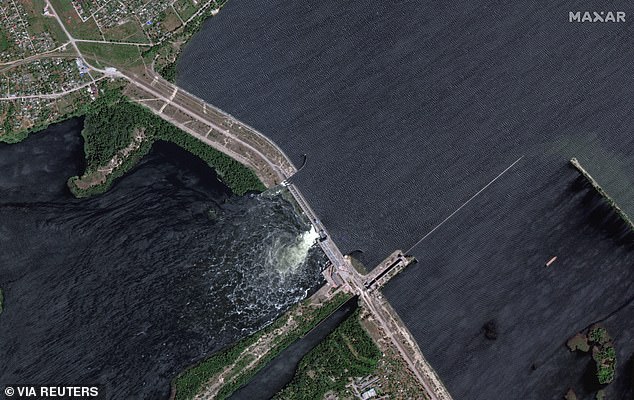 Ukraine accuses Russia of destroying major dam near Kherson and warns of widespread flooding as President Zelensky convenes his Security Council
Ukraine has accused Russian forces of blowing up a major dam and hydroelectric power station, threatening a massive flood that could displace hundreds of thousands of people, as President Zelensky convenes his Security Council.
Russian news agency Tass quoted an unspecified Russian government official as saying the Kakhovka dam had 'collapsed' due to damage.
Ukrainian authorities have previously warned that the dam's failure could unleash 18 million cubic meters (4.8 billion gallons) of water and flood Kherson and dozens of other areas where hundreds of thousands of people live, as well as threatening a meltdown at a nearby Russian-occupied nuclear power plant. 
It was confirmed by a top advisor that President Volodymyr Zelensky will urgently convene his Security Council on Tuesday after an explosion at the Kakhovka hydroelectric dam in the south of the country.
The dam provides vital cooling at the Russian-occupied Zaporizhzhia nuclear power plant.
A satellite image shows Nova Khakovka Damn in Kherson region, Ukraine June 5, 2023
Images and video from the scene appear to show the dam has been damaged, with Ukraine blaming Russia
'Kakhovka hydroelectric plant. Another war crime committed by Russian terrorists. The president has convened the National Security Council,' the president's chief of staff, Andriy Yermak, wrote on Telegram. 
The Ukrainian Interior Ministry wrote on Telegram that the Kakhovka dam had been blown up, and called for residents of 10 villages on the river's right bank and parts of the city of Kherson downriver to gather essential documents and pets, turn off appliances, and leave, while cautioning against possible disinformation.
Footage from what appeared to be a monitoring camera overlooking the dam that was circulating on social media purported to show a flash, explosion and breakage of the dam.
Oleksandr Prokudin, the head of the Kherson Regional Military Administration, said in a video posted to Telegram shortly before 7 am that 'the Russian army has committed yet another act of terror,' and warned that water will reach 'critical levels' within five hours.
The dam and nearby power plant have been attacked in an 'act of terror', top Ukrainian officials have claimed
There are warnings of possible major flooding which could displace hundreds of thousands of people
Ukraine says Kakhovka Hydroelectric Power Plant has also been destroyed by Russian troops
Ukrainian soldiers fire at the Russian air target on the frontline near Bakhmut, in the Donetsk region, Ukraine, Monday, June 5, 2023 (Iryna Rybakova via AP)
Zelensky moved to convene an emergency meeting of the country's security and defense council following the dam explosion, the council´s secretary, Oleksiy Danilov, wrote on Twitter.
Ukraine and Russia have previously accused each other of targeting the dam with attacks, and last October Zelenskyy predicted that Russia would destroy the dam in order to cause a flood.
Authorities, experts and residents have for months expressed concerns about water flows through – and over – the Kakhovka dam.
In February, water levels were so low that many feared a meltdown at the Russian-occupied Zaporizhzhia nuclear power plant, whose cooling systems are supplied with water from the Kakhovka reservoir held up by the dam.
By mid-May, after heavy rains and snow melt, water levels rose beyond normal levels, flooding nearby villages. Satellite images showed water washing over damaged sluice gates.
Ukraine controls five of the six dams along the Dnipro River, which runs from its northern border with Belarus down to the Black Sea and is crucial for the entire country's drinking water and power supply. The Kakhovka dam – the one furthest downstream in the Kherson region – is controlled by Russian forces.