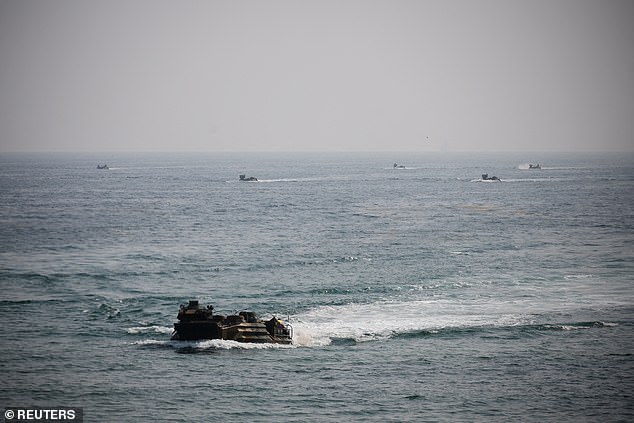 US Marine forces have been flexing their muscles during assault drills with South Korea in a massive display of joint fire power.
On Wednesday morning, thousands of troops and high-end weaponry were used to practice an amphibious assault, which took the form of a maneuver offensive, to claim territory rather than protect it.
The commander of the 2,200 US Marines involved in Exercise Ssang Yong in Pohang. on the eastern coast of South Korea, said it was not meant to aggravate the opposition. 
It comes days after North Korea's saber-rattling display of a tactical nuclear warhead. 
North Korea has been strengthening a ballistic missile arsenal on the stated premise that it requires it to stave off an attack by US and South Korean forces.
South Korean Marines' Assault Amphibious Vehicles (KAAV) take part in U.S and South Korea's marine corps combined amphibious landing drill called the 'Ssangyong' exercise, in Pohang, South Korea, March 29, 2023
U.S. and South Korea's marines take part in an amphibious landing drill called the 'Ssangyong' exercise, in Pohang, South Korea, March 29, 2023
Washington and Seoul have been displaying their firepower through a growing number of exercises, which the two allies claim are of a defensive nature.
'I don't think we're doing anything different or odd,' said Col. Samuel Meyer, commander of the 13th Marine Expeditionary Unit.
The exercise, though, shows the integrated firepower of the US and South Korea in full force. 
Seoul's Marines landed on the sands of Pohang in groups of 23-ton amphibious assault vehicles. 
As the South Korean Marines advanced to a tree line behind the beach, massive US Navy hovercraft, known as LCACs, came shortly afterwards, with eight-wheeled amphibious vehicles spilling out of them. 
LCACs are high-speed and fully amphibious vehicles transporting, ship-to-shore and across the beach, personnel, weapons, equipment, and cargo of the assault elements of the Marine Air-Ground Task Force. 
Attack helicopters stalked the skies, such as the Osprey transports and F-35B stealth fighters, 10 of which were embarked aboard the amphibious assault ship USS Makin Island, 30 miles off shore.
The V-22 Osprey is a multi-engine, dual-piloted, tilt-rotor aircraft designed for combat, combat support, combat service support, and Special Operations missions worldwide. 
The F-35B Lightning II is the Marine Corps variant of the Joint Strike Fighter and features a vertical lift fan and pivoting engine nozzle to deliver vertical landing and short takeoff capability to expeditionary airfields. 
'This is the 70th anniversary of this exercise. It's not new,' Meyer said, in response to claims that the US and South Korea are forcing North Korea to build up its nuclear program as deterrence.
'This is routine. We're just getting back to the routine, based on what we saw and experienced,' he added. 
U.S. Marines arrive on a beach during the combined military amphibious landing exercise between South Korea and the U.S, called Ssangyong exercise, in Pohang, South Korea, Wednesday, March 29, 2023
South Korean Marines take position as they demonstrate for their landing operation on a beach after the combined military amphibious landing exercise between South Korea and the U.S, called Ssangyong exercise, in Pohang, South Korea, Wednesday, March 29, 2023
Meyer was talking with reporters aboard the 45,000-ton USS Makin Island aircraft carrier on Tuesday, as a 98,000-ton US Navy aircraft carrier, the USS Nimitz, underwent operations of its own off the peninsula.
Closer to the Pohang beach, at least six South Korean naval vessels showed their supporting, with their troops coming shore for Exercise Ssang Yong. 
North Korean state media was releasing images of leader Kim Jong Un inspecting what it claimed were nuclear weapons, and urging his forces to be able to use them 'anytime and anywhere'. 
North Korean ally Russia was also launching cruise missiles at a target in the waters off the east coast of the Korean Peninsula.
A Russian intelligence ship was watching Makin Island and the rehearsal for Wednesday's exercise, 15 miles from the island, according to the ship's commander, Navy Capt. Tony Chavez.
Exercise Ssang Yong had not been carried out in five years, initially due to a pause for diplomacy and then for the Coronavirus pandemic.
In the past year, Pyongyang has tested ballistic missiles at a record rate with Kim Jong Un ordering simulated nuclear strikes on targets in the South. W
The US and South Korea have been increasingly prepared to respond to North Korean aggression if necessary.
South Korea's marines take part in U.S and South Korea's marine corps combined amphibious landing drill called the 'Ssangyong' exercise, in Pohang, South Korea, March 29, 2023
South Korea's marines take part in U.S and South Korea's marine corps combined amphibious landing drill called the 'Ssangyong' exercise, in Pohang, South Korea, March 29, 2023
On Tuesday, White House national security spokesperson John Kirby said the United States remained willing to discuss verifiable denuclearization of the Korean peninsula, but North Korean had shown no desire for such talks.
'So we will continue to make sure that we have the appropriate military capabilities and the appropriate readiness to use those capabilities if need be, to protect our national security interests and those of our allies,' he said, referring to large-scale military exercises underway with South Korea.
Kim Jong Un was also briefed on an IT-based integrated nuclear weapon management system called Haekbangashoe, which means 'nuclear trigger', whose accuracy, reliability and security were verified during the simulation of a nuclear counterattack, the Korean Central News Agency (KCNA) said.
North Korea fired short-range ballistic missiles on Monday and conducted a nuclear counterattack simulation last week against the U.S. and South Korea, which it accused of rehearsing an invasion. 
KCNA said the North Korean military simulated a nuclear airburst with two tactical ballistic missiles equipped with mock warheads and tested a nuclear-capable underwater attack drone.
It said the Haeil-1 drone reached a target in waters off the northeast coast after cruising along a 'jagged and oval' 600km (373-mile) course for more than 41 hours.
South Korean President Yoon Suk Yeol said Pyongyang did not deserve 'a single penny' of economic aid while pursuing nuclear development, his spokesman said.
U.S. marines film their Landing Craft Air Cushion (LCAC) approaching to seashore during U.S and South Korea's marine corps combined amphibious landing drill called the 'Ssangyong' exercise, in Pohang, South Korea, March 29, 2023
A South Korean Marine, front, takes a position as the U.S. Marines walk past after landing on a beach during the combined military amphibious landing exercise between South Korea and the U.S, called Ssangyong exercise, in Pohang, South Korea, Wednesday, March 29, 2023
A South Korean military spokesman said additional analysis would be needed to verify whether North Korea's new warheads were deployable. He said the report on the underwater drone was most likely 'exaggerated and fabricated'.  
North Korea unveiled new, smaller nuclear warheads and vowed to produce more weapons-grade nuclear material to expand its arsenal, state media said on Tuesday, as a U.S. aircraft carrier arrived in South Korea for military drills. 
KCNA released photos of the warheads, dubbed Hwasan-31s. Leader Kim Jong Un visited the Nuclear Weapons Institute and inspected new tactical nuclear weapons and technology for mounting warheads on ballistic missiles, as well as nuclear counterattack operation plans, KCNA said.
Nuclear experts said the images could indicate progress in miniaturizing warheads that are powerful yet small enough to mount on intercontinental ballistic missiles capable of striking the United States.
'It has something more powerful in a smaller space. That's worrisome,' said Kune Y. Suh, professor emeritus of nuclear engineering at Seoul National University, comparing the new warheads to the 2016 version.
Kim Dong-yup, a former South Korean naval officer who teaches at Kyungnam University, said the images appeared to show 'a miniaturised, lightweight and standardised warhead' intended for use with at least eight different delivery platforms listed in posters on the wall, including missiles fired from submarines.
'Now that the delivery vehicles are nearly ready, they would churn out warheads to secure second strike capabilities – perhaps hundreds, not dozens – while running centrifuges even harder to get weapons-grade nuclear material,' he said.
Kim Jong Un ordered the production of weapons-grade materials in a 'far-sighted way' to boost its nuclear arsenal 'exponentially' and produce powerful weapons, KCNA said.
He said the enemy of the country's nuclear forces was not a specific state or group but 'war and nuclear disaster themselves,' and the policy of expanding the arsenal was solely for defensive purposes and regional peace and stability.
China's new ambassador to North Korea, Wang Yajun, arrived there on Monday, the Chinese foreign ministry said.
Spokesperson Mao Ning said relations between China and North Korea had entered 'a new historic period' in recent years and continued to develop under the 'strategic leadership' of both countries.
'We believe that Ambassador Wang Yajun will play an important role in promoting the development of traditional friendly and cooperative relations between China and the DPRK,' Mao said.
The United Nations Human Rights office in Seoul called on North Korea on Tuesday to confirm the fate and whereabouts of people who have been disappeared under its regime, accusing Pyongyang of violating the rights of the victims and their loved ones for decades.
In a report on enforced disappearance and abductions by North Korea, the U.N. rights office said North Korea should acknowledge that it has engaged in a state policy of enforced disappearances since 1950, and take immediate steps to end such violations.
The report, based on interviews with defectors, former abductees and relatives of victims, details accounts of disappearances, including arbitrary detentions in North Korea and abduction of nationals from South Korea, Japan and other countries.
'Enforced disappearance is a profound violation of many rights at once, and responsibility lies with the state,' U.N. Human Rights Chief Volker Turk said.
Pyongyang has repeatedly rejected accusations of rights abuses and criticized U.N. investigations on its situation as a U.S.-backed scheme to interfere with its internal affairs.
According to the report, many victims of enforced disappearance within North Korea were sent, often for life, to political prison camps or other detention sites.
'The testimonies from this report demonstrate that entire generations of families have lived with the grief of not knowing the fate of spouses, parents, children and siblings,' Turk said.
The international community should join efforts to investigate the crimes committed in the reclusive country, the report said, highlighting the urgency of the matter given the advanced age of the victims and their families.
South Korean President Yoon Suk Yeol said on Tuesday the international community should have better knowledge about North Korea's dire human rights situation and urged officials to work on informing the domestic and international communities of the North's human rights violations.
The U.N. report comes amid heightened tensions in the region. North Korean leader Kim Jong Un has ordered the scaling up of the production of weapons-grade nuclear material, and said the country should be ready to use the weapons at any time, its state media reported on Tuesday.  
Kim Jong Un has called for his nuclear scientists to increase production of weapons-grade material, according to state media.
A KCNA report followed seven missile launches this month and rising tensions during a series of military exercises between the US and South Korea.
Officials say North Korea could move to more provocative displays, possibly including its first test detonation of a nuclear device since September 2017.
The report said Kim Jong Un stressed the need to ramp up bomb fuel production during a meeting with officials and scientists at a state nuclear weapons institute to expand his nuclear arsenal 'exponentially'.
He examined the country's established plans for nuclear counterattacks as scientists briefed him on the North's latest nuclear-capable weapons systems and progress in technologies for mounting nuclear warheads on missiles.
The agency also said North Korea detonated mock warheads during tests of nuclear-capable missiles and a purported underwater attack drone – a day after neighboring militaries detected two short-range ballistic missiles fired toward waters off its eastern coast.