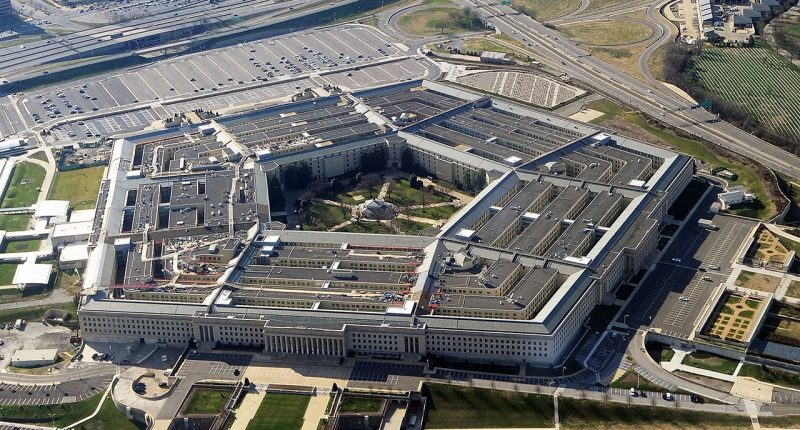 EXCLUSIVE: Military records obtained by a conservative watchdog show U.S. Air Force Academy instructional materials that include presentations addressing Critical Race Theory (CRT), White privilege and the Black Lives Matter (BLM) movement.
The group, Judicial Watch, announced Friday it had obtained 478 pages of records through a November 2022 Freedom of Information Act (FOIA) lawsuit it filed after the Department of Defense (DOD) didn't respond to its request for Air Force Academy training materials pertaining to CRT.
The records include one particular PowerPoint presentation about "Prejudice and Racism," and addresses things like interracial relationships and White Americans' attitudes toward the Democratic and Republican parties through a racial lense.
DELAWARE SUPREME COURT DENIES ACCESS TO BIDEN'S SENATE PAPERS AT UNIVERSITY OF DELAWARE
Judicial Watch pointed to one particular bullet point in the presentation that stated, "Opposition to interracial dating correlated with white partisanship after [President] Obama's election despite being unrelated to party identification in previous decades."
It also noted the presentation included a set of tables with the headline, "White Americans' Support for Democratic Candidates for President as a Function of Old-Fashioned Racism," and another slide with tables showing, "Correlations between Republican Party Identification and Old-Fashioned Racism among White Americans."
Another highlighted slide was one titled, "Radicalization of Public Policy," which included a bullet point stating, "They [pollsters] found that the image of a black man greatly impacted responses among Trump supporters."
TOP ARMY OFFICIAL BLAMES ANTI-WOKE RHETORIC OF RIGHT FOR SEVERE RECRUITING CRISIS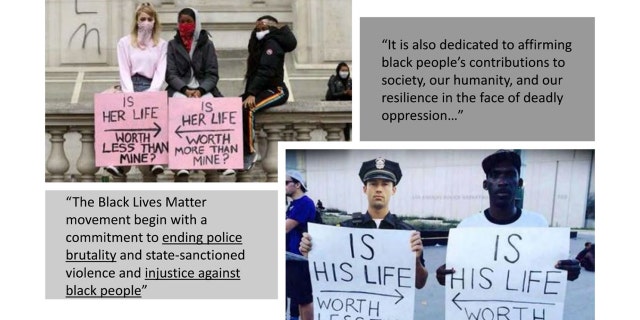 A bullet point in the same slide said those surveyed supporters of former President Donald Trump "were less supportive of housing assistance programs," "expressed higher levels of anger that some people receive government assistance," and "were more likely to say that individuals who receive assistance are to blame for their economic situation" after being "exposed to the black racial cue."
Other slides discussed subjects like "White identity," and the "effects" it has on non-White people, "support for voter ID laws," and "support for political violence."
The records also included a "CRT Talking Points" document that claimed the phrase "white supremacy" leads to "defensive" feelings, but is the "academically correct way to talk about most of American history."
DEFIANT GEN. MILLEY INSISTS CLAIMS OF WOKENESS IN U.S. MILITARY 'GROSSLY OVEREXAGGERATED'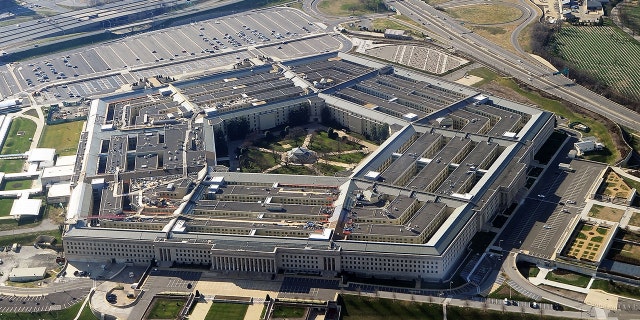 A separate presentation appeared to promote BLM by including a depiction of a White police officer holding a sign pointing to a Black man that asked, "Is his life worth less than mine?" Another image showed a White woman holding a similar sign toward a Black woman. Other slides depicted alleged police brutality towards Black Americans.
A number of additional materials obtained by Judicial Watch included in the records reiterated the same topics in various presentations, slides and communications among DOD staff members.
CLICK HERE TO GET THE FOX NEWS APP
Fox News Digital reached out to the Pentagon and the Air Force for comment but did not immediately receive responses.