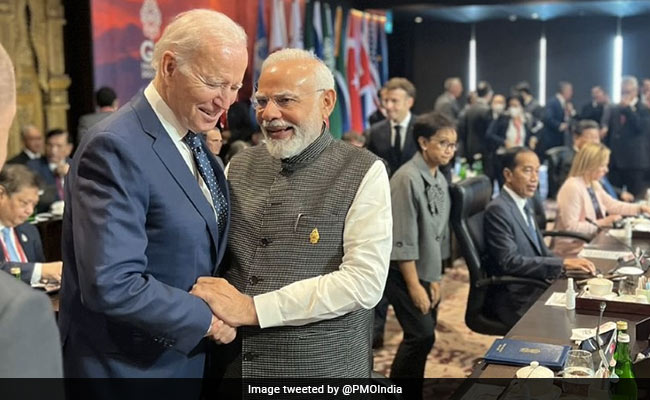 New Delhi/Washington:
US President Joe Biden plans to host Prime Minister Narendra Modi for a state dinner this summer, people familiar with the matter said.
The formal state visit is a sign of the deepening US-India relationship as the administration advances policies and initiatives for a free and open Indo-Pacific to counter what it sees as a growing threat posed by China.
The White House aims for the state dinner to take place in June but the timing could slip, the people familiar said. A spokesman for the National Security Council declined to comment.
India is hosting the Group of 20 leaders summit in New Delhi in September, where Russia's invasion of Ukraine will be among the chief topics of discussion. It's not yet clear if Russian President Vladimir Putin will attend the gathering.
President Biden is also expected to see PM Modi in Australia in May when they convene for the Quad summit along with the leaders of Australia and Japan.
The dinner with PM Modi will be President Biden's third formal state visit and dinner, following one he hosted for French President Emmanuel Macron in December and one for South Korean President Yoon Suk Yeol scheduled for April 26.
The US and India last month announced an Initiative on Critical and Emerging Technology, a plan to share advanced defense and computing technology, including the joint production of General Electric Co. jet engines.
The partnership on critical technologies is intended in part to counter Russian influence in India by reducing its historic reliance on Moscow for military hardware, and China's growing assertiveness. US political leaders of both parties have sought to strengthen ties with PM Modi.
"The China-Russia factors are real, but so is the idea of building a deep, democratic ecosystem of high technology," National Security Adviser Jake Sullivan told reporters when previewing the partnership. "So, geopolitics doesn't sit off to the side, but it's not a comprehensive explanation for what's at work here."


Post source: Ndtvnews