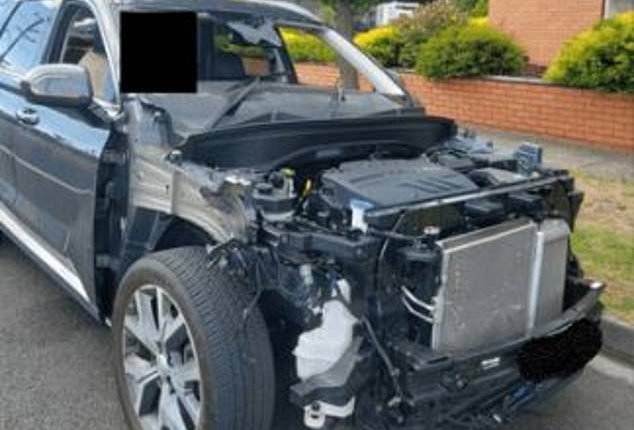 Woman caught driving a Hyundai SUV with no windscreen, bonnet or windows on the streets of Melbourne
Unroadworthy car spotted on Melbourne streets
Driver issued with second fine in three days
Do you know more? Email [email protected] 
A car with no windscreen, bonnet or back window has been spotted driving on the streets of Melbourne.
Police had to do a double take when a late model 2022 Hyundai Palisade driving past them caught their attention while patrolling the streets of Sunshine North in Melbourne's west on Saturday afternoon.
The car had no windscreen, back window or bonnet, which exposed the engine.
Police spotted this 2022 Hyundai Palisade on the streets of Melbourne on Saturday
Police pulled over the vehicle and spoke to the driver behind the wheel.
They allege the Brighton woman, 41, had already been fined and issued with a defect notice by police three days earlier.
She was allegedly warned the vehicle was unsafe and told not to drive it.
The woman was issued with another fine of $740 for driving a vehicle in breach of a major defect notice.
It also cost her three demerit points.
The late model vehicle also had its back window missing (pictured)
There were no panels on the front, leaving the engine exposed (pictured)