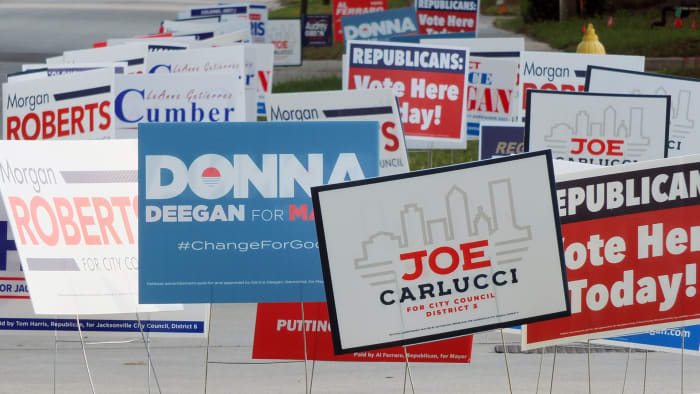 JACKSONVILLE, Fla. – Jacksonville residents ready to cast their ballots for city elections headed to the polls Tuesday to elect the next mayor and new city council members.
Election officials hoped turnout would increase on election day as early voting only brought in just shy of 14% of registered voters in Duval County. However, three hours before polls were set to close, turnout crept up to about 20%.
At the Supervisor of Elections Office, the canvassing board was reviewing questionable ballots with issues such as overvotes.
At the Lakewood precinct, which is usually jammed packed, there were hardly any voters coming through. Voters told News4JAX that they were surprised about the low turnout.
Supervisor of Elections Mike Hogan predicted a 25 to 30% turnout when News4JAX spoke with him Monday, but when we talked with him Tuesday, he said he was disappointed by the outcome.
"Fully expected to have a big turnout. We have seven candidates for mayor. Seventeen races. I don't understand," Hogan said.
Hogan's spirits were still high with anticipation that voters would trickle in after 5 p.m.
"That's usually a good time for us. We do see numbers climb. Will they climb enough to reach 30%? No, I don't think so," Hogan said.
News4JAX reporters were at different precincts across Jacksonville, talking to voters about their expectations for the race and the candidates.
Watch Channel 4 or News4JAX+ at 9 p.m. for live results and analysts after the polls close at 7 p.m.
Copyright 2023 by WJXT News4JAX – All rights reserved.
Post source: News 4jax