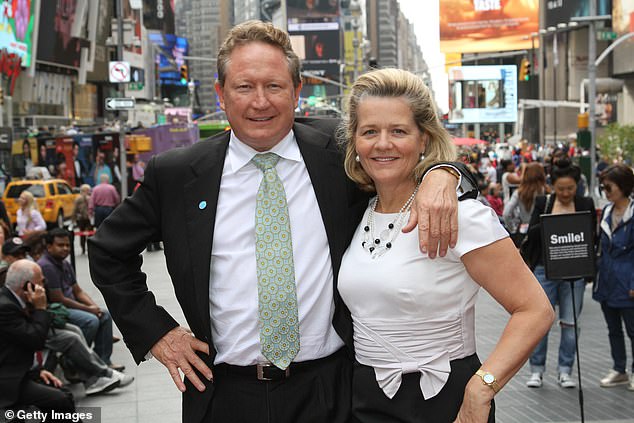 Mining magnate Andrew 'Twiggy' Forrest has suffered another personal heartache following his recent split with wife Nicola.
His father, Donald Forrest, 95, tragically died in his sleep early Sunday morning while staying at Minderoo station in Western Australia's Pilbara region.
The 230,000-hectare cattle station property where Donald was also born and raised has been in the family for four generations.
According to his family, the Forrest ­patriarch knew 'he was with people and places he loved' as he passed away.
'We all wish him well in his onward journey,' an obituary penned by the family read.
Mining magnate Andrew ' Twiggy ' Forrest (left) is mourning the death of his beloved dad Donald just three months after he announced his shock marriage split from Nicola (right)
'He goes with the love, deep affection and enduring memories of all those whose lives his 95-year history has embraced.
'His legacy will be cherished by all who knew him.'
Donald is survived by wife Marie, his children David, Jane and Andrew from his first marriage, his stepchildren, grandchildren and great-grandchildren.
Family members joined farm staff to form a mounted guard of honour as Donald's body left the property in an ambulance on Monday.
His family will celebrate his life at a ceremony on Sunday at the station, 'returning Don to his ancestral home he so loved'.
A memorial service will be held in Perth at a later date for 'the broader community of family and friends unable to attend his funeral.'
Donald Forrest is survived by his wife, three children and many grandchildren and great-grandchildren. Pictured is Donald's son Andrew 'Twiggy' Forrest with his family
Located almost 1,400km north of Perth, Minderoo Station was established in 1878 by Donald's grandfather, David alongside brothers Alexander and Sir John Forrest, who later became Western Australia's first premier.
Donald was just 23 when he took over the reins of Minderoo from his father in 1951.
He managed the station for almost half a century before Donald made the heartbreaking decision in 1998 to sell up after relentless drought and crippling debt took a heavy toll.
The property returned to the family 11 years later when Donald's Fortescue Metals Group founder son Twiggy bought back Minderoo at an auction for $12 million.
'We, as a family, had been forced to move on physically but in fact we had left our hearts behind,' Twiggy told the West Australian in 2012.
'To see the look on my brother's face, to hear the voice of my sister and to look into my father's eyes and my mother's eyes and see their joy, is something I will never forget.
'The place we had put so much heart into and so much blood, sweat and tears, was now back in the family and in the hands of the people who loved it. If you work hard, Australia affords you the opportunity to literally buy back the farm.'
Andrew 'Twiggy' Forrest (left) as a boy on his family's Minderoo Station, which was bought by his great-great grandfather and his two brothers in the 19th century. It was managed by his father Donald for almost half a century. Twiggy is pictured head stockman Scotty Black
Donald's death is the latest blow for Twiggy.
He and his wife Nicola shocked the corporate world in July when they announced that their 31-year marriage had ended and that the pair were living separate lives. 
He was Australia's richest man prior to the split.
'Nic and I are good mates, we speak all the time she's a fantastic lady,' Mr Forrest told Nine News recently.
'We made the call that it was better for everyone if we didn't live right on top of each other but we still absolutely support each other.'
The couple insist it won't affect the direction of their mining empire or philanthropic interests. 
Mr Forrest was asked what assurances he could give to shareholders that the former couple's new arrangement wouldn't impact the business. 
His estranged wife is now Fortescue's largest shareholder.
'I give them complete reassurance- Nic and I are lockstep on that,' Mr Forrest added.
'We are completely committed to Fortescue, to Tattarang, all the objectives of Mindaroo, we are completely united.'
Twiggy Forrest (second right) and wife Nicola (right) were married for 31 years