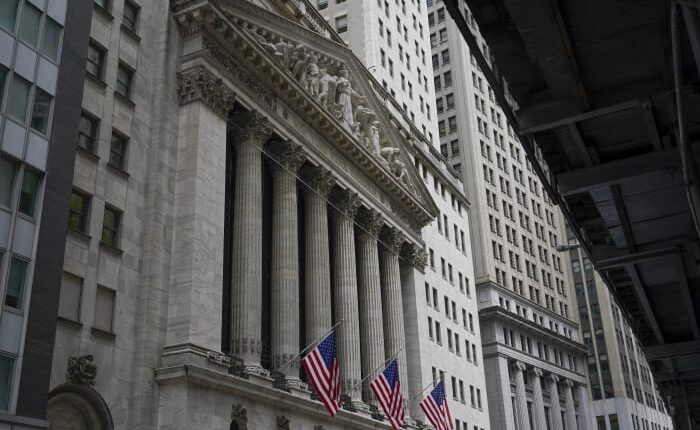 TOKYO – Stocks are drifting Wednesday as Wall Street waits to see the Federal Reserve's latest forecasts for where interest rates may be heading.
The S&P 500 was 0.2% higher in afternoon trading, continuing a quiet run this week where markets have made few big moves ahead of the Fed. The Dow Jones Industrial Average was up 202 points, or 0.6%, at 34,721, as of 12:06 p.m. Eastern time, and the Nasdaq composite was 0.1% lower.
It's nearly a foregone conclusion among traders that the Fed will say in the afternoon that it's keeping its main interest rate steady. The question is what Fed officials say in updated projections they're releasing about where they see interest rates heading in upcoming years.
Will they still pencil in one more hike this year, after they've already pulled the Fed's main rate to its highest level in more than two decades? Will they indicate as many cuts to rates in 2024, which can goose prices for stocks and other investments, as traders are expecting?
Such questions are key because it's still uncertain when the Fed will feel comfortable enough that inflation is moving back to its 2% target for it to stop raising rates. Inflation has come down considerably from its peak above 9% last year, but a recent upswell in oil prices has complicated the trajectory. Last month, it accelerated to 3.7%.
Treasury yields eased ahead of the Fed's announcement. They, though, are still near their highest levels in many years on expectations the Fed may keep rates higher for longer to fully vanquish inflation.
The yield on the 10-year Treasury dropped to 4.33% from 4.37% late Tuesday, near its highest level since 2007.
The two-year Treasury yield, which moves more on expectations for the Fed, fell to 5.04% from 5.09% late Tuesday.
An easing up of rates and bond yields would give a boost to all kinds of investments. Some of the biggest beneficiaries tend to be high-growth companies, and tech stocks have swung particularly sharply with expectations for rates.
On Wall Street, shares of Textron climbed 5.1% for one of the biggest gains in the S&P 500 after it announced a deal where NetJets has the option purchase up to 1,000 of its Citation business jets over the next 15 years.
Pinterest rose 4.5% after the company gave forecasts and recaps of its decisions at its investor day that pushed analysts to upgrade how high they think its stock could go.
Beauty products company Coty climbed 5.1% after it raised its forecasts for the year due to strong demand for its new Burberry Goddess fragrance and other products.
On the losing end of Wall Street, Instacart gave back some of its gains from its first day of trading as a public stock. It dropped 1.8%.
Arm Holdings, another company recently off a highly anticipated initial public offering of stock, also fell. It lost 3.3%.
Shares of Klaviyo, which helps advertisers market over email and text messaging, are expected to begin trading later in the day following its IPO.
In stock markets abroad, the FTSE 100 in London rose 0.9% after a report showed U.K. inflation fell unexpectedly in August to its lowest level since Russia launched its invasion of Ukraine.
Indexes were mostly weaker in Asia after data showed Japanese exports fell from year-ago levels for the second straight month. Exports to China sank 11%, as the world's second-largest economy continues to underperform expectations.
Officials in Beijing acknowledged challenges in boosting growth but told reporters they were confident that a recovery was underway and that they had the capacity to ensure stability in financial markets.
Japan's Nikkei 225 fell 0.7%, Hong Kong's Hang Seng dropped 0.6% and stocks in Shanghai slipped 0.5%.
___
AP Business Writers Yuri Kageyama and Matt Ott contributed.
Copyright 2023 The Associated Press. All rights reserved. This material may not be published, broadcast, rewritten or redistributed without permission.
Post source: News 4jax