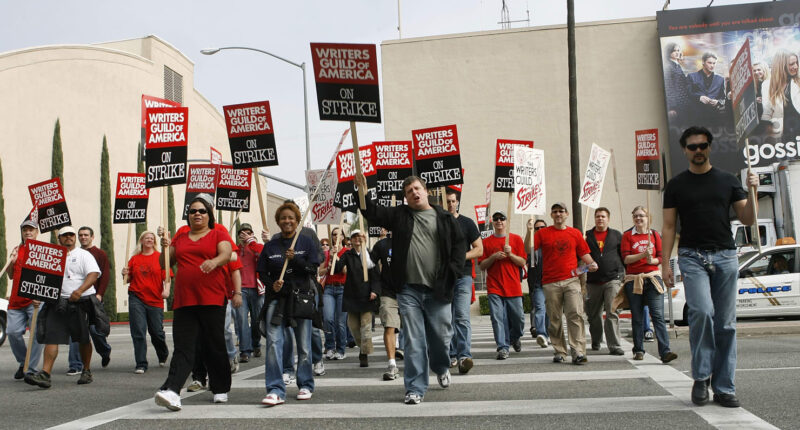 The Writers Guild of America told its 11,500 members on Sunday night that it had reached a tentative deal with the Alliance of Motion Picture and Television Producers, signaling that the union's historic 146-day strike may soon be at an end.
An email sent out to the union noted "with great pride" that the new three-year contract "is exceptional—with meaningful gains and protections for writers in every sector of the membership."
The deal, which comes after five days of hardcore negotiations, was first reported by The Hollywood Reporter. Its terms were not immediately made public.
In its email, union leadership asked its members "to be patient again—one last time," noting that there are still several hurdles ahead before the strike can officially be declared over. On Sunday night, the WGA said that its staff was still going through the contract's final language—making sure "the last 'i' is dotted," the email read.
Next up will be the ratification process, which begins with seals of approval from the WGA's Negotiating Committee, Board, and Council. Only then can the deal can be sent to the rank-and-file members for a final vote.
The leadership votes are set for Tuesday, the email said. During the last writers' strike of 2007 and 2008, a tentative deal was finalized on the 96th day on the picket line, but it took four more days for members to vote to end the strike. The new contract was fully ratified two weeks later.
"To be clear, no one is to return to work until specifically authorized by the Guild," the email warned. "We are still on strike until then. But we are, as of today, suspending WGA picketing."
The email largely struck a celebratory chord, however.
"What we have won in this contract—most particularly, everything we have gained since May 2nd—is due to the willingness of this membership," it read, "to exercise its power, to demonstrate its solidarity, to walk side-by-side, to endure the pain and uncertainty of the past 146 days."
After a round of talks in August grew contentious and fell apart, the two sides returned to the table on Wednesday. Representatives set their sights on the onset of Yom Kippur on Sunday evening as a deadline by which to reach an understanding.
By Thursday, the heads of four major studios—Walt Disney Co.'s Bob Iger, Netflix's Ted Sarandos, Warner Bros. Discovery's David Zaslav and NBCUniversal's Donna Langley—began participating, throwing their considerable weight behind the talks in a sign of just how badly everyone in Tinseltown wanted the strike to end.
On Saturday evening, the AMPTP presented the writers with an alleged "best and final" offer. Still reportedly at issue at that point was language governing the use of artificial intelligence, and both sides announced they would meet again the next day.
In a virtual bargaining session that began mid-afternoon Sunday, language on artificial intelligence was hammered out, along with some "fine-tuning" on issues like minimum staffing for writers' rooms and "back-to-work schedules and protocols," Deadline reported.
Also part of the union's demands were cost-of-living adjustments to minimum salaries, the establishment of better residuals, and shorter exclusivity deals.
Two months after Hollywood's scribes took to the picket line, they were joined by the 160,000 members of SAG-AFTRA, who remain on strike with their own list of separate but similar demands. The actors are looking to improve their wages, cement regulations around A.I., and make up for what the union has called an erosion in residual payments, among other issues.
Though the writers may soon be able to put pen to paper again, production and promotion on Hollywood's myriad film and television projects will not fully begin again until a deal with SAG-AFTRA is ratified. The actors' union has not met with representatives of the studios since declaring its strike on July 14. It's expected that AMPTP negotiators will fix their sights on SAG-AFTRA now that the dispute with the WGA is all but resolved.
In its Sunday night email, the WGA encouraged its members to join the actors' picket lines this week, signing off "in solidarity."
Post source: TDB