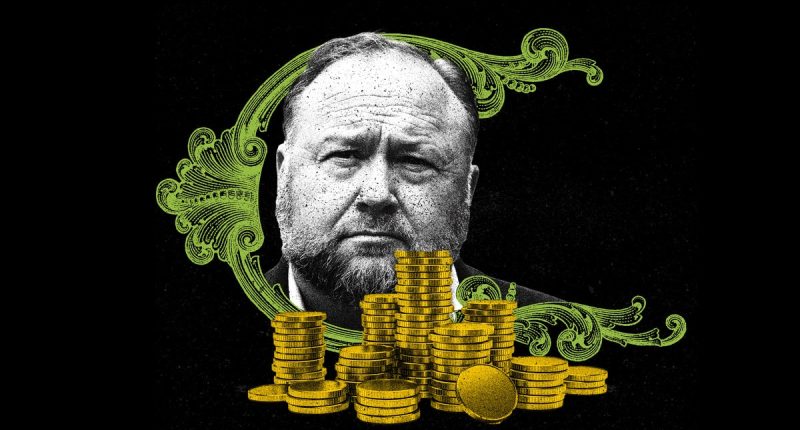 Conspiracy theorist Alex Jones has used his InfoWars fortune to amass a bizarre collection of items—including a $4,000 cryogenic-freezing chamber and more than $100,000 in guns.
The new revelations about Jones' personal wealth, which also includes roughly $54,000 in watches and cufflinks and a fleet of three boats valued at more than $100,000, came in a Thursday filing in a Texas bankruptcy court.
Jones and InfoWars' parent company both filed for bankruptcy last year, as they face more than $1 billion in court judgments won by the families of victims of the 2012 Sandy Hook school shooting after Jones claimed the shooting was staged.
But while the filing offers a glimpse into how Jones spent the millions of dollars he earned by pushing conspiracy theories, it's not clear that it presents an accurate portrait of his wealth. Thursday's filing came after a judge required Jones to submit more accurate financials, revealing $4.8 million in undisclosed assets for a total wealth of $14.7 million.
And while Jones enjoys a wealthy lifestyle through InfoWars, the disclosures don't explain how Jones could have comparatively few assets when compared to his even larger InfoWars salary. In 2019, for example, Jones reported $36 million on his tax filing. That number grew in 2021 and 2022, with Jones reporting roughly $38 million in income each of those years. In his new filing, Jones claims that he doesn't own any stocks or bonds, and has just a little more than $200,000 in bank accounts.
Jones and his legal team flaunted courtroom procedure during the Sandy Hook trials, and he's facing similar accusations in the bankruptcy cases. On Monday, the judge handling the bankruptcy of InfoWars' parent company said he was "troubled" to learn that Jones had diverted $157,000 meant for InfoWars to himself instead, a move that could help him shield assets from the mammoth Sandy Hook judgment.
Jones and InfoWars didn't respond to requests for comment.
The most interesting item on Jones's new asset list may be a CRYONiQ brand cryogenic-freezing chamber estimated to be worth $4,000. The company promises to give users "the coldest experience," blasting their bodies with frigid temperatures.
Jones' conspiracy theory affluence has helped him buy a number of properties, according to the filing, including multiple condominiums, a $1.75 million lake house on Texas' Lake Travis, and a home worth $3.26 million. Jones also owns a Texas farm property valued at more than $2 million, according to the filing.
Add to that a number of vehicles, including four cars—two SUV's and two sports cars—valued at more than $200,000. Jones' boat collection is worth more than $100,000, according to the filing.
Jones has an extensive firearms collection, according to the document, with 54 guns collectively valued at $101,261. In the filing, Jones also acknowledged that he's holding on to guns owned by two Jan. 6 Capitol riot defendants as they face prosecution.
Jones once co-owned a helicopter, according to the filing, but later sold his stake in exchange for the rights to eight helicopter trips a year. Jones is no stranger to helicopters—in 2021, his ex-wife posted a video she claimed showed the conspiracy-theory kingpin harassing her by flying by her home in a helicopter.
Jones has also built an extensive watch collection through his conspiracy theory business, with 19 watches and a pair of cufflinks valued at $54,622.
The bankruptcy filing comes as Jones' business and personal activities are more exposed than ever. In February, the Southern Poverty Law Center published a number of Jones' text messages after his lawyer inadvertently gave them to a lawyer representing the Sandy Hook families. The messages showed Jones, among other things, appearing to pay a former employee of the private military contractor Blackwater to surveil his current wife, fearful that she was having an affair even as he seemed to be having one of his own.
Jones has also faced pressure from a disgruntled InfoWars employee, who released security-camera footage of Jones appearing to drink hard liquor in the middle of the day in his office.
Post source: TDB