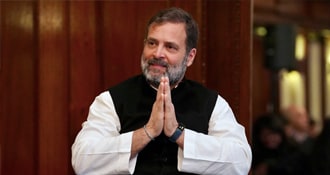 New Delhi:
Congress leader Rahul Gandhi's conviction and sentencing in a 2019 defamation case by a court in Gujarat has jeopardised his position as a member of parliament. While some experts have said the Lok Sabha MP from Kerala's Wayanad stands "automatically" disqualified with the conviction, others say the action can be staved off if he manages to get the conviction overturned.
Though Mr Gandhi was granted bail and his sentence was suspended for 30 days to let him appeal the decision, the court's order puts him at risk of automatic disqualification as a member of parliament under the law, some legal experts said.
Section 8(3) of the Representation of the People Act, 1951, says that the moment a member of parliament is convicted of any offence and sentenced for at least two years, she or he attracts disqualification.
According to experts, based on the Surat court order, the Lok Sabha Secretariat can disqualify Rahul Gandhi and declare his constituency vacant. The Election Commission will then announce a special election for the seat.
"By the operation of the law, he stands disqualified, but the decision has to be communicated to the Speaker. But as of today, he stands disqualified," noted lawyer and BJP MP Mahesh Jethmalani told NDTV.
Former union law minister Kapil Sibal, also a senior advocate formerly with the Congress, also said Mr Gandhi stands automatically disqualified as an MP with his two-year jail sentence.
"If it (the court) only suspends the sentence, that's not enough. There has to be a suspension or stay of conviction. He (Rahul Gandhi) can stay on as a member of parliament only if there is a stay on the conviction," Mr Sibal told NDTV.
If the verdict is not cancelled by any higher court, Rahul Gandhi will also not be allowed to contest elections for the next eight years.
According to Mr Gandhi's team, the Congress leader plans to challenge the verdict in a sessions court.
If the appeal for suspension of sentence and a freeze on the order is not accepted there, they will make their way up to the Supreme Court.


Post source: Ndtvnews