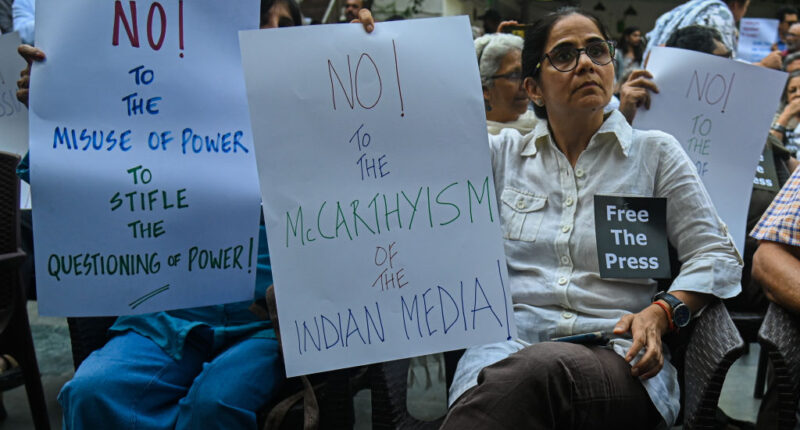 Journalists and media outlets across India are raising questions about press freedom and their ability to work without the "threat of reprisal" after police raided the offices and homes of journalists working for NewsClick, an independent digital news outlet in the Indian capital on Tuesday, Oct. 3.
Launched in 2009 by veteran Indian journalist Prabir Purkayastha, NewsClick describes itself as "one of India's most consistent chroniclers of diverse people's movements and struggles." It employs less than a hundred journalists and has a social media following of just over 70,000.
During the early hours of Tuesday morning, Delhi police raided the homes of at least 30 staff, including editors, reporters, and freelancers, to question them under an anti-terror law called the Unlawful Activities Prevention Act before seizing all electronic devices including personal mobile phones and laptops. The police also arrested Purkayastha, along with NewsClick's head of human resources, Amit Chakravarty, over allegations of money laundering.
On Wednesday, sixteen journalists and news organizations, including the press clubs of various cities across the country, wrote a joint plea to the Indian Supreme Court Chief Justice D.Y. Chandrachud to ask the judiciary to intervene. They say the raids are the latest example of the attacks leveled against the press by the current government, led by Prime Minister Narendra Modi from the ruling Bharatiya Janata Party.
"The fact is that today, a large section of journalists in India finds itself working under the threat of reprisal," the letter stated.
A longstanding target of Indian agencies
NewsClick claims to report on news and views "ignored by corporate media, whose agenda is dictated by the rich and powerful in the country." In the past, its journalists have ruffled feathers by reporting contentious stories like the farmers' protest in 2020 and the government's overhaul of history textbooks this past April. Abhisar Sharma, a prominent Hindi-language journalist with nearly three million subscribers on YouTube, recently reported on a caste census carried out in the northern state of Bihar that contradicted the government's claims, while Paranjoy Guha Thakurta, another veteran journalist, has become critical in exposing the government's ties with the Indian billionaire, Gautam Adani.
Read More: India's School Textbooks Are the Latest Battleground for Hindu Nationalism
As a result, the news outlet has been under the watchful eye of Indian authorities since 2021, when Delhi police first alleged that it was violating Indian laws on foreign direct investment by receiving funding from an American company. In February of that year, the Enforcement Directorate, the federal agency overseeing money laundering claims, raided NewsClick's offices along with Puryakastha's home.
In August, a report from the New York Times claimed that according to corporate filings, NewsClick had been financed by Neville Roy Singham, a U.S. millionaire accused of working closely with Beijing and financing its propaganda internationally. The report also stated that the Indian news outlet had "sprinkled its coverage with Chinese government talking points."
Indian authorities have since seized on these claims to register a case against NewsClick and its journalists. The New York Times has also come under scrutiny for its role in publishing the story that led to the police crackdown, with protests held outside its offices on Tuesday. 
'An attempt to shut down and stifle independent and fearless voices' 
In a statement published Wednesday, NewsClick rejected all the allegations leveled against it, adding that it still hadn't received a copy of the First Information Report that outlines official police charges, as required by law. It pushed back against money laundering charges by saying that in the last two years, authorities haven't called on Purkayastha for questioning, nor filed any charges against the outlet despite possessing all of its information, documents, and communications.
It also addressed the New York Times' claims by saying that it doesn't publish any news or information "at the behest of any Chinese entity or authority, directly or indirectly," or "propagate Chinese propaganda on its website." 
It added that the government is attempting to "shut down and stifle independent and fearless voices that portray the story of the real India—of peasants, of laborers, of farmers, and other oft-ignored sections of society."
Another example of declining press freedoms in India
Along with the letter to the Supreme Court Justice, several national and international news organizations have expressed concerns about the raids, saying they are reminiscent of the 1975 Emergency when the voices of those critical of the then-ruling Congress party were silenced through arrests, detentions, and raids.
Many also point to shrinking press freedoms in India. Since Modi came into power in 2014, India has drastically slipped places from 140 to 161 out of 180 in the annual World Press Freedom Index published by Reporters Without Borders, coming below countries like Laos, the Philippines, and neighboring Pakistan.
Read More: Why India Is Using Emergency Laws to Ban a Documentary About Prime Minister Modi
In official statements, the Press Club of India said it was "deeply concerned" about the raids, adding that it stood in "solidarity with the journalists," while the Editor's Guild of India urged the government to "not create a general atmosphere of intimidation under the shadow of draconian laws" by following due process. The Network of Women in Media India stated the government should be "transparent about its actions" and not use anti-terror laws indiscriminately against journalists and dissenters, while Digipub, a news foundation in India, said the raids had taken "the government's pattern of arbitrary and intimidatory behavior to another level."
"India has been in a downward spiral on press freedom and other rankings on civil liberties and human rights, and the Indian government's war against the media is a blot on the world's largest democracy," Digipub added.
The New York-based Committee to Protect Journalists (CPJ) has also called for the immediate release of Purkayastha, urging the government to "stop trying to intimidate journalists" through tactics like police raids.
"This is the latest attack on press freedom in India," said Beh Lih Yi, CPJ's Asia program coordinator. "We urge the Indian government to immediately cease these actions as journalists must be allowed to work without fear of intimidation or reprisal."
More Must-Reads From TIME
---


Post source: The List