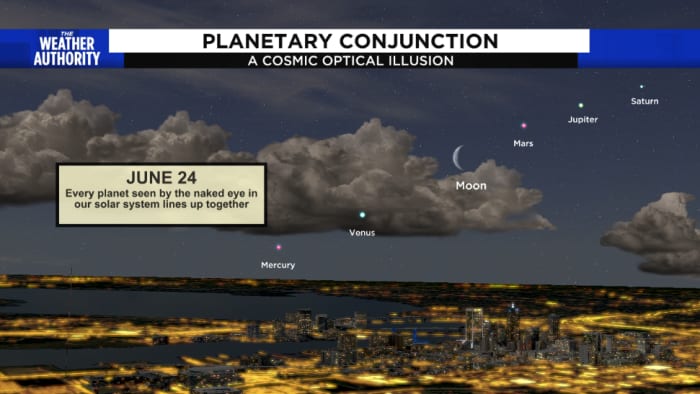 Soon every planet seen by the naked eye in our solar system will line up together in perfect order.
This month five planets are coming closer to forming a sequence where Mercury, Venus, Mars, Jupiter, and Saturn will eventually align in order on June 24.
The arrangement will stretch across the southern sky starting with Mercury very low in the east to Saturn high above the southern horizon.
The perspective of multiple objects in the same elliptical plane — called a "conjunction" — is more common with two or three planets but it's rare to have five worlds synchronize.
The optical illusion appears as if all planets are very close to each other when in fact great distances separate them. The last time this phenomenon occurred was in 2004.
You can get a sneak peek at the planets coming closer through the month of June by going out early about 30 to 45 minutes before sunrise. But it will be hard to see Mercury until later in the month when it rises higher and turns brighter.
By June 24, all planets will be perfectly positioned, and to top it off the thin crescent Moon will be parked between Venus and Mars in the lineup.
Post source: News 4jax