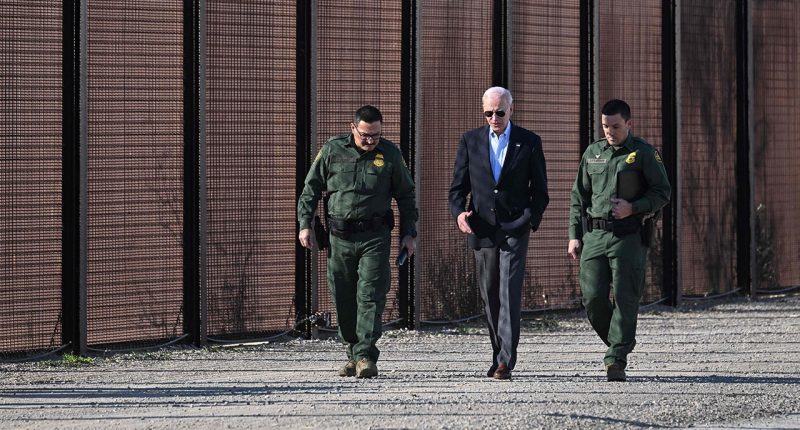 FIRST ON FOX: The White House says a government analysis of a budget proposal laid out this month by a conservative House caucus would make the U.S. southern border less secure by eliminating funding for Customs and Border Protection (CBP) staff and reducing the ability to combat drug trafficking.
In a statement to Fox News Digital, the White House said the proposal by the House Freedom Caucus (HFC) is a "five-alarm fire for hardworking families" that endangers public safety and border security.
The caucus is proposing measures that would cut current spending and place a cap on future spending. It would also claw back money from unspent COVID-19 funds, the expansion of the IRS and elsewhere. Members have said that the cap would save $3 trillion over the long term.
HFC Chair Scott Perry said this month that members of the HFC believe the plan is "both realistic and actually gets to the heart of the matter" in an effort to "actually change the trajectory of our spending problem in Washington, D.C."
HOUSE FREEDOM CAUCUS MEMBERS UNVEIL PLAN TO ADDRESS DEBT CEILING CRISIS AMID BATTLE WITH BIDEN, DEMOCRATS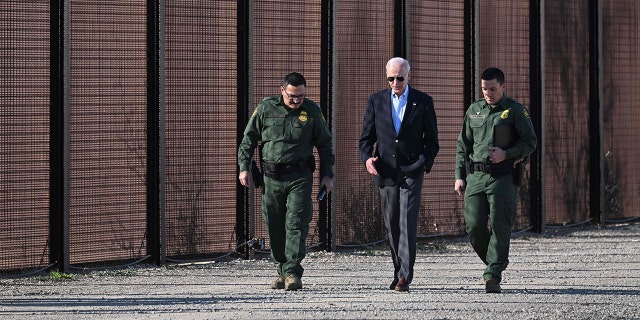 However, the White House is now going on the offense against the plan, and cites a new analysis by agencies and the Office of Management and Budget that it says shows the proposal "will make out border less secure" and cut funding for thousands of CBP staff.
"While the President's Budget proposes record funding to support the men and women working day and night to secure our borders, House Republicans are pushing draconian cuts to this critical national priority that would endanger Americans' safety," a White House official told Fox News Digital.
"Their draconian cuts would eliminate funding for more than 2,000 Customs and Border Protection agents and officers and severely undermine our ability to secure the border and combat drug trafficking—allowing an additional 150,000 pounds of cocaine, nearly 900 pounds of fentanyl, nearly 2,000 pounds of heroin, and more than 17,000 pounds of methamphetamine into our country," the official said. 
"At the same time, their efforts to block our highly effective border enforcement measures will result in a significant increase in unlawful border crossings, which are down to the lowest levels in two years because of the measures President Biden put in place earlier this year," they said.
REPUBLICANS UNVEIL NEW DEBT CEILING BILL THAT WOULD FORCE WHITE HOUSE TO PROPOSE ITS OWN PLAN TO CUT SPENDING
The official was referring to measures implemented in January, including a humanitarian parole program for up to 30,000 migrants a month from Venezuela, Cuba, Nicaragua and Haiti combined with an expansion of Title 42 expulsions to those nationalities. Since then, border numbers have dropped from the 251,000 encountered in December to just over 150,000 in January and February. The program has been challenged by a coalition of 20 Republican states.
The comments are part of a broader pushback by the White House amid a battle over President Biden's budget proposal for fiscal year 2024. Speaker Kevin McCarthy recently called Biden's proposal "completely unserious," while the White House has accused Republicans of pursuing cuts that would "have damaging impacts on seniors, families, and communities across the country."
"The White House will put those House Republican priorities in sharp contrast with the President's Budget, which invests in America, lowers costs for families, protects and strengthens Medicare and Social Security, and reduces the deficit by $3 trillion over 10 years, while ensuring no one making less than $400,000 per year pays a penny more in new taxes," the official said.
MEXICAN PRESIDENT SAYS LACK OF 'HUGS AND EMBRACES,' NOT DRUG CARTELS TO BLAME FOR FENTANYL CRISIS
The budget battle comes amid a separate back-and-forth between Republicans and the administration over who is responsible for the ongoing crisis at the southern border. The White House claims that the cuts outlined by the caucus would not reduce the deficit, while accusing Republican leadership in Congress of pursuing nearly identical cuts. 
Republicans have sought to blame the administration for the historic migrant surge — which saw over 1.7 million migrant encounters in FY 21 and more than 2.3 million in FY 2022 — arguing that policies such as a narrowing of interior enforcement, increased "catch-and-release" and the ending of border wall construction have encouraged illegal migration.
The administration has instead blamed Republicans in Congress for failing to engage on a sweeping immigration reform bill the administration unveiled on Day One, while also not approving requests for border funding — including a nearly $5 billion proposal made in December.
CLICK HERE TO GET THE FOX NEWS APP
The fight over funding is taking place as Title 42, the public health order allowing for the rapid expulsion of migrants at the southern border, will end on May 11 along with the public health emergency. That has raised fears of additional surges at the border once the order drops.
The administration has also proposed an asylum rule that would presume ineligibility for asylum if migrants have crossed illegally while also failing to claim asylum in a previous country through which they passed. That, however, has been met by pushback from immigration activists and even some Democrats.