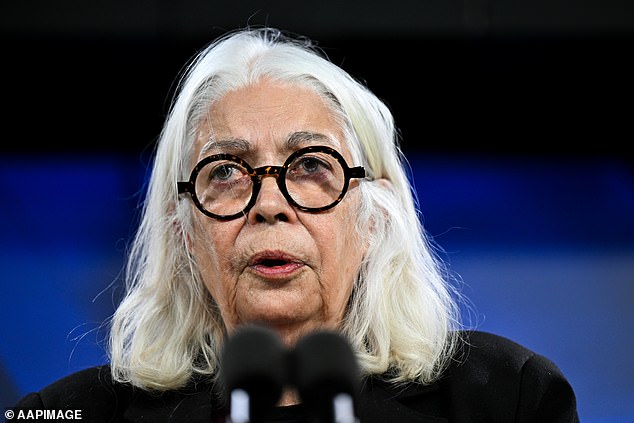 The woman who is at the centre of claims she branded No campaigners for the Voice 'stupid' and 'racist' is an academic and formidable Aboriginal Australian activist who has fought for Indigenous rights for close to 50 years. 
While Marcia Langton has now become one of the Yes campaign's most prominent faces, she has been a controversial force in Australian public life for decades.
Professor Langton is a member of the government's advisory groups on the Voice and co-author of an influential co-design report, which was commissioned under the former Coalition government. 
She has worked alongside the country's leaders including Paul Keating, Kevin Rudd, Scott Morrison, Minister for Foreign Affairs Julie Bishop and current Prime Minister Anthony Albanese – who has been a longstanding supporter of Prof Langton. 
In 1986, as a 23-year-old Young Labor activist, Mr Albanese signed off on a letter with Prof Langton and Indigenous leader Pat Dodson demanding reparations for the 'invasion' of Australia. 
Professor Langton is a member of the government's advisory groups on the Voice and co-author of an influential co-design report
Some 37 years later, the pair stood side by side campaigning for Australians to vote Yes on October 14 in the Indigenous Voice to Parliament referendum.     
However, before becoming one of the country's most powerful Indigenous women, a young Langton did not realise she was Aboriginal. 
Professor Langton AO is the great-great-granddaughter of survivors of the frontier massacres and a descendant of the Yiman and Bidjara people of central and eastern Queensland, respectively. 
Born in 1951 in Brisbane, Prof Langton lived in the city until her mother, Kathleen Waddy, married a Korean War veteran Douglas Langton. 
The trio travelled through south-west Queensland, where Prof Langton recalls attending at least nine primary schools. 
'The schools were horrible, racist hellholes. The teachers were the kind of people who still advocated killing Aboriginal people, and the kids weren't much better,' Prof Langton recalled to Australian Women's Weekly. 
While living in the little town of Dirranbandi, on the border of Queensland and New South Wales, 'all the kids from school chased me home and threw rocks at me'. 
From a young age, Prof Langton developed her love for reading and was often found in a library or in a quiet place reading a book. 
She said schools would occasionally have a lesson about 'Aborigines' – a term she was unfamiliar with. 
'At first, I thought, who are these Aborigines? I've never met any Aborigines like that?' Prof Langton said. 
'It took me a while, then eventually the penny dropped. It was me!'
Prof Langtons's involvement in Indigenous activism began after she spotted her aunt in town during the height of the Vote Yes campaign for the 1967 referendum (pictured, Prof Langton during a rally in 1982)
Professor Langton during a press conference in Paris, France on December 30, 1997
Prof Langton explained all the Aboriginal people she knew lived in camps in regional Queensland – including her great aunt Teresa and her grandmother Ruby. 
She said her aunt and grandmother were classified as domestic servants who worked on stations their entire lives and were victims of 'awful' racism. 
While in high school, Prof Langton met Celia Smith, another great aunt and organiser for the Federal Council for the Advancement of Aborigines and Torres Strait Islanders (FCAATSI). 
Her involvement in Indigenous activism began after she spotted her aunt in town during the height of the Vote Yes campaign for the 1967 referendum. 
Prof Langton's aunty told her she had to help the radical grassroots campaign because she could read and write. 
She explained racism towards Indigenous people, particularly for those living on the reserves, was severe. 
Another early influence on Prof Langton's life was poet and activist Oodgeroo Noonuccal, then known as Kath Walker. 
Prof Langton said Noonuccal offered a 'hint of the kind of future' a young Indigenous girl like herself could dare to dream about.
In 1969, Prof Langton enrolled at the University of Queensland but her education was marred by racism, with even the master of college confronting her in the corridor and attacking her in vicious, racist terms.
Prof Langton moved into a share house along with her boyfriend and their baby son while she continued going to demonstrations and organising some of the Aboriginal resistance. 
Her activism garnered the attention of Queensland police who would raid her home every Saturday morning – with officers on one occasion threatening to kill her baby. 
The threat to her son's life forced the then 18-year-old Langton to leave university and leave Australia. 
She then embarked on a five-year world trip where she smuggled banned books into Papua New Guinea, ran away from slave traders in New York and learnt about feminism from an American in Tokyo and Buddhism from a monk in Taiwan. 
Prof Langton was one of five Indigenous leaders granted an audience with the Queen to discuss an apology and Indigenous recognition in the Australian Constitution (L-R) Gatjil Djerrkura, Dr Lowitja O'Donoghue, Peter Yu, Professor Marcia Langton and Patrick Dodson)
Pictured, Julie Bishop (left) and University of Melbourne Chair of Indigenous Studies Professor Marcia Langton (right) speaking at the launch of a Indigenous Higher Education Advisory Council report in Canberra on July 18, 2006
In 1975, Prof Langton returned to Australia and studied Anthropology at the Australian National University and become the first Indigenous honours graduate. 
Her work in anthropology and the advocacy of Aboriginal rights was recognised in 1993 when she was made a member of the Order of Australia. 
In 2000, Prof Langton was one of five Indigenous leaders who were granted an audience with the late Queen Elizabeth II to discuss an apology and Indigenous recognition in the Australian Constitution.
Prof Langton was given a Fellow of the Academy of Social Sciences in Australia in 2001 and was awarded the inaugural Neville Bonner Award for Indigenous Teacher of the Year in 2002. 
Over the past 30 years, Prof Langton has worked on some of the most significant pieces of research and legislation affecting First Nations people. 
Notably, Prof Langton worked on the Native Title Act to the Royal Commission into Aboriginal Deaths in Custody and the Bringing Them Home report on the stolen generation – which resulted in an apology but not formal compensation. 
Prof Langton has also written dozens of academic and popular books including Welcome to Country, an Introduction to our First Peoples for Young Australians. 
However, the prominent Aboriginal leader and Yes campaigner has now threatened legal action after she was branded a racist for comments she made about the No campaign. 
Prof Langton made the remarks at a forum in Bunbury, Western Australia, and said Australians need to apply more scrutiny to claims by the No campaign.
'Every time the No cases raise their arguments, if you start pulling it apart you get down to base racism – I'm sorry to say that's where it lands – or sheer stupidity,' Prof Langton said.
'If you look at any reputable fact-checker, every one of them says the no case is substantially false, they are lying to you.' 
Professor Langton later insisted she was not calling No voters racist or stupid, insisting she used the terms to refer to the arguments of No campaigners
At issue is an article published in The Australian, based on an earlier article in the Bunbury Herald which quoted Prof Langton's comments. 
The Bunbury Herald front page carried the headline: 'Racist or stupid: voice author slams the no campaign'. 
The image of Professor Langton standing next to Prime Minister Anthony Albanese includes the words 'No Voters Branded 'Racist, Stupid By Prominent Voice Campaigner Marcia Langton' below the logo of The Australian newspaper.
The image was then shared on Tuesday to Opposition Leader Peter Dutton's Instagram account, with comments attributed to the leader. 
'Australians are genuinely concerned about the unknown consequences of Labor's risky Voice proposal, which is the biggest constitutional change in our history,' the post said.
'The prime minister should condemn these comments from leading voice advocate Marcia Langton.'
On Wednesday, Prof Langton vehemently rejected accusations from the No campaign and its supporters, noting her comments were taken out of context and were referring to No campaign tactics.
'I deny it. It is absolutely not true,' Prof Langton told ABC radio.
'There is a recording of what I said at the Bunbury meeting and what I said is very clear – I was explaining how the 'no' campaign is using fear and lies to frighten voters into voting no.'
'I will have to… ask a lawyer to write to Peter Dutton requesting that he remove this post from his Instagram because it is absolutely not true.' 
On Tuesday, Mr Albanese accused the No campaign of resorting to shameful tactics following reports its volunteers were being directed to use fear to dissuade voters from supporting the proposed constitutional change.
'It is as cynical and as shameful as you'd expect,' he told parliament on Tuesday.
Mr Albanese also stressed the need for a 'respectful debate' on the Voice referendum to Daily Mail Australia on Tuesday. 
Prime Minister Anthony Albanese stressed the need for a 'respectful debate' on the Voice referendum to Daily Mail Australia on Tuesday
It comes after support for the Indigenous Voice to Parliament slumped to new lows, with every state except Tasmania poised to vote 'No'.
The most recent Resolve Political Monitor survey, published in the Nine newspapers on Monday, showed 43 per cent of voters supported a plan to enshrine an Indigenous Voice into the constitution, down 20 percentage points from a year ago.
In the past month, the percentage of voters who are certain about voting 'No' has risen from 33 per cent to 37 per cent, whereas the percentage of those who say they will probably vote 'No' remains unchanged at 12 per cent.
The poll had 16 per cent of voters undecided.
The percentage of Australians in favour of the referendum has dropped for the fifth month in a row. It's also the third month in the row that the 'No' vote has been ahead.
The referendum will be held on October 14.