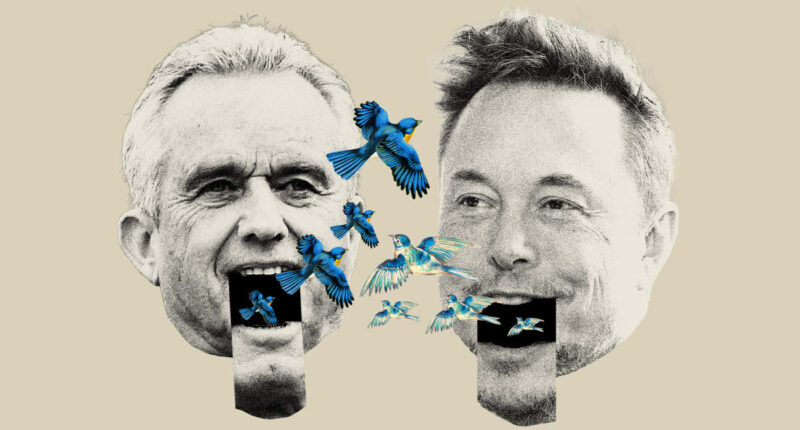 Robert F. Kennedy Jr.'s second word on the presidential campaign trail was "Bitcoiners."
"Hello, Bitcoiners," the 69-year-old Democratic candidate greeted the crowd at the Bitcoin 2023 conference in May. "There are a lot of people, who are not in this room, for whom Bitcoin may seem an issue that's too trivial for a presidential campaign."
He went on to explain that he'd become convinced of Bitcoin's importance while watching the 2022 Canadian trucker convoy, in which drivers shut down Ottawa roadways in protest of anti-COVID measures, leading to temporary freezes of some Canadian participants' bank accounts. He linked the Canadian case to a hypothetical situation in which a state-controlled digital currency could be used to control citizens' spending so that you "could only purchase groceries within maybe a five-minute walk of your home."
A speech at a Bitcoin conference made for an unconventional campaign kickoff for Kennedy, who is running a longshot primary bid against President Joe Biden. But Kennedy's campaign, now in its second month, has found some of its greatest support from vaccine opponents and techie types—the latter of which are helping his campaign through its early fundraising.
For much of his career, Kennedy was an unlikely Silicon Valley favorite. The son of Bobby Kennedy and nephew of President John F. Kennedy, Kennedy Jr. studied law and spent much of his professional life advocating on behalf of environmental causes. But he fell short of holding official office. When the Obama administration considered him to lead the Environmental Protection Agency, critics noted Kennedy's 1983 conviction for heroin possession. Like his would-be opponent Donald Trump, Kennedy has also caught fire for alleged affairs.
In the early 2000s, Kennedy turned his attention to vaccines, which he incorrectly claimed were linked to autism.
By the time the COVID-19 pandemic struck, Kennedy was one of the world's most prominent purveyors of vaccine misinformation. And while his posts about vaccines and COVID-19 led to a ban from Instagram in 2021 (the ban was overturned after Kennedy announced his presidential bid), other figures from the tech world were watching.
In 2022, a group called the People's Pharma Movement launched a website and a political action committee (PAC). Most of the group's funding has come from $500,000 in donations from one of its founding board members, Limewire founder Mark Gorton, CNBC noted last month. The PAC's only other publicly viewable contribution is a $50,000 payment from Skyhorse Publishing, which publishes Kennedy's book, and whose president, Tony Lyons, is listed as chair of the PPM.
In April, the group's PAC changed its name to American Values 2024. Since then, the PAC has spent more than $200,000 on newspaper ads for Kennedy.
Gorton told The Daily Beast that he agrees with Kennedy's vaccine views. Gorton also said his research into alternative theories of the JFK assassination upended the way he views the government. "That's where you learn how the system really works," Gorton said of his research. "The stuff that they don't want you to know is the stuff that matters."
American Values 2024 is not the only tech-tied PAC supporting Kennedy's campaign. The Common Sense PAC, registered in April, is a pro-Kennedy fundraising arm. Its team lead, according to LinkedIn, is former Los Angeles Dodgers player Tyler Adkison, who has spent his post-baseball career working with cryptocurrency and Web3 companies.
"I think the crypto community loves [Kennedy] because of what he says about crypto," Gorton told The Daily Beast, referring to Kennedy's remarks about the Canadian trucker blockade. He also theorized that the cryptocurrency's libertarian ethos resonates with many in Silicon Valley and beyond.
Next week, Common Sense PAC will hold a pro-Kennedy fundraiser in San Francisco, hosted by venture capitalists David Sacks and Chamath Palihapitiya. ("Suggested donations" run from a $2,000 payment for the cocktail reception and $10,000 for dinner.) Palihapitiya told Axios that he's been "surprised" by RSVPs to the Silicon Valley soiree, with "a lot of people maxing out" on their donations.
Sacks, Palihapitiya, and their fellow venture capitalist co-hosts on the "All-In" podcast gave a favorable interview with Kennedy in May. During an April podcast, Sacks said he would back Kennedy over Biden.
This month, Kennedy joined another tech mogul to promote his campaign—appearing in a rambling, conspiracy-laden two-hour Twitter Space with Elon Musk, who has also expressed opposition to widespread vaccination programs.
During the Twitter Space, Kennedy blamed pharmaceutical use for the country's rise in gun violence.
"Prior to the introduction of Prozac, we had almost none of these events in our country and we've never seen them in human history, where people walk into a schoolroom of children or strangers and start shooting people," Kennedy said.
Musk has not endorsed Kennedy's bid—but Musk's Twitter predecessor, Jack Dorsey has. Dorsey, a fan of obscure alternative health practices, has previously come under fire for recording a podcast with a fitness influencer who claimed vaccines cause autism.
This month, Dorsey tweeted that Kennedy "can and will" beat either Donald Trump or Ron DeSantis in a general election. Asked whether he was endorsing Kennedy, or simply making a prediction, Dorsey replied "both."


Post source: TDB