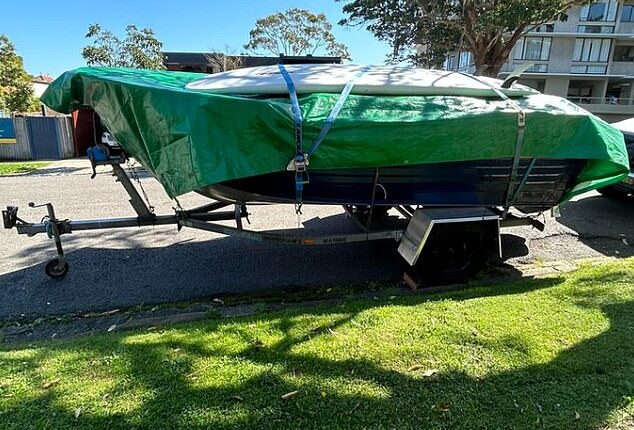 A photo of a boat parked on the street in one of Sydney's wealthiest suburbs has sparked a war of words among residents.
The war erupted after a frustrated resident complained about the boat taking up precious parking spots on the street frequented by parents to drop off and pick up their kids from daycare and school.
'To the owner of this boat on Shadforth Street – asking very nicely if you could please move this elsewhere as it's been parked for almost a month here,' they posted on the Facebook page Mosman Living.
This boat parked in a Mosman street for almost a month has sparked a fiery debate
'There are two daycares on this street and a school, and many residents rely on street parking. The council has been notified by several residents so please move it.'
The post sparked a fiery debate from locals over whether the boat should be moved.
Many pointed out that registered boats can be legally parked in a residential street for up to 28 days.
'If it's legally parked, it can stay there for 28 days. The owner can move it even back to the exact same spot for another 28 days,' one woman wrote.
Another added: 'Just out of interest, if it's free street parking, why are the residents and daycare attendees more entitled to said free street parking than the boat owner?'
But others were not impressed with the boat owner.
'Rich enough to buy a toy that's used a couple of times a year. They are so stingy that they park it in front of someone else's home for free for the other nine months.
'I think the council should insist all trailers and boats should be parked in front of the owner's homes or insist they pay to be stored elsewhere.'
A second added: Boats, caravans and trailers should be parked on the owner's property, or in dedicated storage areas. Yes, I'm aware this isn't the current rule, however it should be.
A mum who lives in the street described the parking situation as a nightmare as she pleaded for the boat owner to move it.
'I often have to park on neighbouring streets (which are also occupied by boats) and walk to my apartment whilst carrying my 6-month-old daughter and other belongings. I wouldn't have a problem if there were ample parking, but unfortunately that is not the case,' she wrote.
'YES we all know the rules, YES the owner has a right to park there, YES this city has an overall issue with parking/mooring, BUT it's a massive inconvenience so, please be a decent human being and relocate your boat elsewhere for another 28 days.'
Parking spaces in Shadforth Street Mosman (pictured) are in high demand from residents and parents dropping or picking up their children from school and daycare
Others urged the Mosman Council to intervene and address the ongoing issue.
'The council should insist all trailers and boats should be parked in front of the owners homes or insist they pay to be stored elsewhere,' one woman wrote.
Some tried to lighten up the debate.
'How criminal that they pay rego for the boat and trailer and then have the audacity to park it in FREE parking,' one said.
'I've had just about enough of these Mosman toddlers and their long lunches at sea,' a second joked.
Another said: 'Means I have to move one of the other vessels or Range Rovers.'
A third joked: 'I heard it was towed there by a non European car so they obviously live out of the area.'
In 2015, the NSW government introduced laws allowing councils to impound boat trailers if parked on streets for longer than 28 days.
But councils rarely use the laws as they are too hard to enforce.
Boats are commonplace in streets throughout the suburb, which has a median home price of $5.3million.
Mosman was recently named Australia's 10th richest postcode, with 19,706 residents earning an average taxable income of $188,324 – well more than double the national average of $68,289.
It's not the first time boats and trailers parked in the street (previous example pictured) have infuriated Mosman locals