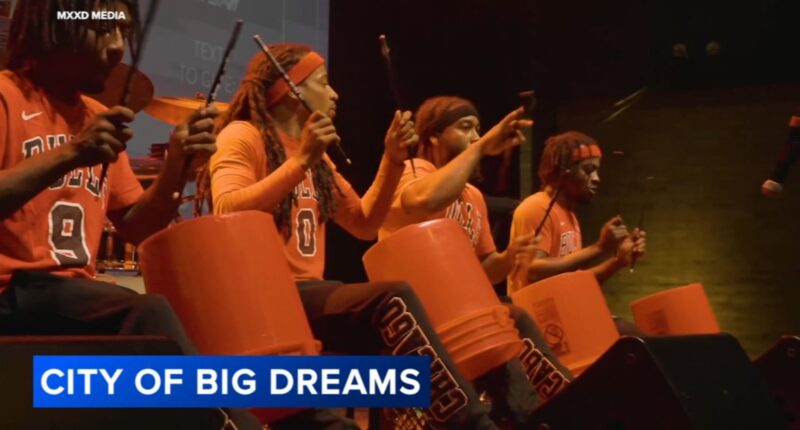 CHICAGO (WLS) — City Of Big Dreams is the only immersive art showcase fundraiser that celebrates the 'simple good' that exists in Chicago.
Multidisciplinary artists from across Chicago unite with local arts nonprofit, The Simple Good, to express their artistry through live performances and arts activism to support the mental health of our youth. The evening consists of live painting, silent auction, spirits, live music, dance and poetry performance.
September 28 marks the 10-year anniversary of the Chicago-based nonprofit, The Simple Good, hosting their City Of Big Dreams Art Showcase. Through their annual fundraiser, The Simple Good, will fundraise $110,000 to bring 1,000 students their mindfulness-based youth art programs at no cost to the students or their families.
CITY OF BIG DREAMS COMMUNITY IMPACT
Over the past 10 years, City Of Big Dreams Art Showcase fundraiser has helped The Simple Good:
Provide Mindfulness-based Art Programs to over 6,500 students worldwide
Serve 16+ communities nationally
Collaborate with 500+ artists to spread the 'simple good'
GENERAL INFO ON THE SIMPLE GOOD
Originally a global photo blog (The Simple Good Blog) gone viral, The Simple Good is now the first Mindfulness-based visual arts non-profit to service youth across the country. For the past 10 years, The Simple Good has utilized art to help youth connect their meaning of good with practical mindfulness skills to create a more peaceful, just and connected world. From Chicago to Uganda, The Simple Good has proven that peaceful communities start by finding your meaning of 'the simple good'.
TSG ART PROGRAM INFORMATION
The Simple Good's Mindfulness-based Art Program was created to empower youth to cope with trauma, build resilience, and practice empathy. By identifying, expressing, and sharing their meaning of 'good' with art, students learn the power of positive expression and connection. Program promotes: Self-awareness, emotional regulation, healthy decision-making, public speaking, critical thinking, positive self-talk, and coping skills.


Post source: Abc7chicago