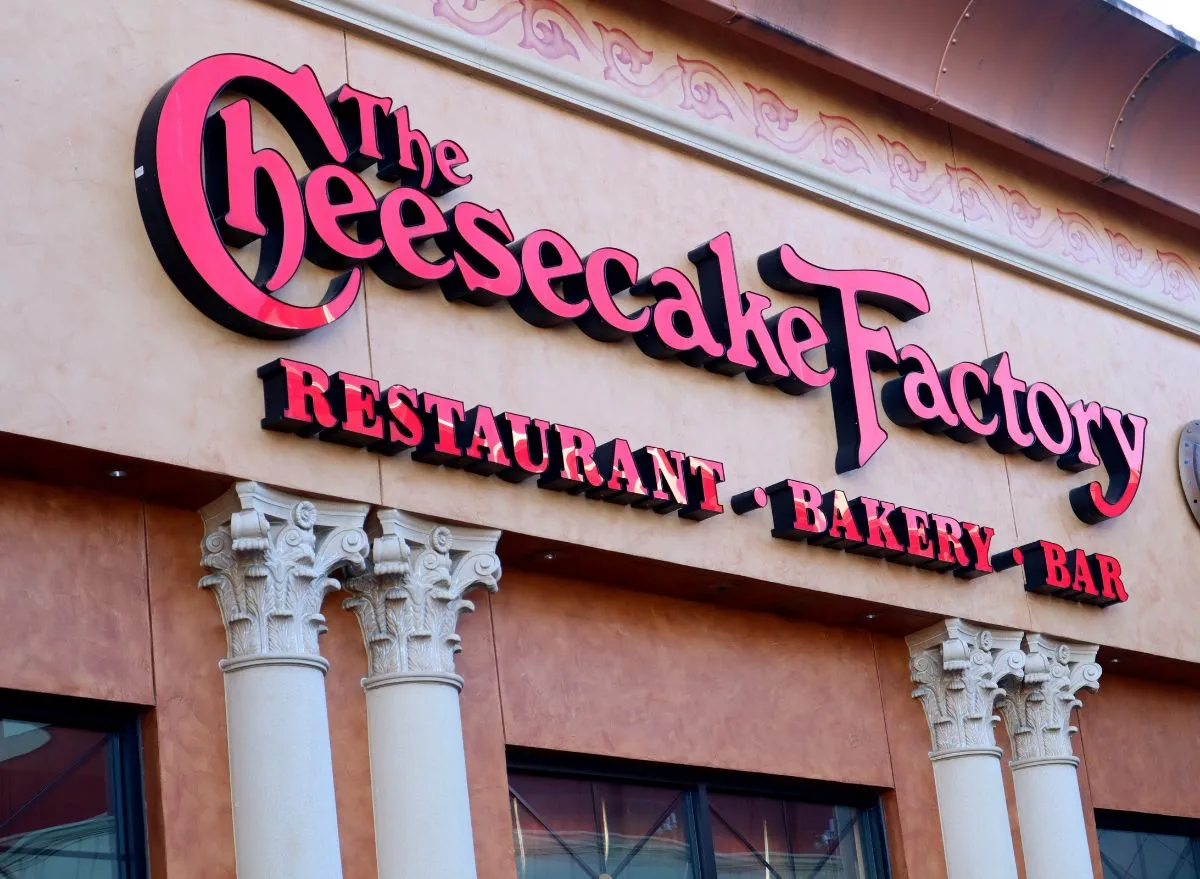 Everyone knows the Cheesecake Factory is the place for a super indulgent meal (complete, of course, with an over-the-top dessert). This California chain has made a name for itself as a destination for epic burgers, fancy cocktails, and piled-high plates of pasta. With its reputation for gigantic portions and cheesecakes galore, nobody's pointing to the Cheesecake Factory as a paragon of healthy eating. But just how bad for you are the restaurant's meals?
It depends. While some of the Cheesecake Factory's options are relatively moderate, the majority of their menu is pretty outrageous. Many dishes contain more than an entire day's worth of calories, fats, and sodium, with portion sizes fit for an entire family, not a solo eater.
Want to choose wisely at the cheesecake chain? Here are 10 orders to steer clear of at the Cheesecake Factory. Read on, and for more, don't miss 10 Best & Worst Wendy's Burgers, According to Dietitians.
Per serving: 1,860 calories, 121 g fat (24 g saturated fat), 2,940 mg sodium, 134 g carbs (9 g fiber, 31 g sugar), 53 g protein
Multiple healthy eating patterns like the Mediterranean and pescatarian diets focus on including more seafood. But if you're looking to boost your fish intake, don't choose the Cheesecake Factory's fish and chips. Besides containing off-the-charts levels of fat, saturated fat, sodium, and even sugar, this battered fish is extremely high in carbs. "[At] 134 grams of carbs, this will send your blood sugar into a huge spike, which is definitely not good for metabolic health," says Celine Thompson, MS, RDN, of Fueling Fertility. She recommends splitting this one with a friend if you choose to order it.
Per serving: 1,670 calories, 128 g fat (71 g saturated fat), 1,440 mg sodium, 96 g carbs (3 g fiber, 48 g sugar), 33 g protein
With a name like Fried Chicken and Waffles Benedict, you know this one's gonna be a calorie bomb. Here, an inch-thick waffle gets topped with fried chicken breast, a poached egg, and Hollandaise sauce—not a great recipe for health.
"The high saturated fat content of this dish can lead to weight gain and high cholesterol levels, which can increase the risk of heart disease," says Wan Na Chun, RD, CPT, of One Pot Wellness. "This meal is also high in sodium, which can also have negative effects on heart health. The American Heart Association recommends consuming no more than 2,300 milligrams of sodium per day, and ideally no more than 1,500 milligrams per day for most adults."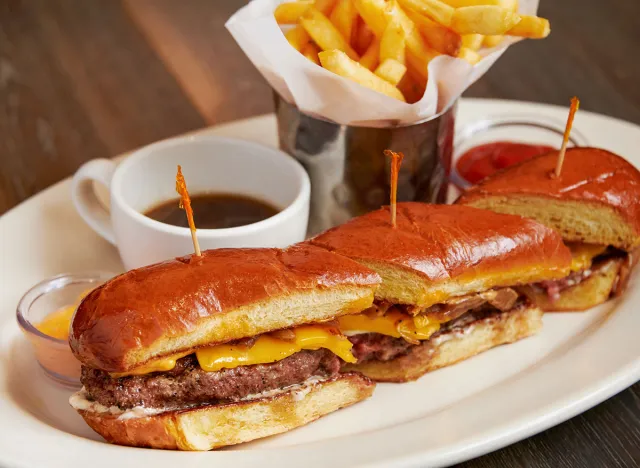 Per serving: 1,620 calories, 117 g fat (47 g saturated fat), 3,480 mg sodium, 78 g carbs (5 g fiber, 22 g sugar), 60 g protein
What happens when you combine a French dip with a cheeseburger? An epic showdown of calories, saturated fat, and sodium. This meaty extravaganza of a sandwich clocks in with 117 grams of fat, 47 of which are saturated. For your waistline and your heart health, better skip this one.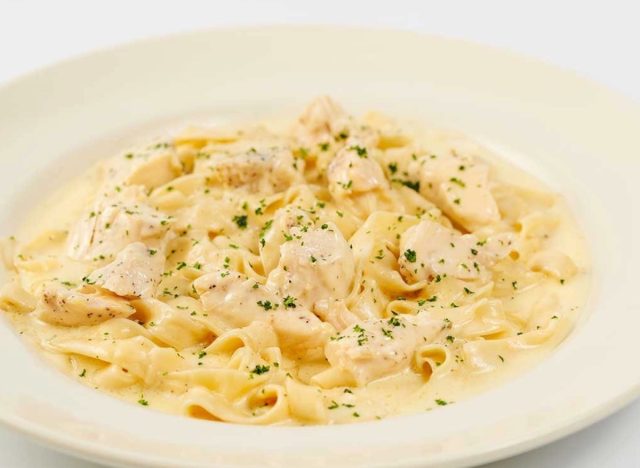 Per serving: 1,540 calories, 97 g fat (57 g saturated fat), 2,210 mg sodium, 113 g carbs (5 g fiber, 6 g sugar), 56 g protein
We'll grant that fettuccini Alfredo typically isn't a health-conscious dish—but the Cheesecake Factory's version takes calories and carbs into the stratosphere. We're not talking good-for-you complex carbs, either. Of the 113 grams of carbohydrates in this meal, only 5 grams come from fiber.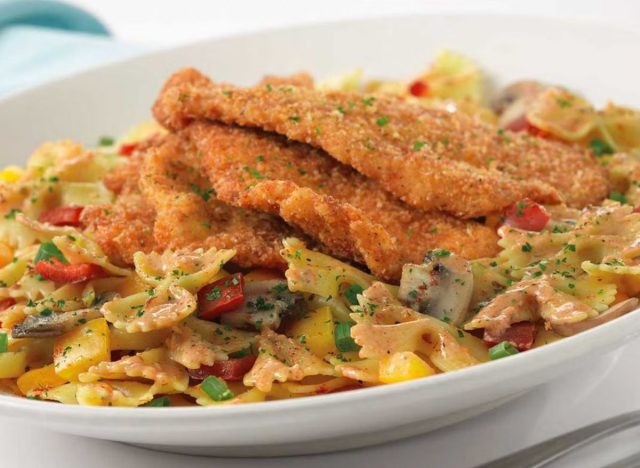 Per serving: 2,270 calories, 132 g fat (67 g saturated fat), 4340 mg sodium, 176 g carbs (10 g fiber, 17 g sugar), 98 g protein
Cajun food has a reputation for fried meats and slathered sauces. The Cheesecake Factory's Louisiana chicken pasta is no exception. "This dinner pasta entrée includes a parmesan chicken breast served over pasta in a spicy New Orleans sauce and provides 2,270 calories, 67 grams of saturated fat, and 4,340 milligrams of sodium," points out Mandy Tyler, M.Ed., RD, CSSD, LD. "Individuals would be better off selecting a lower calorie entrée or sharing the entrée with others at the table so they only eat a small portion of the meal."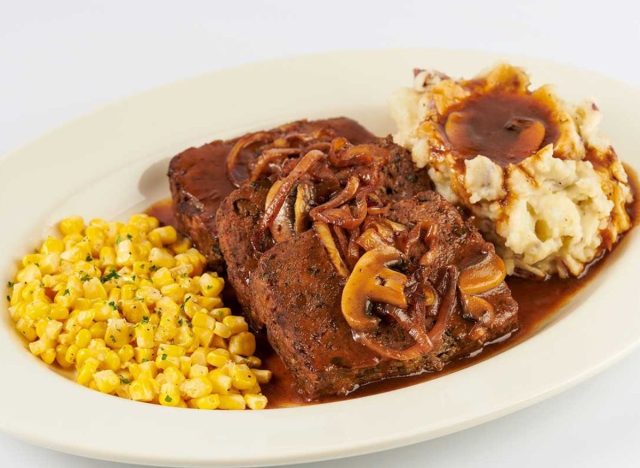 Per serving: 1,400 calories, 84 g fat (41 g saturated fat), 3,660 mg sodium, 105 g carbs (7 g fiber, 43 g sugar), 52 g protein
Perhaps a better name for this dish would be the infamous factory meatloaf. Tremendous amounts of sodium and shockingly high sugar (more than a 12-ounce can of Coke) make this meatloaf a poor choice. For a healthier beef option, consider the old-fashioned burger, which contains 400 fewer calories and around half the sodium.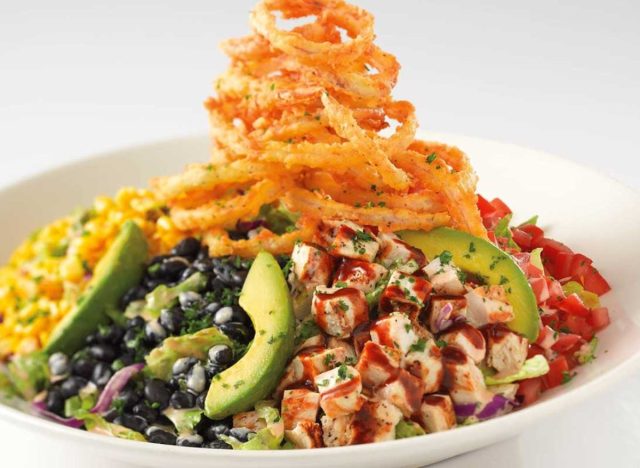 Per serving: 1,980 calories, 124 g fat (23 g saturated fat), 2,710 mg sodium, 150 g carbs (22 g fiber, 64 g sugar), 62 g protein
"Surprisingly, one of the least healthy options at the Cheesecake Factory is a salad," says Haley Bishoff, RDN, owner of Rūtsu Nutrition in Las Vegas, NV. "The barbeque ranch chicken salad has 1,980 calories, 124 grams of fat, and 64 grams of sugar." Don't be fooled—just because it contains vegetables doesn't make it healthy.6254a4d1642c605c54bf1cab17d50f1e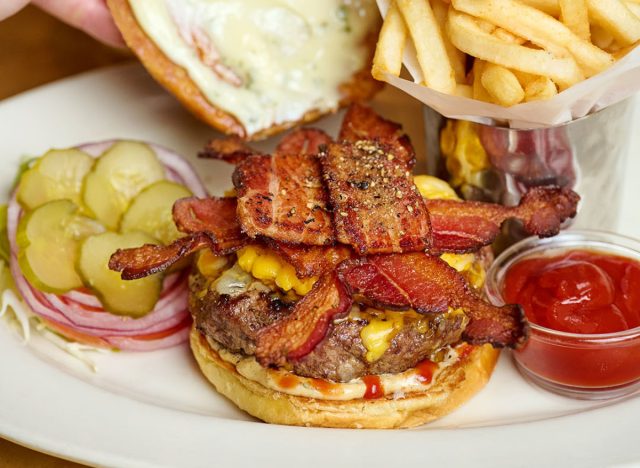 Per serving: 1,680 calories, 116 g fat (46 g saturated fat), 3,560 mg sodium, 77 g carbs (3 g fiber, 29 g sugar), 78 g protein
Both processed meat and red meat have been associated with health issues like hypertension and various cancers—so it's no surprise that the bacon-bacon cheeseburger isn't the healthiest option at the Cheesecake Factory.
"This burger contains almost three times the recommended dietary allowance for saturated fat and far exceeds the limit for daily intake of sodium," says Julie Pace, RDN, owner of Core Nutrition Health + Wellness, specializing in functional nutrition for women. "The bacon-bacon cheeseburger is what I call a triple threat to your health if eaten on a regular basis."
Per serving: 2,170 calories, 147 g fat (69 g saturated fat), 3,240 mg sodium, 155 g carbs (10 g fiber, 12 g sugar), 58 g protein
Shrimp is a low-calorie protein source—but not when battered and dressed in a thick cream sauce. The Cheesecake Factory's bistro shrimp pasta counteracts seafood's health benefits by clocking in with 2,170 calories, 147 grams of fat, and 3,240 milligrams of sodium.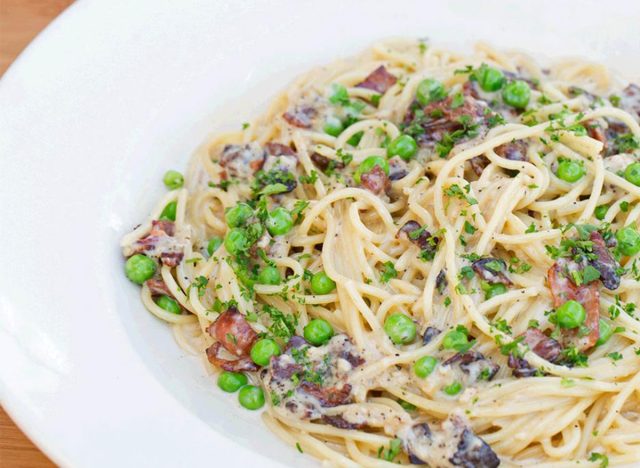 Per serving: 2,210 calories, 147 g fat (70 g saturated fat), 4,270 mg sodium, 141 g carbs (11 g fiber, 11 g sugar), 78 g protein
Another pasta rounds out the list of the Cheesecake Factory's top offenders for poor nutrition. The pasta carbonara with chicken supplies 2,070 calories (more than the average person needs in a day), not to mention extremely high sodium and saturated fat. Cut these numbers down by ordering the lunch portion of this dish instead.




Post source: eatthis