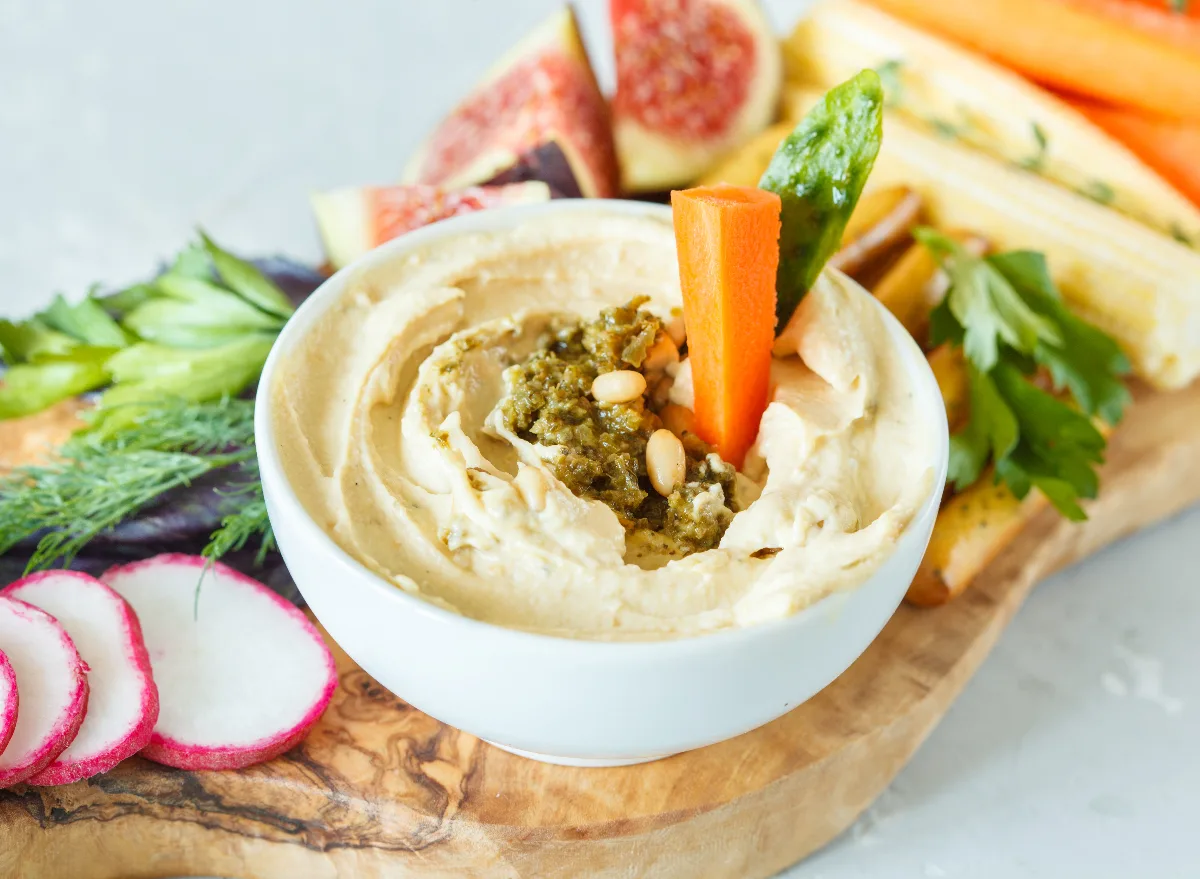 The product recommendations in this post are recommendations by the writer and/or expert(s)
interviewed and do not contain affiliate links. Meaning: If you use these links to buy
something, we will not earn a commission.
In the early 2010s, hummus went from a cherished Middle Eastern dip to a mainstream pantry staple in the United States. Ever since, people have enjoyed the convenience of cracking open a container of this delicious chickpea-based spread not only for its taste but also its health benefits. Hummus is a good source of fiber and protein, and it also provides a slew of oft-overlooked nutrients such as manganese, copper, magnesium, phosphorus, and folate. This dip is just one staple of the heart-healthy Mediterranean Diet that many dietitians recommend for countless health benefits that range from weight management support to a reduction in heart disease and stroke risks.
Not surprisingly, there is evidence that suggests hummus consumption has been shown to improve post-meal blood sugar control, fasting lipids, appetite control, and daily food intake compared to other commonly consumed foods.
Hummus has come a long way since only having the basic chickpea-garlic-tahini-olive oil combo available to us. Now, we have a plethora of hummus options, from lemon to garlic to even chocolate brownie. With all these options, it's understandable that you may want a little guidance when grocery shopping for the best spread, and we put together that expert-recommended guide for you.
How to pick the best hummus.
Across America, many different companies claim that their hummus is the best. But since it's hard to differentiate between all those containers on the grocery store shelves, we went ahead and did the heavy lifting for you, sorting through brands across the hummus spectrum to filter out those that simply don't meet our health criteria.
Things we looked out for:
No artificial ingredients, colors, or preservatives.
No added sugars.
Low fat content derived only from natural seeds/seed oils.
Delicious, all-natural flavor!
The 11 best healthy hummus brands you can buy.
If you are focused on supporting your health and you don't want to live a life without hummus (and who would?) here is a list of 11 hummus options that should definitely be scooped up with your favorite veggie or pita wedge at snack time. Read on, and for more, don't miss 15 Healthy Chips You Can Eat When You're Trying To Lose Weight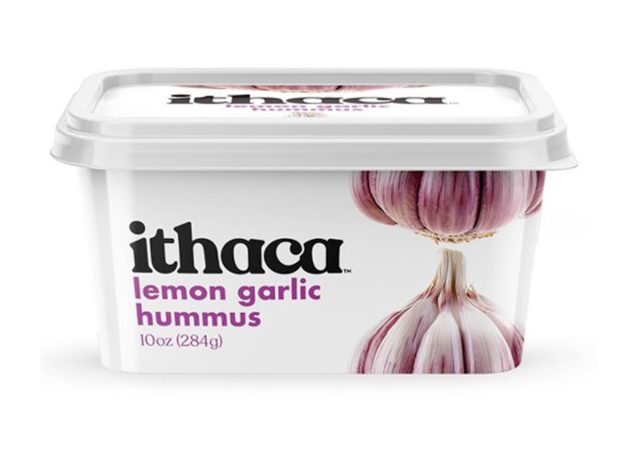 Per 2 tbsp: 70 calories, 5g fat (0.5g saturated fat), 115mg sodium, 6g carbs (1g fiber, 1g sugar), 2g protein
Ithaca Hummus uses a cold process to preserve the flavor of their quality ingredients, and their products are completely free from preservatives. And most importantly, their varieties taste great!
"The taste and texture [of Ithaca Hummus] blows the other store-bought brands out of the water," Toby Amidor, MS, RD, CDN, FAND, an award-winning nutrition expert who is also an Ithaca Hummus nutrition partner. "Plus, Ithaca Hummus is completely preservative free, glyphosate-free, and uses expeller-pressed high-oleic sunflower oil."
Amidor typically enjoys "Ithaca Hummus as a morning snack with cut-up veggies like carrots, jicama, and bell peppers." She also loves topping a chopped Israeli-Style Salad with a tablespoon or two of hummus to add more healthy fat and protein to a meal.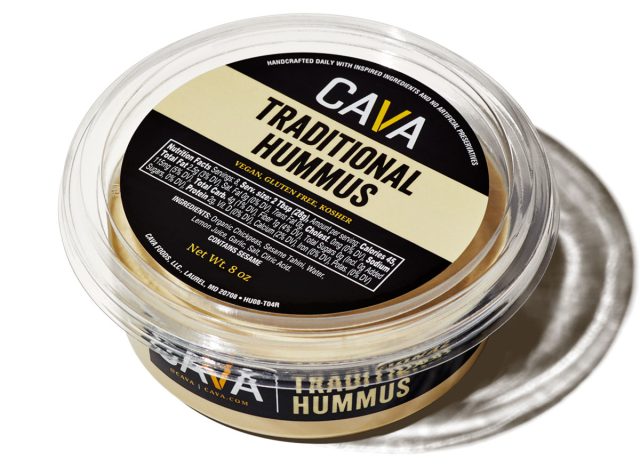 Per 2 Tbsp: 45 calories, 2.5g fat (0g saturated fat), 115mg sodium, 4g carbs (1g fiber, 0g sugar), 3g protein
Cava, known for their delicious salads and grain bowls, now offers a line of hummus that you can take home and enjoy!6254a4d1642c605c54bf1cab17d50f1e
"I love that this hummus just has a few ingredients, organic chickpeas, tahini, water, lemon juice, garlic, salt, and citric acid to keep it safe and fresh. It tastes so creamy, always fresh, and has no addition of oil, just fat from the tahini (sesame seeds)," says Roxana Ehsani, MS, RD, CSSD, LDN, Registered Dietitian Nutritionist and Board Certified Sports Dietitian, shares.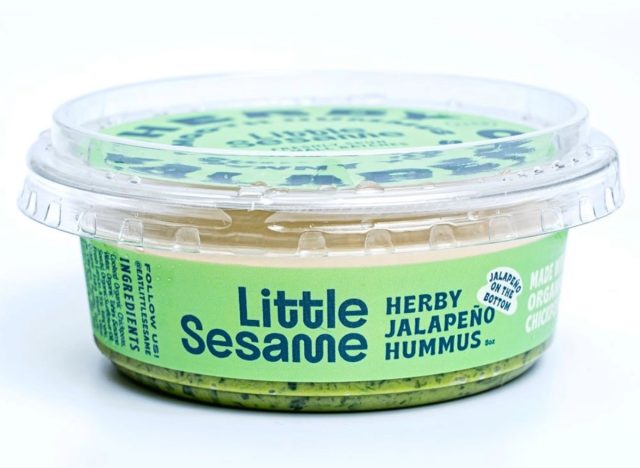 Per 2 Tbsp: 80 calories, 6g fat (0.5g saturated fat), 135mg sodium, 5g carbs (1g fiber, 1g sugar), 2g protein
With a blend of spicy jalapenos and herbal cilantro on the bottom of this hummus container for the ultimate stir-in flavor, Little Sesame's Herby Jalapeno hummus gives a nostril-clearing kick for those looking for a bit of oomph. (But don't worry, it's not too spicy.) The quality ingredients used to make this hummus are certainly appealing, too, as the brand crafts their hummus in small batches using 100% regeneratively farmed chickpeas.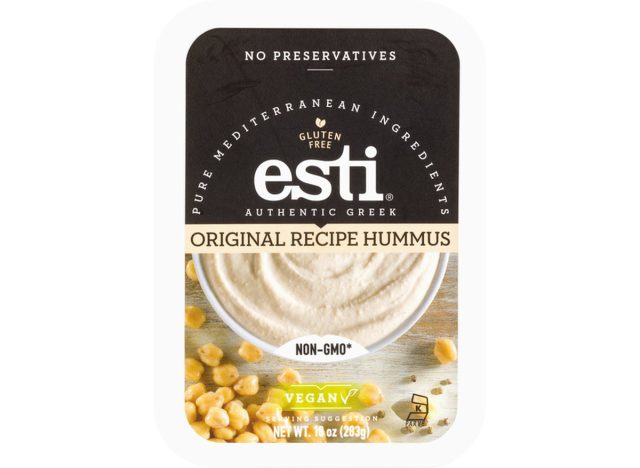 Per 2 Tbsp: 90 calories, 8g fat (1g saturated fat), 110mg sodium, 3g carbs (1g fiber, <1g sugar), 2g protein
Made without preservatives or GMOs (for those who are following a non-genetically modified diet), Esti Foods' original hummus is made with 100% Greek chickpeas. This hummus is very low in sugar at less than one gram, and with lower sodium levels than other brands, Esti is a great option for those who are concerned about their heart health (as we all should be, right?).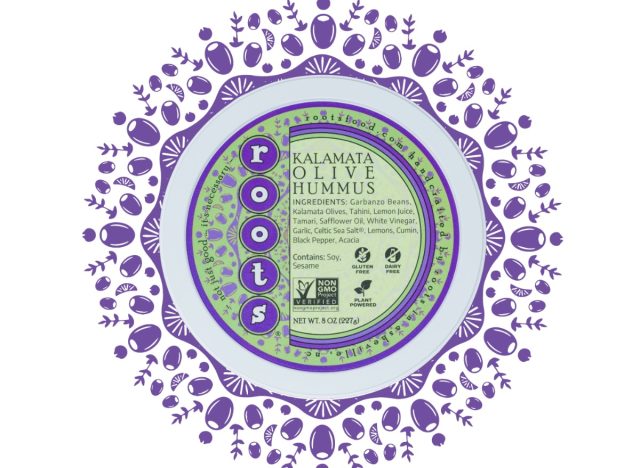 Per 2 Tbsp: 50 calories, 2g fat (0g saturated fat), 150mg sodium, 8g carbs (2g fiber, 1g sugar), 3g protein
Founded in a small co-op in Asheville, NC, Roots has since taken off to become a leading brand in the hummus industry—and with good reason! On a mission to not only make the best hummus but to bring attention to the importance of healthy, global food overall, this preservative-free hummus is a great option that's relatively low in fat compared to other mainstream companies.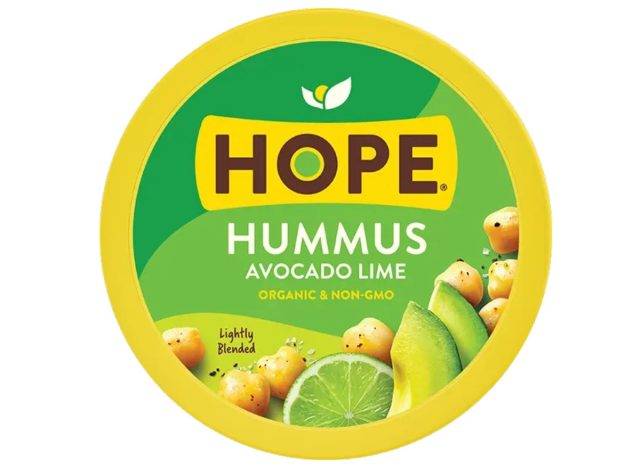 Per 2 Tbsp: 70 calories, 5g fat (0.5g saturated fat), 150mg sodium, 4g carbs (1g fiber, 1g sugar), 1g protein
Ever heard of avocado in your hummus? We hadn't either! Avocado is a great source of fiber and offers many nutrients that a lot of us in the Western world lack, mainly magnesium, vitamins B6, C, E, and folate. So while you're eating your hummus for protein, you can ensure that you're also ingesting a myriad of nutrients from a USDA-certified organic producer (and as a bonus, their packaging is certified Plastic Neutral!).
Hope Hummus is a favorite for Sarah Anzlovar, MS, RDN, LDN, intuitive eating dietitian for moms. She explains that Hope Hummus is made with "quality ingredients and amazing flavor with no unnecessary extras. Most hummus is packed with nutrition from the chickpeas and tahini, but I love that Hope also uses extra virgin olive oil in most of their flavors, which is exactly how I make it at home. You get a nice boost of phytonutrients and healthy fats from the olive oil, plus it imparts such a delicious, high-quality flavor, it tastes like you're at a restaurant".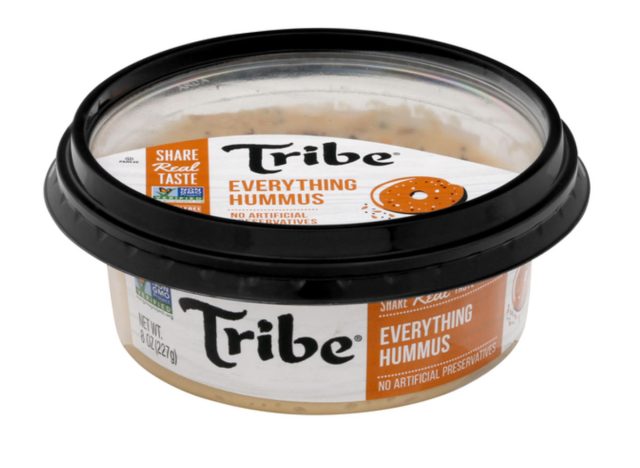 Per 2 Tbsp: 60 calories, 3.5g fat (0g saturated fat), 140mg sodium, 5g carbs (2g fiber, 0g sugar), 2g protein
An everything bagel…in hummus form? Yes, please! Made with all of the spices and seeds found on an everything bagel, this hummus is jam-packed with flavor without the bad stuff. You'll notice there's no sugar found in this option, making it the ideal choice for health-conscious consumers. Try dipping with fresh cucumber slices or celery sticks for an added nutritional and hydration boost, especially during your morning breakfast or afternoon snack.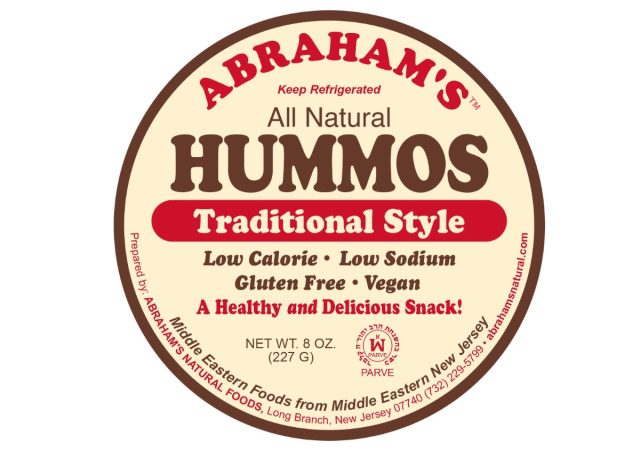 Per 2 Tbsp: 40 calories, 2g fat (0g saturated fat), 50mg sodium, 4g carbs (2g fiber, 0g sugar), 2g protein
Low in fat, sugar, and carbs, Abraham's Traditional Style Hummos is a great option for those who want delicious, American-made hummus. This hummus is made in New Jersey without artificial preservatives, using apple cider vinegar and citric acid to keep it fresh for longer (don't worry, you can't taste that apple cider vinegar tang!). Additionally, this hummus is certified Kosher Parve for those on the lookout.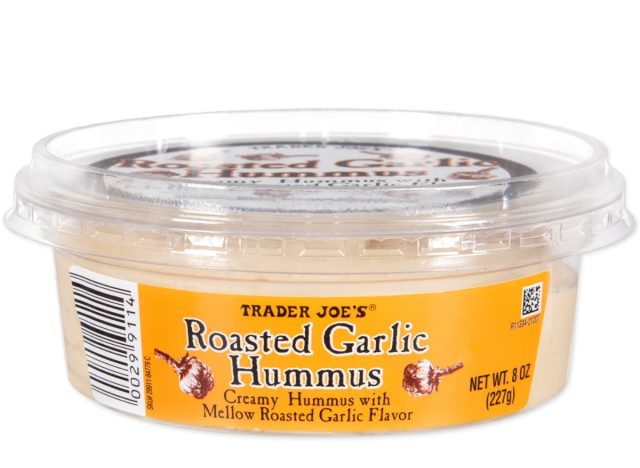 Per 2 Tbsp: 40 calories, 1.5g fat (0g saturated fat), 100mg sodium, 5g carbs (1g fiber, 1g sugar), 2g protein
It can be hard to find store-brand hummus that ticks all of our boxes, but Trader Joe's hummus (we chose the delicious garlic flavor) really knocks it out of the park. This very creamy hummus has been sold in Trader Joe's stores for over 20 years and is much cheaper than other options available on the market. We want to note that, unlike other brands mentioned in this article, this hummus features guar gum, which may cause digestive concerns for some people.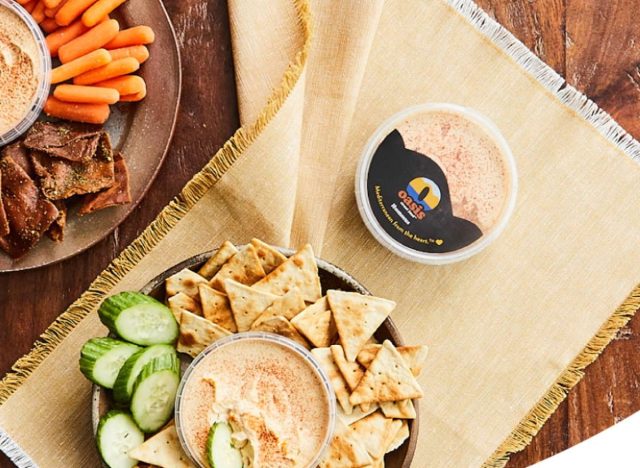 Per 2 Tbsp: 90 calories, 7g fat (1g saturated fat), 75mg sodium, 5g carbs (1g fiber, <1g sugar), 2g protein
Oasis is one of the tastiest hummus brands on the market, as their original recipe includes garlic, cayenne pepper, and paprika for an extra buzz to your taste buds. Like all hummus brands on this list, Oasis features no preservatives and is made with olive oil and rapeseed oil, the latter of which is high in both vitamins E and K, and as it's low in saturated fats, this is a healthier option compared to many mass-market brands.
Per 2 Tbsp: 50 calories, 2g fat (0g saturated fat), 160mg sodium, 5g carbs (2g fiber, 1g sugar), 2g protein
Lantana uses unexpected ingredients, like black beans, in their hummus recipes, allowing for a unique flavor experience when you use their varieties in your rotation. They only use quality ingredients and each of their hummus varieties packs a punch in the nutrition department.
"Lantana Sweet & Spicy Black Bean Hummus is a nutritious choice filled with just a handful of ingredients you can pronounce like black beans, peppers, and pineapple. Packed with protein, healthy fats, and fiber, this hummus can help provide sustained energy throughout the day. In addition to being a great dip, I like adding this hummus over omelets, tacos, or stuffed peppers!" says Mackenzie Burgess, RDN, a registered dietitian nutritionist, recipe developer at Cheerful Choices, and nutrition partner for Lantana.


Post source: eatthis