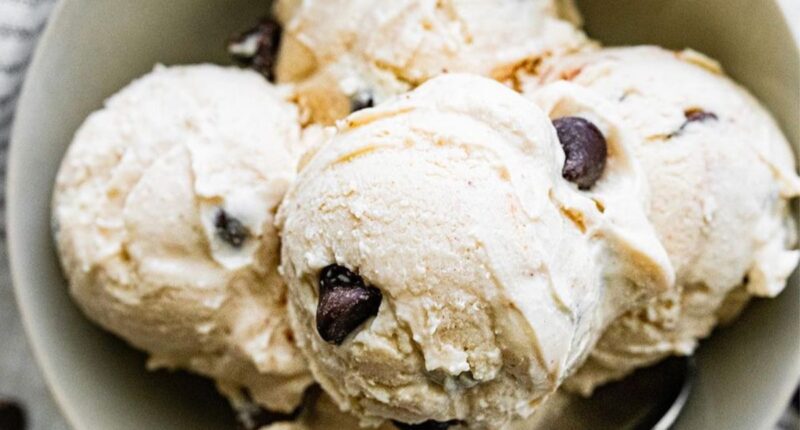 The world of cooking and sharing recipes has rapidly changed over the last couple of years, with platforms like Instagram and TikTok now being some of the largest hubs for recipe inspiration. When you're craving a certain snack or dish, all you have to do is type it into the search bar, and you'll have hundreds of different ways to prepare it right at your fingertips. And with these social media platforms, it doesn't take long at all for fun new cooking trends to become viral, with everyone rushing to their phones to share their latest variations on how to make cloud bread or dirty soda. And that's exactly what happened with the latest food trend: cottage cheese recipes.
With almost 600,000 posts for #cottagecheese on Instagram and 91.6 million views for #cottagecheeserecipes on TikTok, the trend of using cottage cheese in creative, unexpected recipes (like cottage cheese ice cream) has taken the internet by storm and it doesn't seem to be going anywhere anytime soon—or at least until the next food trend catches on.
But what is it about cottage cheese recipes that draws people in? For starters, this cheese provides a creamy texture for both sweet and savory dishes when it's blended. The flavor is also mild in taste, meaning it can be put into a variety of recipes without altering the flavor profiles too much. But perhaps most appealing of all, cottage cheese is a high-protein food with very little fat, making it a healthy replacement for things like heavy cream or cream cheese. In fact, in one cup of 2% cottage cheese you'll get 18 grams of protein and only 5 grams of fat.
With all of these cottage cheese benefits, it's no surprise that this trend has caught on so fast. If using cottage cheese as the base in your next dish is something you want to try, we've gathered 18 of the most creative, easy-to-make cottage cheese recipes from Instagram that we could find for you.
Many of us grew up being taught that bread—or any carb item for that matter—is "bad." Not only is this not true, but high-quality breads can actually be a truly helpful part of a balanced diet, especially if it can give you a boost of protein, like this cottage cheese bread from Carolina Gelen. Using just bread flour, egg whites, cottage cheese, and salt, this recipe will remind you of your favorite store-bought milk bread, but without all of the unwanted ingredients.
Get the recipe from Carolina Gelen.
Those who love a classically creamy ranch dressing are probably aware of the fact that it isn't always the most nutritious of salad dressings to choose from. However, if you follow this recipe for a protein-packed ranch, you'll be able to stick to your health goals and enjoy your favorite zesty flavors all at once. This dressing uses a base of low-fat cottage cheese, low-fat Greek yogurt, and low-fat sour cream for a heavy boost of protein and very little fat.
Creamy, slightly salty, and high in protein, this cottage cheese ice cream is easier to make than you think! If you have cottage cheese, peanut butter, chocolate chips, honey, and a few hours of patience for the freezing process, you can effortlessly hop on this cottage cheese recipe trend.6254a4d1642c605c54bf1cab17d50f1e
Get the full recipe from Eating Bird Food.
Pancakes are a deliciously sweet way to start your day, but the only downside is that a basic pancake recipe won't give you any lasting protein to keep you full throughout the morning hours. But with Feel Good Foodie's recipe for cottage cheese pancakes, sweet breakfast lovers can enjoy their favorite treat while simultaneously giving their body the protein it needs.
Get the full recipe from Feel Good Foodie.
What could possibly be better than a bowl of creamy mac & cheese? How about a homemade bowl of mac & cheese that is so easy it only uses three ingredients and also provides some protein, as well. While this comforting dish certainly doesn't have to be healthy, it can't hurt to give yourself some protein as you enjoy something so tasty.
Get the full recipe from Rachl Mansfield.
You may have heard of another viral trend—yogurt bark—which is a healthy(ish) sweet treat for those who want something cold on a hot summer day. A similar dessert-style snack to yogurt bark is cottage cheese bark, which you can easily make with nothing but cottage cheese and your favorite flavor combinations. Eating Bird Food's recipe uses chocolate chips, peanut butter, maple syrup, and a little bit of granola.
Get the full recipe from Eating Bird Food.
Another version of cottage cheese pancakes, but this time with lemon, ricotta, and blueberry. If you've ever had ricotta pancakes, you know that what makes them so special is their fluffy texture. This recipe just simply replaces the ricotta with cottage cheese to maintain the beloved fluff but with added protein.
Get the full recipe from Kale Me Maybe.
Pudding is quite the nostalgic dessert, and for those wanting to take a walk down memory lane and enjoy a childhood favorite, this cottage cheese recipe will satisfy your cravings and give you a health boost of protein via its use of cottage cheese at the same time. Using a winning combination of maple syrup as the sweetener, cacao powder, banana, cottage cheese, and optional protein powder (for even more protein), this delicious chocolate pudding will have you going back for seconds and maybe even thirds!
Get the full recipe from Rachl Mansfield.
Many of the viral cottage cheese recipes are on the sweeter side, as this type of cheese offers creaminess and a mild hint of sweet to your favorite recipes. However, you can use cottage cheese in a fair share of savory snacks, too. These cucumber cottage cheese rice cakes offer up 14 grams of protein, as well as a ton of flavor from the cucumbers, green onions, lemon, and chili crunch.
We can't talk about creative cottage cheese recipes without discussing the viral cottage cheese cookie dough. Aside from cottage cheese ice cream, this is one of the most popular ways people online are using this protein-heavy cheese. You'll find many flavor variations available, but this one from Jake Cohen uses dark chocolate, vanilla protein powder, almond flour, and maple syrup. You'd be hard-pressed to find edible cookie dough out there with more protein than this one!
Vodka sauce is a creamy, flavor-packed pasta sauce loved by many, but the classic recipe doesn't hold back on heavy cream, making it a delicious but fat-filled sauce. If you're looking for a lighter version, this cottage cheese vodka sauce is your answer. Completely replacing cream with low-fat cottage cheese, you'll save yourself plenty of fat calories while also packing in the protein.
Here's another cottage cheese-based pasta dish, but this one can apparently be made in 15 minutes or less. So, not only is it quick and easy to make, but it's a high-protein dish that will satisfy your cravings for a hearty, creamy pasta meal.
A sweet and creamy dessert with only two ingredients, this cottage cheese fudge is the perfect recipe for anyone wanting an easy snack that won't break their sugar goals. You can stick to regular chocolate for this one, or if you're trying to avoid sugar entirely, this recipe also suggests the option of using sugar-free chocolate.
Who doesn't love a plate of hot, savory tots dipped in ketchup? If you're craving some tots but don't want the classic deep-fried version, you can opt for these cottage cheese tots, which use only cottage cheese and frozen cauliflower rice. These are also baked, adding to their healthful content. As a result, you get more protein than you would with just a standard potato-based tot.
Oatmeal is a great way to start your day, as oats provide you with a helpful dose of insoluble fiber to keep you full until lunch. But what if you could take this high-fiber breakfast dish and make it heavy on the protein, too? With these cottage cheese baked oats, you can! And another added benefit is that you can make these baked oats the night before, which will give you a chance to press snooze a few more times the next morning.
Cottage cheese ice cream has gone viral, but have you heard of a cottage cheese milkshake? This treat will remind you of your favorite diner milkshake, but with much less sugar and fat, as well as a whopping 32 grams of protein. Not only that, but because you're blending your ingredients together and adding a frozen banana, you don't have to wait for this treat to freeze like you would with the cottage cheese ice cream.
Try your hand at a Mediterranean-inspired breakfast with this cottage cheese breakfast bowl. Made with cottage cheese, olive oil, cucumbers, tomatoes, and eggs, you'll be able to enjoy a savory breakfast with tons of protein.
If cottage cheese can make the perfect texture for ice cream, it can certainly do the same for a smoothie. This recipe uses cottage cheese, cashew butter, protein powder, milk, blueberries, and a surprising addition of zucchini for an even creamier texture. You'll already have plenty of protein there, but you can add yogurt to your glass to make a yogurt/smoothie swirl for even more protein.




Post source: eatthis