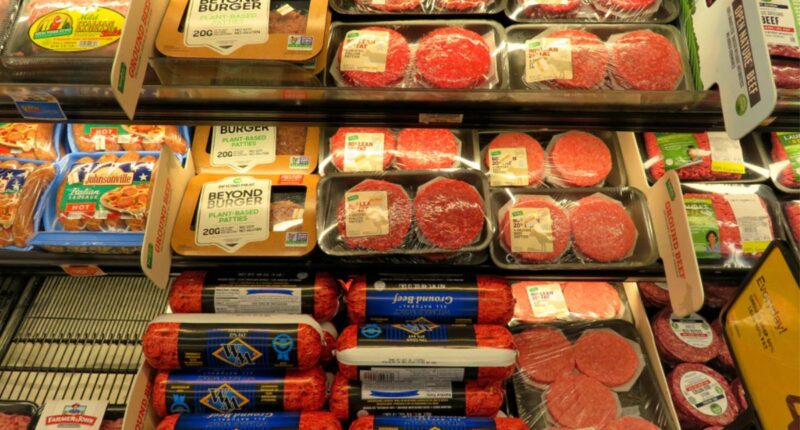 The product recommendations in this post are recommendations by the writer and/or expert(s)
interviewed and do not contain affiliate links. Meaning: If you use these links to buy
something, we will not earn a commission.
When it comes to summer cookouts, it's easy to grab a box of frozen burgers to make backyard entertaining so much easier. But what exactly are you getting in those patties? If the label does not say 100% beef, it's safe to say they may contain a lot of ingredients that you otherwise would not make part of your healthy diet.
"There are many blended burgers on the market that may be a blend of meat and beans, grains and other ingredients," says Julie Upton, MS, RD, CSSD, co-founder of Appetite for Health. "If you look at a burger that is not 100% beef, look at the ingredient list to see what else it contains," she advises. "If you want to avoid thickeners, protein isolates or other additives and preservatives, you can just by reading the ingredient list."
Upton says that the occasional burger can be part of a healthy diet. "I recommend going for the leanest beef or poultry and enjoy with a whole grain bun and pile on the veggies."
While Upton personally opts for vegetarian patties such as Amy's or Bocca, if she's buying beef, she'll go for the leanest freshest option at the meat counter.
But sometimes store-bought burgers just make more sense with our busy lifestyles and skyrocketing grocery prices. If you do go for a store-bought burger, Upton says to read the nutrition facts panel to know what you're buying. "Look at the saturated fat counts and choose those that are lower in saturated fat," she says.
The following are store-bought burgers that aren't made with 100% beef, so buy at your discretion.
Per Serving (1 burger): 470 cal, 38 g fat (16 g saturated fat), 115 mg cholesterol, 1010 mg sodium, 2 g carbs, 0 g sugar, 30 g protein
These patties may contain premium Angus beef, but they are also loaded with 38 grams of fat, including 16 grams of saturated fat, which is known to contribute to heart disease. They're also high in sodium at 1010 milligrams each. Containing pasteurized processed cheddar cheese and cured bacon, they are certainly not the healthiest choice for your next barbecue. And if you pile toppings on top of these already decadent burgers, you'll be serving up a seriously unhealthy meal.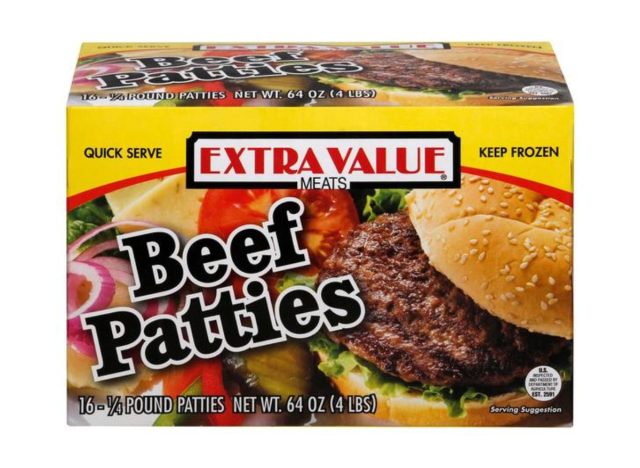 Per Serving (1 patty): 300 cal, 28 g fat (10 g saturated fat), 70 mg cholesterol, 380 mg sodium, 5 g carbs, 1 g sugar, 16 g protein
These burgers from Extra Value Meats may come cheap, but at what cost to your health? A quick look at the list of ingredients shows beef and beef hearts (that's the muscle trimmed from the heart wall and contains blood vessels, fat and blood chambers, according to Consumer Reports). It also contains soy flour and soy protein concentrate—definitely not pure beef.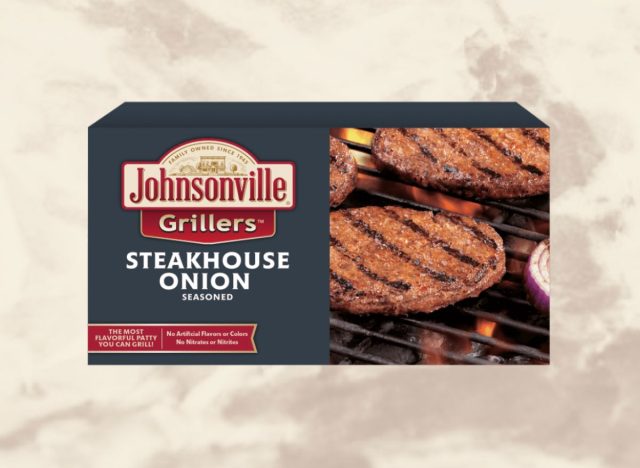 Per Serving (1 patty): 350 cal, 29 g fat (10 g saturated fat), 75 mg cholesterol, 860 mg sodium, 5 g carbs, 2 g sugar, 17 g protein
These onion-seasoned patties contain 860 milligrams of sodium each, making them a poor choice for anyone who is concerned about eating a nutritious diet. The main ingredients here are pork, water, and corn syrup, which is known to increase consumers' appetite for sweets.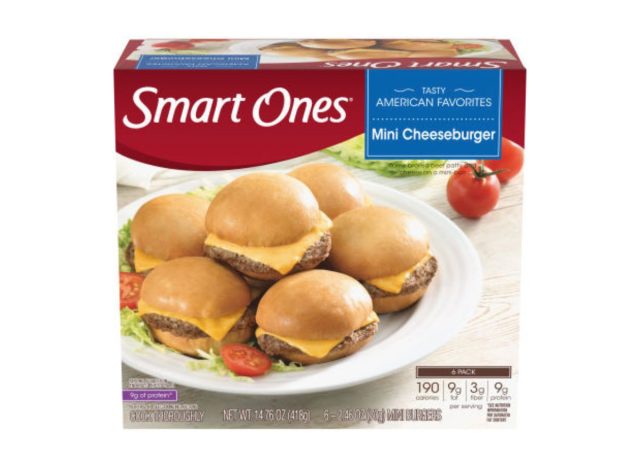 Per Serving (1 patty): 190 cal, 9 g fat (3.5 g saturated fat), 20 mg cholesterol, 360 mg sodium, 20 g carbs, 3 g sugar, 9 g protein
With added caramel color and a bunch of other non-beef ingredients, these little burgers may not be the smartest choice after all. One mini burger contains over 300 milligrams of sodium. If you're watching your waistline, try eating half of a real 100% beef burger instead of these highly processed sliders.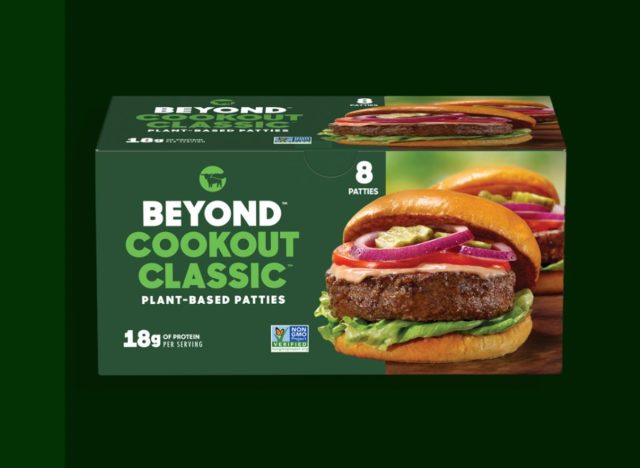 Per Serving (1 patty): 290 cal, 22 g fat (7 g saturated fat), 0 mg cholesterol, 340 mg sodium, 4 g carbs, 0 g sugar, 18 g protein
Just because a burger is plant-based does not necessarily mean it's healthy. These frozen burgers, which come eight to a package, contain canola oil, which is known to be inflammatory, added flavors and a synthetic fiber called methylcellulose. They also contain 22 g of fat each. Opt for 100% beef burger instead.6254a4d1642c605c54bf1cab17d50f1e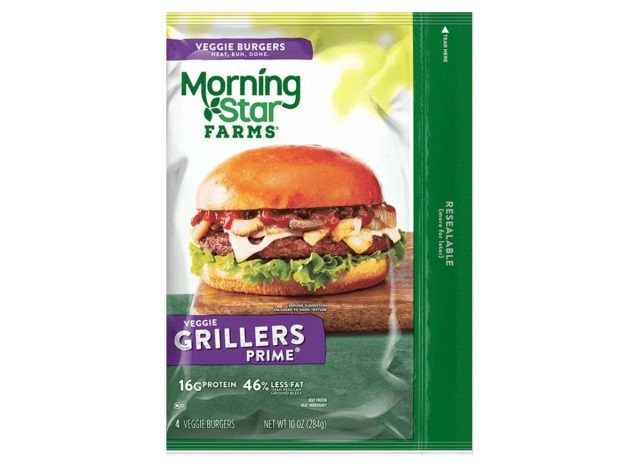 Per Serving (1 burger): 150 cal, 8 g fat (1 g saturated fat), 0 mg cholesterol, 400 mg sodium, 6 g carbs, 1 g sugar, 16 g protein
These burgers are meat-free but they also contain a host of unhealthy oils including vegetable oil (corn, canola and/or sunflower oil), soy protein isolate, soy flour and egg whites (meaning they are not vegan). "[I]t tastes like cardboard, and I quit buying them," said one reviewer.


Post source: eatthis