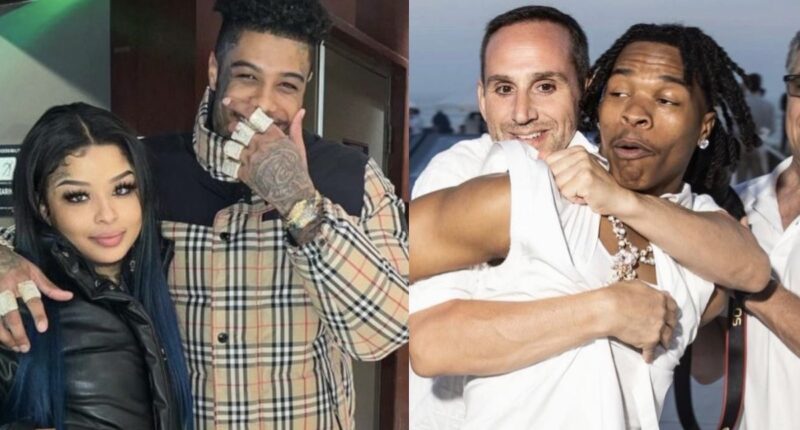 Blueface clapped back at Lil Baby, who namedropped him in a song amid tensions between them over Chrisean Rock.
The Atlanta rapper took a dig at the Los Angeles rapper in a new song that surfaced over the weekend. Urban Islandz previously reported that Chrisean Rock revealed that Blueface accused her of going to see Lil Baby when she was traveling to Maryland to give birth to her son earlier this month.
Lil Baby shared a video on his Instagram Story of his song playing in the background where he responded to Blueface calling him up in his drama with the mother of his child, Chrisean Rock. Baby has been silent for the most part as Blueface and Chrisean go back and forth over the birth of their son, Chrisean Jr. However, it seems that the Quality Control rapper is taking a dig of his own as he seemingly dissed Blueface during a preview for new music.
The rapper recently shared videos of him rapping what seems to be a new song. "They say what's in the suitcase, put a hunnid up a million times, the f*** is a Blueface?" he rapped the lyric with passion. The "Thotiana" rapper was the one who had a problem with Lil Baby, as he claimed on the Bootleg Kev podcast that the "Drip Too Hard" rapper propositioned Rock while she was out for Super Bowl Weekend.
Chrisean had claimed that it was networking, and the artist greeted her and told her she was talented. However, Blueface said that the rapper expressed sexual interest in Chrisean.
"She lying. She didn't tell you he was like, 'Oh, you sexy. Oh, I want you around. Oh, you got potential. Come to the studio. What's your number?' I don't know if she like cuz or not but she trying to water it down."
While Chrisean had denied that there was anything between her and Lil Baby, it seems that Blueface believes otherwise as he accused her of going away to Baltimore secretly without his knowledge so she could have her baby in her state and be close to Lil Baby.
The rapper also had a problem with Chrisean being seen having dinner at Lil Baby's restaurant. Chrisean also claimed that Blueface made her entire pregnancy about Lil Baby, including the birth of the child, which he skipped.
Blueface has since responded in a song snippet he shared on social media on Monday. The rapper reunited with Chrisean Rock over the weekend, where he spent some time with his son. He also claimed that he signed Rock to his label, and the two recorded a song together and filmed a music video.
New Lil Baby snippet allegedly dissing Blueface? pic.twitter.com/e7SfkOwKuu

— DJ Akademiks (@Akademiks) September 16, 2023
Blueface dissing Lil Baby while Chrisean & Chrisean jr in the video is a joke ??
pic.twitter.com/ytpodz4bLD

— Lil Baby Szn (@LilBabySZN) September 19, 2023
Blueface made the infamous photo of Lil Baby being hugged by Michael Rubin at the billionaire's annual 4th of July All-White party earlier this summer. The photo went viral, with fans trolling the Quality Control rapper.
"Lil Baby thought he knew me/How you let another grown man feel up on your booty/Couldn't be me boy am not a hoochie/You ni***s really industry I ain't really industry," Blue raps.