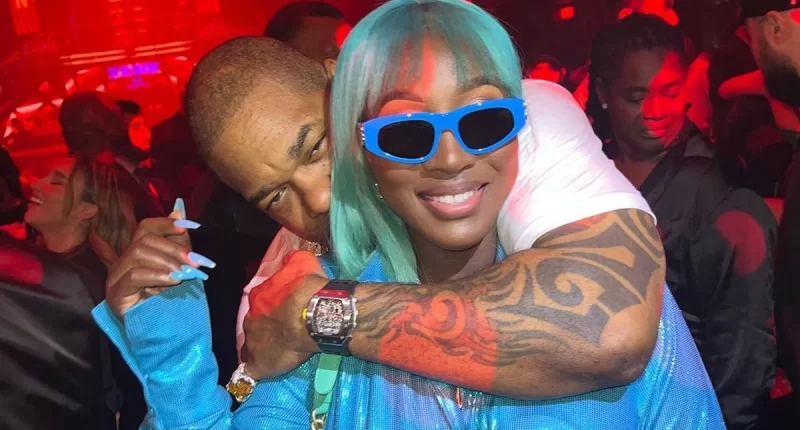 Spice and Busta Rhymes linked up on Friday, and the two Jamaicans hugged it out as he became emotional at seeing his Jamaican compatriot for the first time since she was in a coma and nearly died.
Spice shared her appreciation for the rapper, including a video that showed him bowing to greet her.
"ATTENTION Busta rhymes have a message for someone. After you slide and watch these videos who vex can BLOOODCLAAAAT VEX. This is how I was greeted by the Legend after seeing me for the very first time after my health scare last year and we all know this G.O.A.T never bows to NOBODY, Haters check unu heart rate. LEGENDARY THINGS @bustarhymes I LOVE YOU INFINITY," she wrote.
The artiste was at Celebrity All-White party held in Miami on Friday and was seen hugging Spice in a tight embrace.
"I love her and that's my sister, understand…God got his hand on this woman. Her purpose is way bigger. She gotta shift culture…whether or not you choose to f**k with us, we not even negotiating with y'all b*tch a$$ n***as…We gonna live for ourself… whom God bless no man curse," Busta said.
The rapper also gave Spice her compliments as Queen of the Dancehall and had some choice words for anyone who might feel otherwise. Spice and Busta Rhymes have known each other for a few decades and collaborated on her hit song, "So Mi Like It," released in 2014.
That song went on to be one of Spice's biggest tracks after "Rompin Shop" with Vybz Kartel and "Jim Screechie" (2010) and arguably helped to launch her international career.
Other videos shared by Spice showed her and Busta hugging it out as he spoke to her while the music blazed loudly.
Many fans online commented on Busta paying homage to Spice, especially since the rapper is well known for not liking when he is touched by others.
In her Instagram comment section, he added that he was happy that Spice was in the land of the living.
"Betta know dat!!! We must honor di presence of our queen of dancehall, friend and family for life!!! I'm so glad that you are here because we need you and we love you boss lady," he wrote.