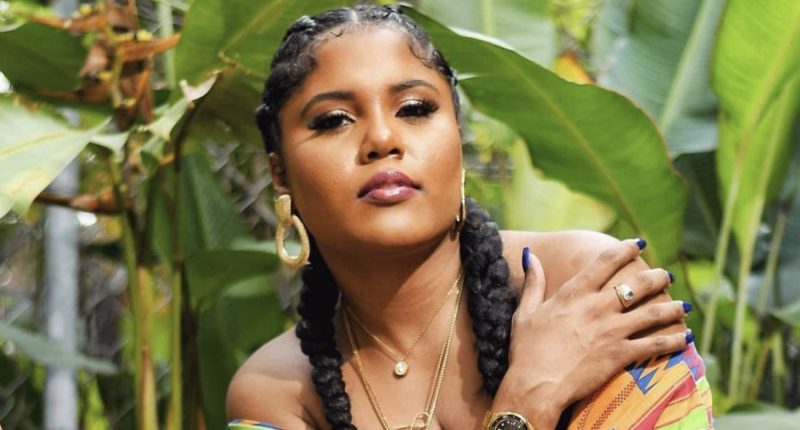 Dancehall artiste Denyque is opening up about her marriage and love life as she addresses rumors and speculations that she and her husband, Careem Mullings, are no longer together.
On Monday night (March 20), Denyque confirmed she and Mullings have separated but are not divorced, as she cried and became emotional while on Sim's Soul Sessions on TVJ.
"No," she answers when asked if she and her husband are divorced. "But we are separated," she adds.
Denyque revealed that she was with Mullings for quite a few years before they got married, and they were together for five years before they separated. She did not reveal when they got separated or if there was a reason for the separation, and if they planned to get back together.
Denyque has appeared alone with her children on her social media accounts while photos of her and her husband, once prominently displayed, are nowhere to be seen. Nosey and prying fans have outrightly asked about her relationship status, but a resolute Denyque has never publicly addressed the rumors until now.
The artist has proven herself to be resilient, having survived a near-death experience from giving birth to her daughter and losing her uterus in the process. Everything seemed perfect for her up until two years ago when she was forced to address rumors that her husband was an alleged cheater.
In 2020, while on Magnum Tonic Wine Spice It Up, Denyque dispelled her fans' concerns that she and Mullings were experiencing trouble in paradise, telling fellow artist Spice that she had stopped posting her husband and family to "protect" them.
"From proud wifey come out him a gimme bun. Him never did a gimme bun before you know," Denyque had said sarcastically about fans making up rumors.
However, the artist did not blame Mullings for anything but focused her interview on her current stage of life, where she is working on herself while talking about her views on marriage.
"I feel like for a lot of my adult years, just learning, figuring life out, taking bumps, falling, getting back up, I've given a lot of my power away, and I feel like now is the time I'm honing it back in and pulling it back in. I'm unlearning a lot and relearning so much more," she began when asked about the rumor about her husband.
Denyque also shared that she was blindsided by the reality of what marriage is, noting that going into the union, her choices were rooted in pleasing others and even some misguided ways of thinking, such as not having children out of wedlock.
"I feel like when I'm sitting down and going back in and thinking about all of these things and reflecting, I'm realizing that a lot of my decisions, yes I made them but they weren't really my decisions, they weren't my choices, they weren't the things I necessarily wanted deep down in my heart and they were rooted in that- just trying to be validated by the outside sources," she says.
The "Make Me Believe" singer also addressed the 2016 rumors after she released "Proud Wifey," saying the song caused fans to think she might have been alluding to the state of her relationship with Mullings.
On the other hand, Mullings has never addressed the rumors or the separation from his wife.