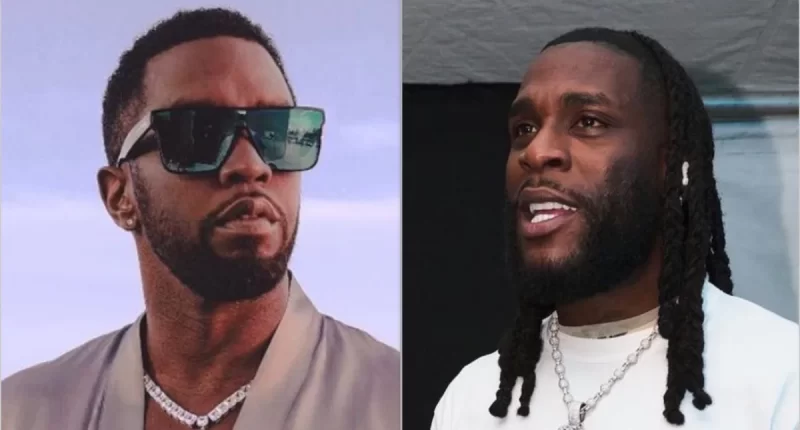 Diddy Love was in his feelings on Monday as he shaded a former collaborator, Burna Boy, whom he claimed he helped to win their first Grammy award.
On Monday, Diddy wrote an interesting message on his Instagram Stories where he seemed to react after a former collaborator failed to win a Grammy award on Sunday night. The post was not directed at anyone, but fans were curious as they pondered various theories about the unnamed person Diddy was salty towards.
"I helped you win your first and only grammy award which I did out of kindness, and somehow you thought you could win another without my help?? Oh okay," Diddy's Instagram Story read.
The post attracted much chatter online, with some offering their take on the post. "I hope he ain't talking about Burna. he does NOT want that smoke," one person commented.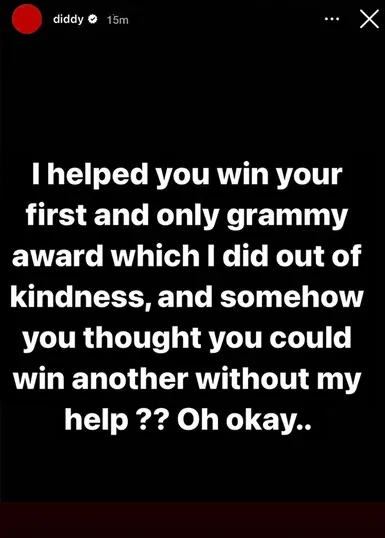 "He probably talking about Burna Boy but he needs to recognize Nigerians don't give af, afrobeat to the world. Sh*t really just touching y'all now so you're welcome. In fact who he be sef? Abeg make he getat before he chop insult," another person said.
"You know burna's last album before Love Damini uncle co-produced it or something, be like say he dey vex say burna no use am again for Last Last and for the Love Damini album. Idk but the only person it could be is Burna since he only has one Grammy and was nominated twice but didn't win any last night," another said.
Other fans suggested that it could be Chris Brown that Diddy was talking about, but Diddy has not worked with Brown the way he has worked with Burna Boy.
Diddy co-executive produced Burna Boy's album Twice as Tall which later won Best Global Music Album at the 63rd Grammy awards (2021). The Nigerian artist's career took off shortly after and he later released his album Love Damini, which was nominated for the same Grammy award in 2021. That album featured the smash hit "Last Last" and several other songs that took the world by storm.
As for Brown, he has only one Grammy, which he won for F.A.M.E in 2012. His album 'Breezy' was nominated for Best R&B album at the Grammys this year, but he did not win. Diddy also doesn't have any production credits on the project leading to many concluding that the post is about Burna Boy.
"He's talking about Burna Boy & its not rigged, he just produced the music and is taking credit for his accomplishment," one fan wrote.
Another said, "This is how you know all that 'love love Brotha Love' talk is for show. That man has an evil streak and it creeps out before he can catch it sometimes."
Diddy later deleted the post and has not reacted since. Neither Burna Boy nor Chris Brown has reacted.