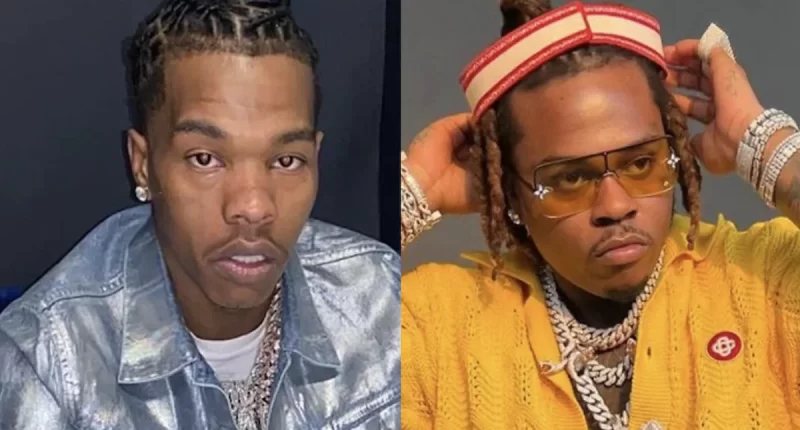 Gunna is finally addressing claims that he was a snitch, and he is also dissing Lil Durk and Lil Baby, who cut ties with him after he pleaded guilty to conspiracy to commit racketeering. The Atlanta rapper made one thing clear, and that is he was not dissing his comrade Lil Baby.
In a new song, "Bread and Butter," the rapper speaks for the first time as he denies cooperating with authorities and even seems to claim that he was deceived by prosecutors. "Never f***d a ni***, always stayed solid/Kept it real with n***s, never lied and always stay honest," one verse said.
Another verse also left fans surmising that Gunna took jabs at Lil Baby, who unfollowed him back in January, and his label's CEO, Quality Control boss Pierre "Pee" Thomas, who himself was accused of being a "snitch" years ago.
"You b*tch-a$$ n****s got me as the topic of the chat/ You switched on me when you know you in business with a rat/And the boy that's like your brother, and nobody speak on that?"
Lil Durk also got a response from Gunna over his verse in the song he previewed back in January, which hinted that he didn't trust Gunna because he was "gunna tell."
Gunna disses Lil Durk on new song
Gunna's verse to Durk said, "Had these n****s talkin', only knew 'em 'cause of Slatt/You rap boys need more streams, heard he put my name on wax."
The song also goes on to address his Alford plea deal where he said, "never gave no statement or agreed to take no stand on em/ On whatever you n***as on, then trust me, ima stand on it. Lawyers and the DA did some sneaky sh*t, I fell for it."
The song has caused a stir, but Gunna isn't deterred by critics. On Friday, Akademiks posted a video of the song with the caption, "I just wana know why Gunna talking bout Lil Baby like dis….Hollyyyyy"
Gunna seemingly responded to the caption, writing in the comments, "That's capp."
In another comment, he added, "I'm just letting the world hear my story."

Young Slime Life rapper Lil Gotit also reacted to the song as he disapproved of Gunna's song.
"These n***as locked down there bruh and the rest of these n***as out here living their life like they ain't just do that… This sh*t over for you bruh, you changed on the family," Lil Gotit said.
Gunna continues to catch heat from all quarters of hip hop some six months after he copped a plea deal and was released from jail. Young Thug and several others remain incarcerated pending the conclusion of the YSL Rico case because they either weren't offered deals or declined them.