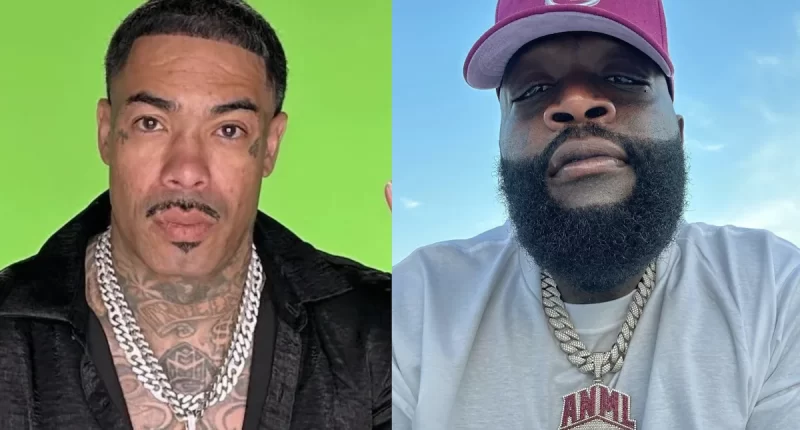 Gunplay raised questions among his fans when he gifted Rick Ross an expensive token of appreciation.
It is very common for rappers and their associations to give each other expensive gifts like jewelry and exotic cars, but Gunplay's recent gesture to his label boss Rick Ross has raised some eyebrows. If you've been keeping up with news in the space lately, then you would already know that Gunplay and DJ Envy recently got into it over comments about a GoFundme following The Breakfast Club co-host's public feud with the Maybach Music Group head over their car shows.
DJ Envy mentioned that Rick Ross's associate, Gunplay, launched a GoFundme recently and questioned why Ross didn't help him out. The rapper took offense at the radio host's statement and threatened to put hands on him. The situation ended with a cease and desist letter the rapper sent to Envy, which triggered criticisms among some of his fans who called the move unbecoming of a gangster rapper.
On Monday (June 5), Gunplay shared a video of himself rolling out some gifts for Rick Ross, who was lying in bed. He gifted Rozay an iced-out custom "Anml Shltr" chain. "Gave my big brother a token of my appreciation for believing in me when nobody did, cared when nobody did, gave me an opportunity when nobody did, I love you forever my brother thank you," he wrote in the caption.
"I just wanted to get you something, man, as an appreciation my brother," the rapper told Rick Ross, who previously signed him to MMG. "Just for everything, man. Just for being a Bawse."
In the meantime, some fans are questioning where his priority lies, given the recent GoFundme. "I have donated to a lot of go fund me accounts," one person wrote. "Even celebrities that I see accidents happen to. And when u see crap like this then u know even a celebrity will scam u out of money. I learned quick don't I don't give to celebrities cause they have lots of rich friends who help them out. I only help those who you can look up a background and see they don't have much and give it to them!"
Another person said, "I'm so confused. Had a GoFundMe for healthcare but buying a grown a** man so jewelry."
Rick Ross is currently in celebratory mode, given the success of his car show at his Promise Land Estate in the Atlanta suburbs of Fayetteville, Georgia, last weekend. Some 30,000 people came out to see him perform with Meek Mill and Gucci Mane.